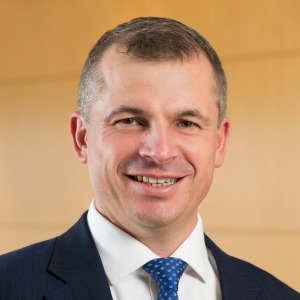 Ashurst has announced a new global management structure, following the recent appointment of managing partner Paul Jenkins.
Mr Jenkins (pictured) began his role as the managing partner of Ashurst on 1 June and has already announced a new global management structure for the firm, including a head of innovation role and a head of clients role, effective immediately.
The head of innovation role will be co-led by Sydney-based Jamie Ng and Glasgow-based Mike Polson, with the responsibility of ensuring the firm remains at the forefront of change in the legal industry.
London-based Logan Mair has been appointed head of clients, with responsibility for developing and implementing the firm's global client and industry strategy.
"Having a global management structure and team that helps drive forward greater entrepreneurialism and innovation and decisive delivery on strategy is key," Mr Jenkins said.
Mr Jenkins also made a number of new appointments to the three global divisions of the firm's executive team.
The corporate division will be co-led by Perth-based Geoff Gishubl, who previously held this role, and London-based Robert Ogilvy Watson.
The finance division will be co-led by London-based Helen Burton and Sydney-based James Marshall, while the disputes division will continue to be led by London-based Simon Bromwich.
"The management structure and team we have in place will ensure that we operate as effectively and efficiently as possible at a global level," Mr Jenkins said.
"It is essential for our future success to have a high-performance team, working collaboratively and all focused on the key drivers of the business and fully accountable for the delivery of results."
The changes to the structure also see Shawn Wytenburg being appointed as Sydney office managing partner, Simon Beddow as London office managing partner, and Shaun Lascelles as Singapore office managing partner.