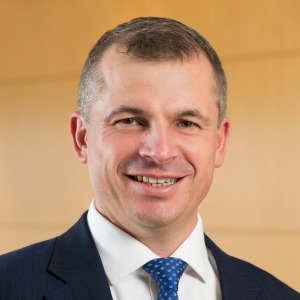 The newly appointed managing partner of Ashurst is planning to focus on innovative ways to improve internal efficiencies and win more market share.
Yesterday Ashurst announced the appointment of partner Paul Jenkins (pictured) as its new global managing partner, who will split his time between Sydney and London.
Mr Jenkins will step into the role on 1 June, when current managing partner James Collis' four-year term comes to an end and he returns to the finance practice.
"The entire industry is going through a period of significant change, which represents both a challenge and an opportunity," Mr Jenkins told Lawyers Weekly.
"I'm really in favour of encouraging the entrepreneurial spirit within the firm. That's the general ethos or approach that I take."
Mr Jenkins said part of that is around the simplification of internal processes and systems so partners can focus on winning more market share. The other part of that is about management finding ways to ensure that partners can succeed within the business.
One of Mr Jenkins' priorities is to visit the firm's offices around the world to meet with partners and discuss his plans for the firm. He also plans to visit Ashurst's legal and business support office in Glasgow to meet with the 200 support staff.
"That is a big part in terms of creating efficiency internally so that we can provide our services to our clients in the most cost-effective manner," he said.
"So we have the more commoditised work being done by that type of offering and the high-end work being done, as it has traditionally been done, by the highly trained lawyers."
The firm recently launched a global innovation team, Ashurst Advance, which is another focus for the coming years.
"It's putting in place a research and development arm within the firm to actually consider how we can do things in a more innovative way," he said.
"It's not just a matter of us replicating what other firms are doing, it's a matter of thinking ourselves and getting the brightest minds involved internally to consider how we can provide our services in a more innovative way."