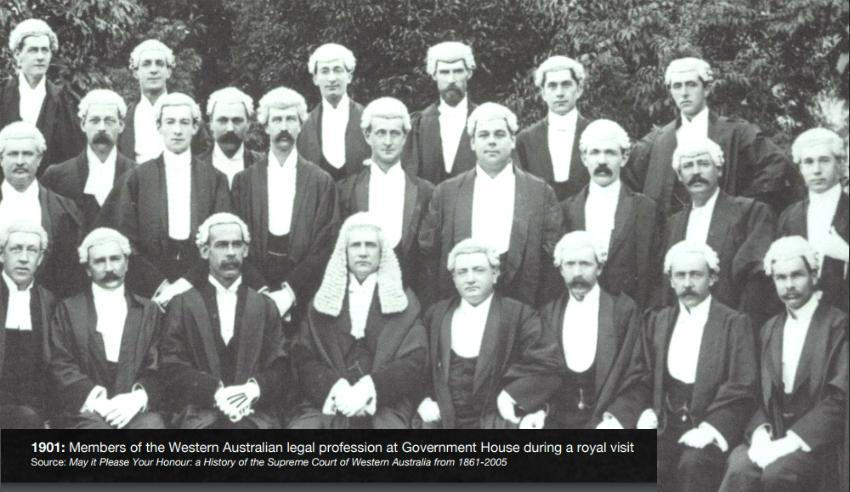 Ninety years of Western Australia's legal profession has been recorded in a special publication celebrating the group's contributions to the community, legal aid and its members.
In 1927, legal academic Professor Frank Beasley arrived in WA to establish the state's first law school. That same year the Supreme Court of Western Australia's Almanac listed a total of 152 barristers and solicitors.
In a fascinating new publication that outlines the evolution of the legal profession in WA, Dr Catherine May, pinpoints 1920s Perth as a city coming of age. It was a moment in Australia's history where the state's economic activity was yet capable of supporting a large population or mature institutions, and the demand for legal services was not significant
"A judicial structure existed of course, but the legal profession was small in number," Dr May said in a historical publication commissioned by the WA Law Society.
By the late 1920s, the tide was turning and the 'Federation Drought' that hit Australia's eastern states saw WA flourish. The state turned into an island of prosperity in contrast to the other colonies, according to Dr May, causing WA's population to climb.
She suggested that it was a flood of economic refugees from Victoria and South Australia who were chasing gold that cemented the future of WA. This accounted for the proliferation of government services, which in turn attracted lawyers and other professionals to Perth.   
In an article written on 26 November 1926, Truth newspaper used the example of newly admitted barrister Ralph Stoddart, as an example of how WA's legal profession was, just like the young state's economy, coming of age: "Never has there been such an infusion of young blood into Perth's qualified legal fraternity than at present."
Commenting on the historical edition, WA Law Society president Alain Musikanth said: "The Society is grateful both to Dr May and to the many contributors who assisted her with interviewed information and material. I also express my special thanks to the Society's Andrew MacNiven for the considerable amount of time which he devoted to assisting with research and in bringing the publication to finality."
The introductory pages of 'Celebrating 90 Years of the Law Society'  make for an interesting bookend to another publication released by the WA law society about the future of the profession. Both publications are freely available to access on the law society website.
Pictured: A photograph taken in 1901 of WA lawyers at Government House during a royal visit (Source: 'May it Please Your Honour: a History of the Supreme Court of Western Australia from 1861-2005')