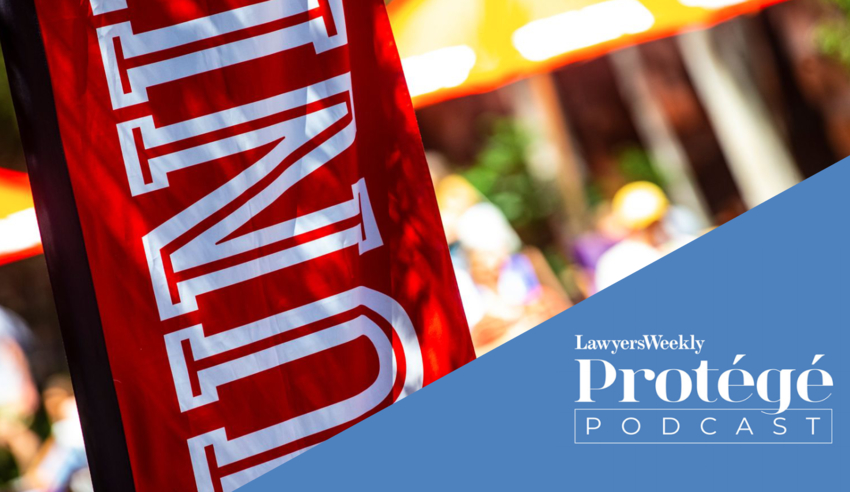 Taking the initiative, engaging members and making big changes where needed are just some of the traits of a law student society president that can make their term an impactful one while also setting them up for a successful legal career.
In this episode of The Protégé Podcast, host Naomi Neilson is joined by University of Wollongong's Law Students' Society president Theodore Totsis to chat about how he progressed from member to vice-president and finally to president, including the many achievements he and his team has had throughout it all.

Theo shares some of the moments of the past few years that he is most proud of, from creating a platform where all volunteers enjoy the work with the society through to interviewing former High Court justices like the Honourable Michael Kirby.

He also discusses the skills and traits that it takes to be a president of a law student society today and how all of this experience can set someone up for graduate roles.

The episode finishes with some great advice for listeners who are considering joining their own law student society, including: "Take the initiative before the task is thrown to you. One of the things we've discovered is that students are involved in their positions but only when they're given something to do, but it's also important for them to reach out sometimes. That speaks volumes."

Have a listen below!
 

If you have any questions about the episode or if there are any topics that you might want us to look into, please reach out – we would love to hear from you!

We're also always open to new guests so if you have an exciting story to tell, if you're standing out as a student or graduate, or if you can offer some tips for our young lawyers, get in touch.
You can reach us here:
Emails: This email address is being protected from spambots. You need JavaScript enabled to view it. or This email address is being protected from spambots. You need JavaScript enabled to view it.
Socials: Follow us on LinkedIn, Facebook and Twitter or reach out to me directly here.
And check out some of our other episodes here: