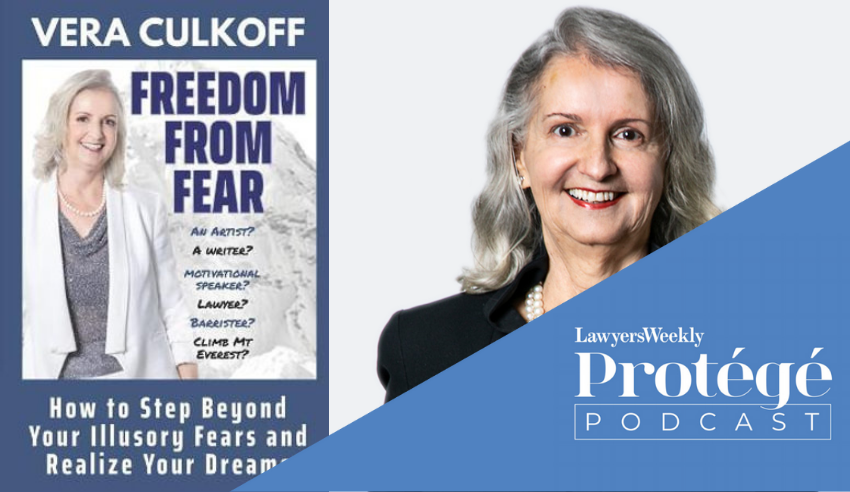 Allowing fears, nerves, or anxieties dictate what new lawyers can and cannot do has prevented many of them from taking up extraordinary opportunities and carving out a place for themselves in the legal profession – but it's time to find freedom from those stressors and put themselves and their careers first.
In this episode of The Protégé Podcast, we're doing things a little bit differently because it marks the first time that one of Lawyers Weekly's book reviews/interviews is done over a podcast. Today we're looking at Freedom From Fear by Vera Culkoff, an experienced barrister working out of Second Floor Selborne Chambers.
In Freedom From Fear, Vera talks not only about her personal and professional journeys but explains how the power of thoughts creates illusory fears that prevent many from realising their dreams. For lawyers, that could mean saying no to opportunities they feel they aren't ready for (even if they are) or considering passing it onto more senior professionals (which Vera almost did).
In addition to exploring the many key messages for new lawyers, this episode touches on how Vera herself navigated her own fears to make it as a barrister and the advice she can pass on to new lawyers. We also chat about how Vera made it into the profession in the first place: surprisingly, it all started as a hobby.
The episode has more by the way of tips for lawyers of all ages and career stages (and some particularly for female lawyers) as well as what life is like at the bar.
Have a listen below!
If you have any questions about the episode or if there are any topics that you might want us to look into, please reach out – we would love to hear from you!
<pWe're also always open to new guests, so if you have an exciting story to tell, if you're standing out as a student or graduate, or if you can offer some tips for our young lawyers, get in touch.
You can reach us here:
Emails: This email address is being protected from spambots. You need JavaScript enabled to view it. or This email address is being protected from spambots. You need JavaScript enabled to view it.
Socials: Follow us on LinkedIn, Facebook and Twitter or reach out to me directly here.
And check out some of our other episodes here: