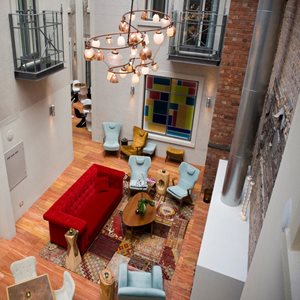 Auckland's luxury hotel, Hotel de Brett, is an ideal place to relax after a day of exploring.
Hotel de Brett, located just one street off the main Queen Street in Auckland, New Zealand, is the ideal location to unwind after a day of exploring the 'City of Sails'. Situated in an art-deco style building with custom New Zealand wool carpets, an eclectic mix of furniture, textiles and fabulous local artwork.
The hotel was worked tirelessly to make sure you don't feel the city within the hotel, despite its close proximity to one of the main roads, with 180mm double glazing and state of the art acoustic insulation. The rooms are delightful, the beds often associated with "sleeping on a cloud" with its goose down toppers, 100% Egyptian cotton sheeting and handprinted throws.
While there are many delectable restaurants near the hotel, make sure you at least check out the hotel's restaurant, DeBrett's kitchen. Locally sourced ingredients where the menu changes depending on the season will leave a delicious taste in your mouth.
Housebar, tucked away on the first floor of the hotel, has retained the original 1920's décor in the wood panelled walls, coved ceiling and chrome trimmings. A red velvet sofa in front of the fireplace is a fantastic way to feel beautiful and decadent either in the morning for coffee or dessert and drinks during the evening.
The hotel also has many features to keep guests feeling like they're at home; an honesty bar, a library of books, CDs, DVDs and records, as well as an Apple laptop for guest use. Michelle, John or one of their senior managers hosts a pre-dinner every evening which allows the guests to mingle, getting to know one another.
Michelle says, she had no doubt she could create a hotel which looks amazing, but it is the people who both work and stay here who make for an experience worth remembering and repeating. Book at hoteldebrett.com or call +64 9 925 9000.