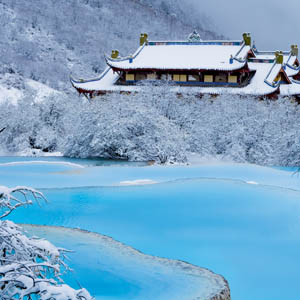 Discover the many wonders of another world: a mini Hawaii, floating mountains that inspired Avatar and the land that created the legend of Shangri-La_x000D_
Fantasy: JIUZHAIGOU
The lakes in Jiuzhaigou Valley, located in the province of Sichuan, are the colour of a mermaid's tail, and the scenery is as intricate and dainty as your grandma's lace doily.
Transparent turquoise water, more likely to be found off a tropical island, looks even bluer when set against the mountainous landscape. Legend has it that the Tibetan goddess Semo washed her face in Five Coloured Pond and her cosmetic pigments stained the water.
The russets and oranges of autumn make this park so vibrant that the photographs you take will look Photoshop enhanced. But it's all real, thanks to natural calcium carbonate that keeps the water clear and enables you to peer to the bottom.
At Five Flower Lake thin fallen trees lattice the lakebed. Submerged limbs eerily branch out below the surface and it's hard to tell if it is reflection or reality. Several millennia ago the lakebed was the bed of an inland sea.
The surrounding spruce and maple trees are lithe and match the skinny bamboo forests. Bamboo Falls is fairy-sized, reaching only seven metres in height but extending outward for 152 metres; the light waterfall like a drizzly cobweb.
There is also a Tiger Lake, a Sparkling Lake, Rhinoceros Lake, Double Dragon Lake and Panda Lake. Each pool feeds mythology and the place is ripe with possibility and mysticism. The water literally reflects heaven and earth.
Jiuzhaigou Valley is also home to the two most loved and most endangered species of China, the giant panda and the golden snub-nosed monkey.
Out of this world: ZHANGJIAJIE
Mist swarms around the base of these mountains making them look like they are floating. The pillars here rise over 1000 metres high and a rainy day is the best time to see the mountains as they seem to seep out through a mystical fog.
If it looks familiar, you've probably seen the film epic Avatar. The world of Pandora was inspired by this dream-like environment. The mountains appear to be suspended because thick green vegetation surrounds the base of the pinnacle, and when the sandstone is exposed it appears disconnected from the jungle below. Because trees and plants grow on the top of these tall rocks, they look like gardens in the air.
Zhangjiajie, in Hunan province, has been a UNESCO World Heritage listed national park since 1992 and has 243 peaks. A cable car dangles you 800 metres above the ground and there is no other way to see this dizzying spectacle unless you are a hard core mountain climber.
Serpentine wooden walkways cling to the side of the mountains and will send any height-phobic into a tizz - especially when they see that the newest walkway is nothing but a glass plank. But it's worth braving for the photo opportunity and the superman sensation. There is also the Bridge under Heaven, a 25 metre natural stone span loaded with greenery that connects two mountains at a height of 357 metres.
Spiritual: SHANGRI-LA
This area of southwest China spawned an ideological retreat from life, a veritable utopia where the world-weary can find peace and harmony. The novelist James Hilton coined the name Shangri-La in his 1937 novel Lost Horizon. It is believed to have been inspired by travels in Tibet and one of the communities in the book closely resembles what was the town of Zhongdian, now named Shangri-La.
The streets of Shangri-La are paved with natural stone while the buildings are wooden and the tiles hand-crafted. Steep stairs lead to a Buddhist temple that overlooks the old town. Here, incense wafts from the altars while chanting monks practise their devotional rites.
Outside Shangri-La is an even more ornate shrine to Buddhism, the Ganden Sumtseling Monastery. It looks more like a village on a hill, such is the extent of the religious complex. Modelled on the Potala Palace in Lhasa, the monastery contains watchtowers, ornate gates and hundreds of rooms. There are 146 steps that take you to the main prayer hall, which is more than 3000 metres above sea level. But be grateful you can use your legs - some Buddhist pilgrims prostrate themselves on their journey, meaning they slide from knees to forehead to reach the monastery.
According to Buddhist scripture, there is also a lost city in the Haba Snow Mountains called Shambhala in the shape of an eight petal lotus. Tiers of miniature infinity edged pools occur naturally at the base of this mountain, while the nearby albino terraces at Baishuita are made from deposits of travertine and make for a surreal snapshot.
Tropical: HAINAN
A sun-struck island with sandy beaches and an azure ocean that is warm all year round is a surprising find in China. So much so, in fact, that Hainan is known locally as a mini Hawaii.
It is after all located on the exact latitude of Hawaii, making it an Asian doppelganger. Hawaiian shirts and shorts worn by many add to the identikit appeal.
Hainan is also the base for China's submarine operations, so don't be surprised to see a periscope pop up beyond your paper-umbrella cocktail.
This island has mainly been reserved for local Chinese travellers and even now remains under the radar for most international visitors to the country.
The beach at Asian Dragon Bay is three times as long as any in Hawaii and Yalong Bay is known as China's champagne coast and runs for eight kilometres. What Hainan does not have, however, are the high rises that typify Hawaii. The island city of Sanya does have the cleanest air of any city in China though, while the capital Haikou comes in at second place.
There is also a tropical take on your typical Chinese food, with the island's fresh produce and fruit making meals that much tastier. The dishes are seafood heavy and instead of noodles and dumplings, street vendors are more likely to sell oysters, lobsters and prawns flavoured with coconut and mango. Hainan chicken is the island's most famous dish and the farmers feed the chickens on peanuts and coconut, which creates the much-loved flavour of the dish.
Mini-Thailand: JINGHONG
This region has all the hallmarks of Thailand, with rubber and palm trees, Buddhist temples and rice paddies all evoking South East Asia, not China. The town of Jinghong is littered with Thai style pagodas and the local Dai people have a script that resembles Thai lettering with its distinctive flicks and twists.
The Mekong River runs through this town in China's Yunnan Province, which is in partly responsible for scenery typical of Cambodia and Thailand. Once the Mekong reaches China it is referred to as the Lacang River.
Like Thailand, there is an annual water festival here - equivalent to Songkran - and held at the same time as the Thai and Dai New Year from April 13 to 15. Like northern Thailand, there are rocket festivals and boat races too.
Theravada Buddhist monks here wear saffron robes that create a distinctive Thai ambience. There are numerous wats - old style Thai temples - in the area including Wat Ban Suen Men, which is more than 700 years old.
Jinghong is situated in the Xishuangbanna region, a place with a rich ethnic mix and it's likely that Chinese will not be understood by some communities. Rural villages of various minority groups are scattered, including the Hmong people, more often found in the hilly northern parts of Thailand. The majority Dai population come from a Thai and Laotian background. In fact, Han Chinese make up only one quarter of this population.