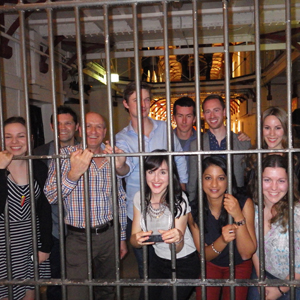 A number of Melbourne lawyers got a taste of life behind bars recently when they spent the night at Pentridge Prison in the Victorian capital.
Around 150 members of the Melbourne legal community took part in the Lock Up A Lawyer event on Saturday 12 October to raise money for the Melbourne City Mission, specifically its YouthLaw and Mates for Inmates programs.
This was the first time the event was held and it all came together pretty quickly as Monica Lillas (pictured right, crouching in centre wearing white, with the K&L Gates team), a K&L Gates lawyer and chair of YouthLaw, explained to Folklaw.
"It took a lot of organising; we organised it all in about six weeks, so it came together very quickly," explained Lillas.
The organising committee was made up of lawyers from a number of firms, including: K&L Gates, Tresscox Lawyers, Aitken Partners and Colin Biggers & Paisley.
Other law firms that had representatives in the prison on the night included: Ashurst, Holding Redlich, Herbert Smith Freehills, Maddocks, Maurice Blackburn, Slater & Gordon and William Roberts Lawyers.
Lillas was happy to reveal to Folklaw that K&L had the biggest team and it also raised the most money of any team – more than $7000.
"About 15 people from K&L Gates took part," said Lillas. "Our managing partner Nick Nichola (pictured, third from left) was involved too and he came along and stayed the night."
Lillas revealed that, between ticket sales and donations, the event had raised $45,000.
As well as the opportunity to sleep in a cell formerly occupied by a hardened criminal, participants were treated to dinner and had the opportunity to hear from a number of speakers, including: former lawyer and former Pentridge inmate Graeme Alford; Herald Sun crime writer Andrew Rule; former Pentridge guard Dennis Bear, and former major crime squad detective Joe Noonan.
"It was a really interesting picture of Melbourne's dark side really," said Lillas.
The sleeping facilities were far from glamorous for those staying over, with Lillas explaining: "I slept on a sort of yoga mat and blankets. [The cells] were fairly small and very dark because they had really thick wooden doors and just a little keyhole."
However, despite the less-than-cosy sleeping arrangements, Lillas said they received really positive feedback from those who took part.
"I definitely think we'd like to run it again next year; the programs that it supports really need funding, so any way we can generate funds is wonderful."
YouthLaw is a community legal centre that provides legal services and advice to vulnerable people under the age of 25, with a particular focus on the areas of human rights and social justice. Mates for Inmates is a program running in a women's prison in Victoria that sees inmates trained to groom, care for and handle homeless dogs; its aim is to provide the women with new skills and a sense of purpose, and to increase the dogs' chances of finding new homes.