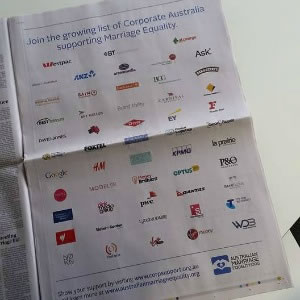 Four law firms have taken out a full-page advertisement in a national newspaper to push for marriage equality along with major corporates.
The ad was placed in The Australian today just days after the Republic of Ireland's majority Catholic population voted 'yes' to same-sex marriage.
Arnold Bloch Leiber, Slater and Gordon, Gilbert + Tobin and Allens were among 53 organisations to sponsor the advertisement by AustralianMarriageEquality.org.
Allens recently became Australia's first major firm to publicly state its position on gay marriage, releasing a statement of support on 17 May.
Major corporations including Qantas, Google, Westpac, David Jones, Foxtel, ANZ, Optus and Commonwealth Bank were also listed as sponsors in the ad.
The ad urged readers to "Join the growing list of Corporate Australia supporting Marriage Equality".
"Not only is marriage equality the only truly fair option, it is also a sound economic option given, that a happy workforce is a productive one," writes the group in an open letter available online.
According to the group, a recent Crosby Textor survey showed that 72 per cent of Australians believe same-sex couples should be allowed to marry.
The open letter states that 19 countries around the world have passed laws to allow same-sex marriage. In the United States, 37 states and the District of Columbia have legalised gay marriage.
If the US Supreme Court decides to legalise same-sex marriage across the country in June, Australia's opposition will be unique among anglophone (countries with English as the first language) nations, according to the group.
The ad is well-timed as the Greens and Labor Party have moved to introduce marriage equality bills into parliament.