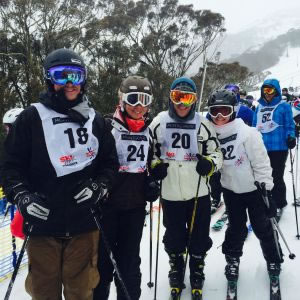 Hundreds of solicitors and barristers headed down to Thredbo for the 28th annual LAWSKI event earlier this month.
The three-day event, which wrapped up on 2 August, featured competitive ski and snowboard racing, as well as a black-tie presentation dinner.
"There is always a lot of healthy rivalry during the races between the different law firms," said Lucinda Steggles, president of the LAWSKI Committee from Gadens. "This year Clayton Utz took away the winning team trophy." 
LAWSKI is the only major corporate ski racing event to take place in NSW. Close to 350 lawyers attended this year, with representatives from all major NSW-based law firms and a number of barristers' chambers.
"This year's LAWSKI event was our biggest yet," said Ms Steggles.
Each year LAWSKI conducts a live charity auction at the SKIMAX presentation dinner. This year's choice of charity, the Katrina Dawson Foundation, was very personal for many of the lawyers present.  
"The Committee voted unanimously that the Katrina Dawson Foundation was the natural choice," said Ms Steggles.

Ms Dawson was one of two victims of the violence that brought the 16-hour Lindt Café siege to a tragic end in December 2014. She was a well respected barrister in Sydney and her husband, Paul Smith, is a partner at King & Wood Mallesons.
"This year's auction was a particularly heartfelt affair, given that many in the room knew Katrina and know the Dawson and Smith families, " said Ms Steggles.

The Katrina Dawson Foundation aims to preserve and honour the memory of Ms Dawson by funding and mentoring young women.

Ms Dawson loved to ski and her husband and brother prepared a video for the evening that included some footage of her on the slopes.  
"This year's auction raised over $25,000, which tops all of our previous auctions," said Ms Steggles.
"We are very pleased to have been able to make such a meaningful contribution to the Katrina Dawson Foundation."