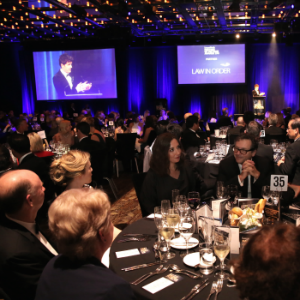 The inaugural Lawyers Weekly Partner of the Year Awards proved an instant hit as more than 400 legal professionals kicked up their heels and enjoyed a night of celebration.
The Sofitel Wentworth Sydney opened its doors to hundreds of tuxedo- and gown-clad partners and their supporters for the start of the Lawyers Weekly awards season.
Comedian and star of The Chaser Andrew Hansen opened the night with a musical number, comparing the Partner of the Year Awards to the Oscars and the Logies in an original song.
Guests were treated to a delicious smoked duck entree before the awards got under way.
Pointing to penchant for consolidation in the legal sector, Mr Hansen warned firm tables to resist the urge to merge and welcomed a future where Australia had a single firm: "Herbert Smith King & Wood Clayton Utz Burger King Starbucks".
A total of 21 partners graced the stage to accept their trophies and take home the title of Partner of the Year in their respective practice areas, in between delicious mains of beef cheeks or stuffed chicken breast and a crème brulee dessert.
Awards were presented by members of the Lawyers Weekly team, as well as our sponsors G2 Legal, Law In Order and Major, Lindsey & Africa.
Female partners edged out their male counterparts on the night, taking out 12 of the 21 categories.
The only double award winner was Dr Martyn Taylor, of Norton Rose Fulbright, who took home the commercial and the technology, media and communications categories.
The prize of a bottle of French bubbly for the best Tweet prompted a flurry of social media activity which included the hashtag #partneroftheyear.
Margaret Jolly ended up taking home the prize for being the most active tweeter throughout the night, including a cheeky dig at Mr Hansen being the only "nominee" who had prepared an acceptance speech.
After celebrating the most seasoned members of the profession, Lawyers Weekly's next mission is to recognise the up-and-comers in the industry at the 30 Under 30 in June.