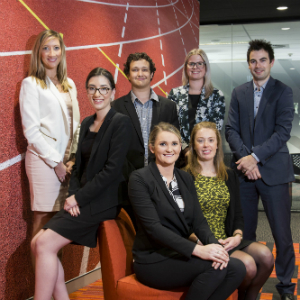 Three law students have been selected for a coveted internship with the official lawyers to the Gold Coast Commonwealth Games.
MinterEllison, the official law firm for the Gold Coast 2018 Commonwealth Games (GC2018), has invited three interns from Griffith University to support its work for the major sporting event.
Maddie Lacy, Christian Lecordier and Courtney Dalton are presently undertaking a 12-week internship, organised by Griffith Law School as part of the university's official partnership with the games.
The law students are interning with the embedded team of Minters lawyers, who are responsible for advising the corporation charged with organising the next Commonwealth Games.
Paula Robinson, MinterEllison lead partner for the 2018 Commonwealth Games, said the internship would expose the students to unique projects under the mentorship of skilled lawyers.
"It's truly a once in a lifetime opportunity and we are thrilled to be able to invest in the development of the newest members of our profession," Ms Robinson said.
"It enables the next generation of lawyers to gain real-world experience, working with and learning from a highly skilled legal team on one of the most exciting sporting events to come to the Gold Coast," she said.
The three students are the first to intern for the GC2018 legal team, and are working across a number of areas, including brand protection and compliance projects. The official legal team comprises six full-time and two part-time lawyers, in addition to a floating workforce of approximately 20 staff.
Ms Robinson flagged that while arrangements have been made to accommodate two intern places each semester, there may be scope to expand that number should her team have the capacity.
Griffith University's dean of law, Professor Penelope Mathew, said the program would give the students a wonderful, immersive experience. 
"The internship has a very good fit with the Griffith Law School's approach to legal education, which emphasises skills and real-world experience from the first year, and this experience will no doubt contribute to these students' employability at the end of their degrees," Professor Mathew said.
Time spent working with the MinterEllison GC2018 legal group will count towards the students' law course credit.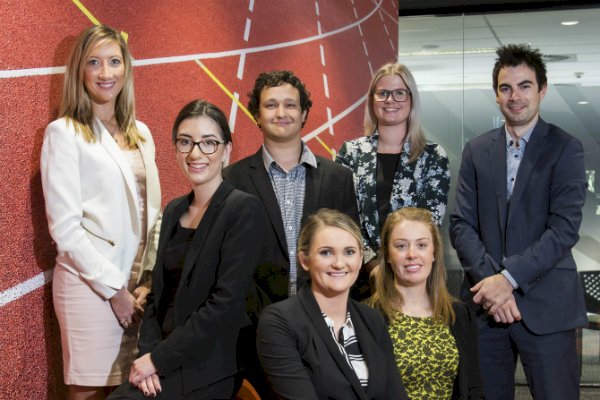 Courtney Dalton (pictured second from left), Christian Lecordier (third from left) and Maddie Lacy (fourth from left, at back)