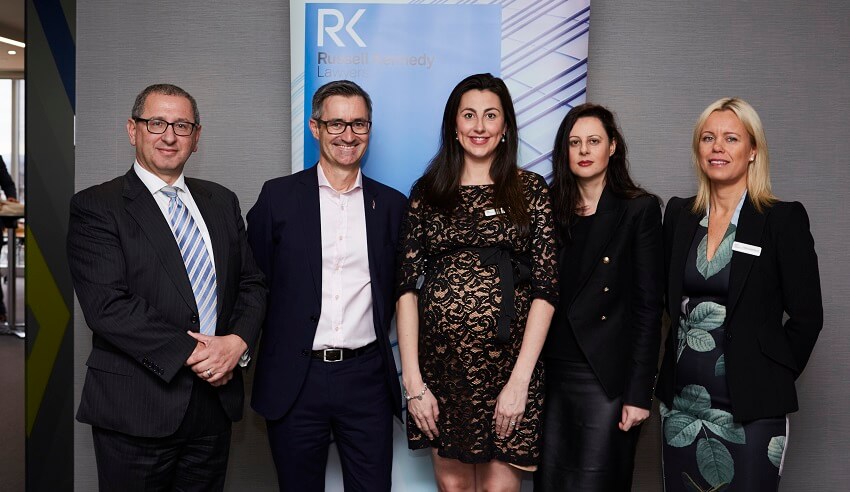 A recent panel held by Russell Kennedy Lawyers brought government representatives and business people together to discuss equality in the workplace.
The panel was held at the Melbourne office of Russell Kennedy Lawyers last month.
It featured guest speakers Adam Fennessy, secretary of the Department of Environment, Land, Water and Planning (DELWP) and a founding member of the Male Champions of Change (Victoria); Sarah Gruner, assistant director with the Office of Prevention and Women's Equality in the Department of Premier and Cabinet; and Marika Hubble-Marriott, principal at Russell Kennedy and convenor of the Russell Kennedy Women's Network (RKWN).
Representatives of the Victorian Bar, water boards, government in-house legal teams and individuals from the private sector attended the panel discussion.
Ms Gruner said the corporate sector is a clear leader in gender balance in Australia, although there is still a long way to go. In Victoria, women earn 88 cents for every dollar earned by men, according to Russell Kennedy Lawyers.
In the Australian legal profession, women make up two-thirds of law graduates but hold less than a quarter of senior leadership positions, the firm said.
Ms Gruner encouraged organisations to undertake gender auditing to achieve a true reflection of their gender pay gaps.
Mr Fennessy discussed his experience of driving gender equality at the DELWP, which reached equal representation of women in executive roles last July. He said the department is focused on creating clear models and pathways for women to progress to senior positions, so as to maintain this balance.
"We are all responsible for making gender equity a reality in our workplaces and this change needs to be led from the top," he said.
Ms Hubble-Marriott spoke about Russell Kennedy's formal gender equality strategy, which was launched this year on International Women's Day (8 March).
She said while it is encouraging that the corporate sector is "now having sophisticated and nuanced discussions about gender balance", individuals must honestly assess the system, culture and biases that exist in their organisations.
In addition to its gender equality strategy, in the last 18 months Russell Kennedy has introduced a formal flexible workplace practices policy, a family violence leave policy and a male champions of change committee.
Pictured L-R: Victor Harcourt – principal at Russell Kennedy, Adam Fennessy – secretary at DELWP, Sarah Manly – principal at Russell Kennedy, Sarah Gruner – assistant director at the Office of Prevention and Women's Equality in the Department of Premier and Cabinet and Marika Hubble-Marriott  – principal at Russell Kennedy.