McCabe Curwood promotes 9 across commercial and insurance division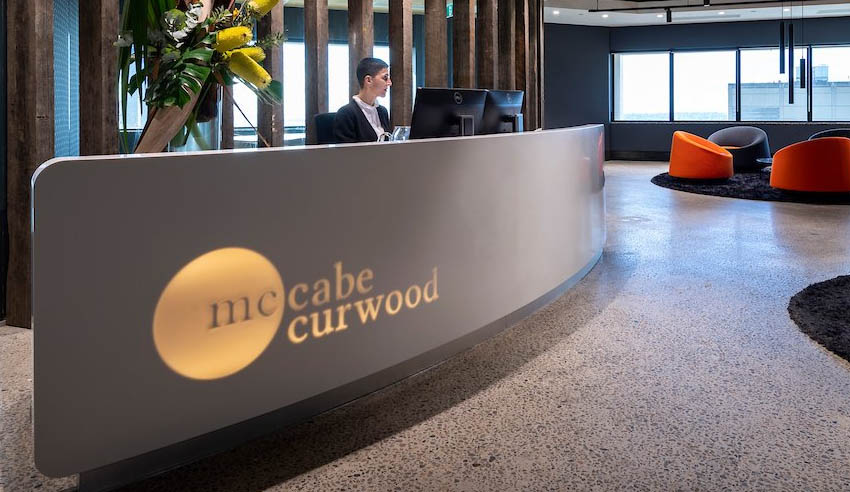 McCabe Curwood has made nine elevations across its commercial and insurance practice.
Managing principal Andrew Lacey said that there are always a number of people that excel in both their legal work and also their attitude and commitment to the firm.
"It is important for our culture that we embrace and reward people who are committed to giving their best in both legal work and values. Values like integrity, respect and honesty and a commitment to excellence and continuous improvement," he said.
Mccabe Curwood has made five new senior associate elevations including Helen Huang and Homira Haideri in the statutory insurance practice, Isabel Cusumano and Viv Braithwaite in the casualty practice and Vanessa Turner (government).
Ms Huang specialises in the area of CTP insurance for major insurance companies.
She commenced her career in 2013 as a research associate working alongside the principal claims assessor at Claims Assessment Resolution Service (CARS), a division within the State Insurance Regulatory Authority of NSW. 
Ms Huang then continued her career at Allianz, one of the largest CTP insurers before entering private practise at two esteemed CTP legal panel firms.
Ms Haideri has a strong practice background in litigation and dispute resolution involving negligence claims, with a particular focus on CTP claims.
Ms Haider is proficient in the assessment of damages in CTP and negligence disputes and employs this knowledge to evaluate the impact of expert reports and contentious evidence. Utilising her commercial mindset and astute legal knowledge, she consistently obtains quick and effective outcomes for her clients.
Ms Cusumano has experience in the areas of public liability, personal injury, property damage claims and indemnity disputes.
Since being admitted in 2015, she has acted for a number of major Australian and international insurers and has experience in conducting insurance defence litigation in the Local, District and Supreme Courts in NSW.
Prior to Mccabe Curwood, Ms Turner volunteered at a community legal centre, assisting with various matters including ADVO applications, debt disputes, and victim's compensation claims, before commencing work at a boutique law firm in North Sydney. 
There she worked for three years as a paralegal and lawyer, where she gained vast experience in civil and commercial litigation, personal injury, debt recovery and intellectual property.
Mr Braithwaite has experience in complex coverage and defence matters involving property damage, financial lines, professional indemnity, directors and officers liability, product liability and construction.
He has acted for domestic and international insurers in litigated and unlitigated matters in various jurisdictions throughout Australia.
The newly elevated associates are Guy Lewis (litigation and dispute resolution), Patrick Haklany (construction), Sarah Ibrahim (property) and Stephanie Chiu (health).
Mr Haklany is a lawyer in the construction group at McCabe Curwood and was recently admitted to the Supreme Court of NSW.
Prior to joining McCabe Curwood, Mr Haklany gained experience working on matters relating to individuals, companies and contractors on a broad range of construction issues, particularly in dispute resolution.
Ms Ibrahim is an accomplished property lawyer offering extensive knowledge and experience in all aspects of property transactions.
She acts for large and medium enterprises in respect of the sale and purchase of commercial properties, including structuring acquisitions, joint venture and development agreements, off-the-plan contracts, put and call options, and due diligence of development sites.  
Prior to joining McCabe Curwood, Mr Lewis worked as a research assistant in the law department at Macquarie University, and before that he undertook an internship at West Coast Environmental Law, a not-for-profit organisation based in Vancouver, Canada. 
In addition, Mr Lewis went on exchange to New York in 2015 to complete a course on the United Nations through Rutgers University.
Ms Chiu was admitted as a lawyer of the Supreme Court of NSW in 2014. Since her admission, Ms Chiu has practised in a variety of areas within the legal profession including criminal defence, administrative law, civil litigation and personal injury litigation.
As part of McCabe Curwood's health g Government team, Ms Chiu now specialises in medical negligence claims, acting on behalf of public hospitals and doctors in both litigated and unlitigated claims in the District and Supreme Court of NSW. She also represents the interests of local health districts in coronial inquests.
Voting is now open for The Lawyers Weekly Award, to be presented to one individual for making substantial, consequential achievements in advancing the Australian legal profession since 2000.
Julian Burnside AO QC (barrister)
Bernard Collaery (barrister, former Attorney-General of the ACT)
Kate Eastman SC (barrister and co-founder, Australian Lawyers for Human Rights)
The Honourable Robert French AC (former chief justice, High Court of Australia)
Sue Kench (global chief executive, King & Wood Mallesons)
The Honourable Chief Justice Susan Kiefel AC (chief justice, High Court of Australia)
The Honourable Michael Kirby AC CMG (former justice, High Court of Australia)
Jane Needham SC (barrister and former president, NSW Bar Association)
Geoffrey Robertson AO QC (barrister)
Professor Gillian Triggs (assistant secretary-general, United Nations and former president, Australian Human Rights Commission)