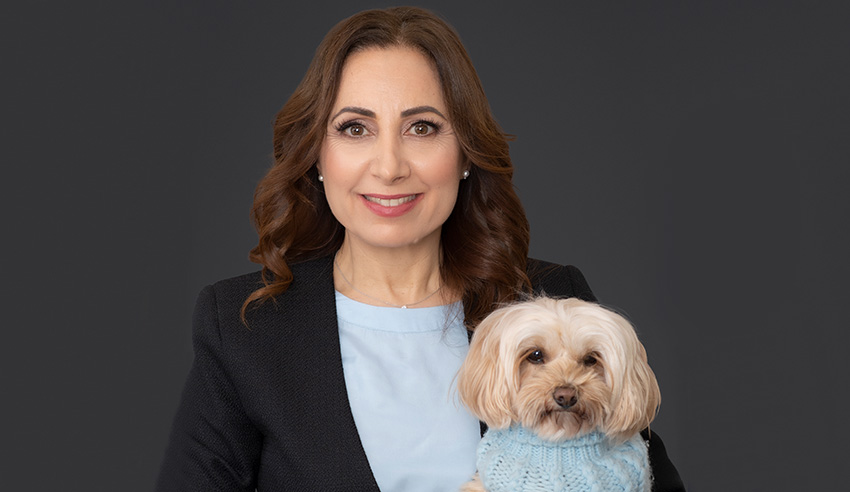 Five years ago, Pamela Cominos made a hugely important hire for her firm: Honey, who serves as the firm's chief happiness officer.
Being a member of the legal profession often means working long hours and undertaking difficult work, Ms Cominos muses, which can and does give rise to psychological distress, anxiety, depression and other related ailments.
There is a need, she told Lawyers Weekly, to create wellbeing and mental health programs "that allow for lawyers to see their value outside 'six-minute billable units'".
"Having dogs in the office helps to reduce stigma around mental health and encourages a healthier workplace that is less centred around billable hours and more towards lawyers as real people seeking fulfilling jobs," she said.
As such, in 2015, Honey – who is a moodle (a Maltese Terrier and Toy Poodle crossbreed) – joined Ms Cominos' Sydney-based firm, Cominos Family Lawyers (CFL), as its chief happiness officer.
"Since that time, we have encouraged our team members to bring their pets to work, at least one day a week. At present we have three dogs: Honey, Lily and Louis. Since the introduction of pets in the workplace, we have noticed their calming effect on both clients and employees who are often dealing with high conflict matters that invoke high levels of tension and stress," she said.
Having pets in the workplace encourages healthier habits whilst in the office, Ms Cominos stressed, submitting that it forces owners to take a break and constitutes a valid excuse to get out of the office and go for a walk.
"Team members will often stop and pat their colleague's dogs and strike up a joyful conversation. It provides a sense of community in our office and enables social interaction between employees and boosts office morale," she pointed out.
"[It also] helps reduce employee stress which in turn allows for productivity to be boosted.
"This has also been seen with clients, we find that if clients have had a difficult matter or moment – allowing clients to pet and play with our dogs allows them to take a breath and remove themselves for a moment from an environment of conflict and stress."
Moreover, having a pet around can serve as a meaningful icebreaker with clients, she added.
"New clients are often very nervous to step foot into a law firm which is an environment of the unknown. Having a dog in the office brings a sense of normality to the client and creates an easy way for solicitors and clients to easily interact together," she said.
It is critical, Ms Cominos posited, that family law practices consider alternative workplace strategies such as keeping pets around, particularly in the looming new normal.
"Family law practices are generally very traditional workplaces and have a clear level of seniority between employees. At CFL, we are trying to remove boundaries and make the office a happier and more collegial working environment – we want our employees to have high job satisfaction which in turn allows for job retention," she said.
"By creating a way for senior and junior lawyers to interact together allows for a supportive and open culture in our workplace. And, by considering alternative strategies as the new normal allows for CFL to stand out as a leader in the family law field and promotes a non-traditional workplace that in turn attracts the best staff and employees."