Partners 'have to have compassion'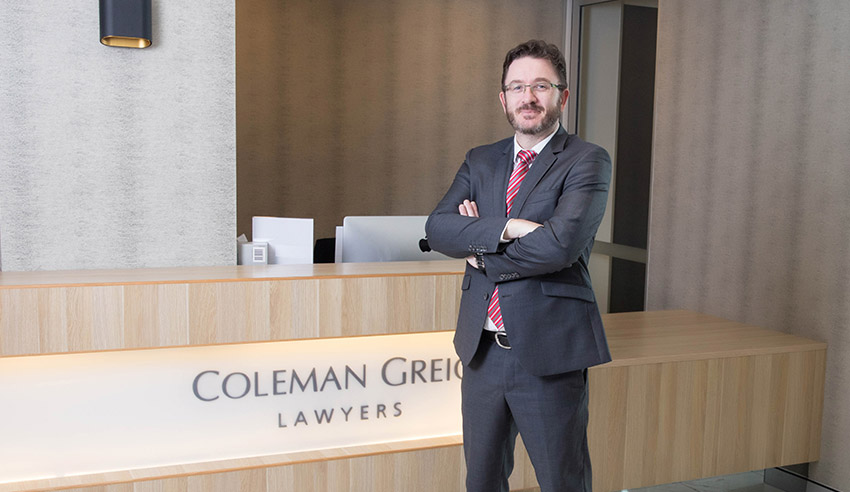 There is a need for team leaders to set the right example in all aspects of daily legal practice – this, first and foremost, requires one to be human, says Malcolm Gittoes-Caesar.
In conversation with Lawyers Weekly, Coleman Greig principal and director Mr Gittoes-Caesar said that he recently described the year 2020 as having been "oppressive".
In light of such oppression, everyone has been under pressure, he said – including clients, staff members and the judiciary – and one cannot pile on top of that.
Partners, or partners-equivalent, "have to have compassion", he submitted.
Mr Gittoes-Caesar – who last week won the Wellness Advocate of the Year and Family Law Partner categories at the 2020 Partner of the Year Awards – said that leaders such as himself have to live up to the high standards that are set for them.
"I am blessed to work with Principals who really care about our staff and a great HR team, and although we don't get it right 100 per cent of the time, we try, and I think our staff see that.  And you need to lead – by example, and from the front," he espoused.
"People watch what I do as a Principal, and hold me to a higher standard – and they should.  I need to live up to that, and that starts with being open and honest about my own struggles."
This is certainly applicable in his practice area of family law, he noted, with this year proving that successful leadership and legal practice are about so much more than just black-letter law.
"In the age of coronavirus, it's about being adaptable and flexible, thinking about ways of doing things differently, and future proofing yourself as a business.  It's also got a lot to do with supporting your team, and your clients," he said. 
"2020 has been awful – just awful – so looking after your team and client, and just being a decent human, feeds in to being a good lawyer, and being successful. Without my team being ok, there is no success."
By simply being human, Mr Gittoes-Caesar argued, partners and other team leaders will be best placed to ensure optimal wellness – and therefore productivity – from those under their purview.
"Being vulnerable isn't common in the law (and less so among blokes). I suffer from anxiety and depression, and the fact the people know that makes them willing to talk to me about it, and ask for help.  And otherwise it's being flexible, and following through – paying lip service to wellness issues is never going to work," he outlined. 
"Authenticity is key – as is just being kind to people. Yes, we have a business to run, and that means providing people with opportunities – but you can do it without running people into the ground."
The little things, he noted, can and will be critical.
"I encourage my staff not to work on weekends. We don't give out our mobile numbers. We provide realistic timeframes, so our staff aren't under the pump. The line between work and home has never been blurrier – so setting up boundaries between us and our clients is so important. And not bending on that – if a client wants 24/7 access to me, then I am not the lawyer for them," he advised.
"We need to show clients that we don't need to be available at the drop of a hat, and that we are better lawyers if we are happy."
2021 is right around the corner, Mr Gittoes-Caesar mused, which should hopefully bring some respite after such a trying year: "It has to be better, right?"
"Personally, I am excited about doing more in the wellness space – for clients, staff and myself.  That means having the conversations, and bring mental health (and its effect on lawyers) front and centre – which is really exciting to me," he said.
Such excitement, and passion for workplace wellness – both within his own family law team and more broadly – were rewarded at last week's Partner of the Year Awards, which he said "means a lot" to him, albeit for different reasons, when asked about the two accolades he received.
"The Family Law one I view very much as a team award – my recognition is as much a by-product of their hard work as mine. The Wellness Advocate one is different – it spurs me on to do a lot more in the mental health space, and do my best to usher in some cultural change, and acceptance around mental health issues and promote a willingness in people to ask for help," he pledged.