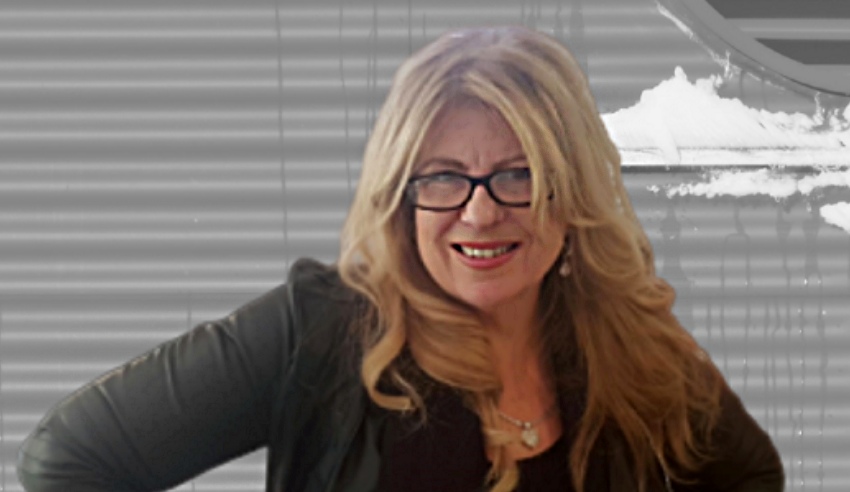 Content that engages, educates and encourages conversations is the lifeblood of LinkedIn. The platform delivers well on the promise to build professional networks, personal brands and value sharing, writes Sue Parker.
It was only in 2014 when LinkedIn gave every member access to publishing tools. No longer was it just the bastion of global influencers such as Richard Branson and Arianna Huffington as the content sky opened for all.
Since 2014, global membership grew from 300 to 756 million. And with that came numerous platform transformations, new features and algorithm vicissitudes.  What has been constant is the need for pliability to grab a slice of the rich LinkedIn pie of opportunity.
Purpose and opportunity
The purpose of content marketing on LinkedIn is to raise visibility, influence and impact ideal target market/s. Traction derives from relevant networks, quality content, organic reach and engagement.
But there is no silver bullet for quick success. The keys are persistence, consistency and creative strategies backed by the latest research and tools.
Each lawyer and firm will have differing objectives but all will be unanimous in their quest to attract meaningful business and networks. That may be from other lawyers, referral partners, industry groups, new clients or hiring staff. But whatever the focus, there are fundamental elements to maximise ROE (return on effort).
Get these elements right and success is a shorter road. Get them wrong and organic reach and success can be compromised. Some tools and elements are like salt and must be used sparingly. Others are like pepper to be used liberally for spicy impact.
And whilst high engagement metrics are valuable (likes and comments) they do not paint a full picture of success as a large number of members lurk and read without engaging. The length of time spent on content is an important algorithm trigger to distribute further. This is the algorithm process filtering system known as dwell time that analyses value.
Topic genres
Mixing up content topics is important for a healthy and vibrant content strategy on both personal profiles and company pages. The five genres are:
   

Expertise and thought leadership: insights, opinion pieces, education, new ideas

   

News and trends: current affairs, industry news, statistics, insights, commentary

   

Promotion/PR: announcements, events, updates, hiring, promoting services

   

Celebration: staff updates, awards, stories of success, fun stuff

   

Feedback: calls for industry feedback and advice, questions
Preferences
We are both content consumers and curators. Factoring in LinkedIn's brand positioning and members' predilections is vital. It's illogical to assume that 100 per cent of any industry, gender or age demographic will 100 per cent favour a specific format. This was evident from the LinkedIn poll I ran in 2020 asking "what member's content format preference was – as a consumer".
Respondents were mid to senior professionals and business owners from most professional sectors (including law). Ages ranged from 35 to 55 with 285 men and 224 women. Similar global polls since all deliver similar findings.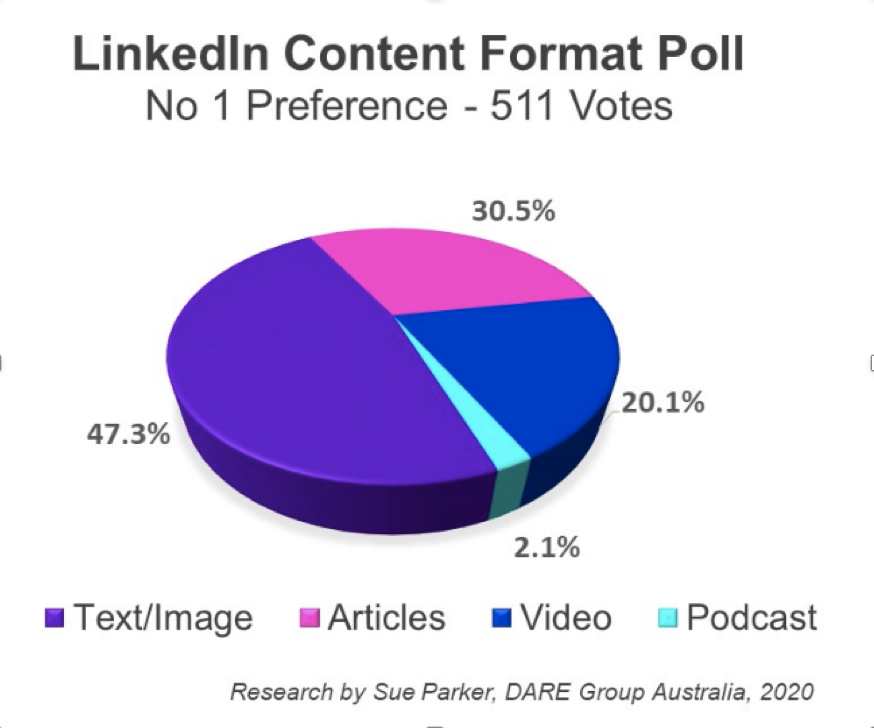 Options
There is much confusion with the plethora of new options and changes of algorithm weightage and value.  
Articles
Whilst they get little algorithm reach and love they hold unique value. Indexed on Google (only format that is) their SEO juice is exceptional. A permanent body of work of your best content the value is a tool of marketing reference and value versus ephemeral newsfeed eyeballs. Recommend at least three articles per year utilising multimedia. As of June articles can be posted directly from company pages.
PDF document carousel
Excellent visual option publishing PDF documents in an easy UX downloadable carousel (up to 300 pages).
The algorithm and reach are quite high as the creative impact and information engage members for longer and arw boosted. A case of pepper to spice content reaches here.
Posts: text, image and text
LinkedIn has just increased character limits from 1,300 to 3,000. Sometimes less is more and other times more is required. 
Research shows that posts with a good image get 94 per cent more views, Note that posts that contain one URL link are no longer penalised as previously.
External articles as posts
Posting an external article directly has fair to great reach. Some media and websites have very high domain authority that can translate to greater reach and AI triggers when tagged correctly. 
Note that resharing of original LinkedIn posts and articles rarely delivers as original posts are the king and queen of engagement.
Polls
Polls require a salt approach – use sparingly and strategically.  The algorithm gives a decent push especially with a good introduction.  
Videos and podcasts
Best to upload organic videos directly. But it is still worthwhile sharing from other channels.
Podcasts don't always get huge reach and views due to time limits. There are clever ways to share podcasts for brand augmentation.
LinkedIn stories
A 20-second ephemeral video visible only on the mobile app for 24 hours. It hasn't delivered despite the hype so don't bother.
Hashtags
All formats must use the right hashtags. LinkedIn places great significance on their value as is evident in updates and the roll-out of creator mode options.  Hashtags are tools for search, classification, and identification. The first three hashtags form part of the content URL that is important. Use no more than four (three is optimal) as hashtags work very differently on LinkedIn.
Hashtag traction is not a spray and pray, make one up from your head on the fly. It's important to research follower numbers as many will be virtually useless. Using the right hashtags correctly expands organic reach and value.
There are two hashtag lists for the legal sector – general topic and legal specific. Be mindful of plurals, abbreviation and similarities. A combination from both lists is wise. I have researched and published the top 400 general and 55 legal lists with the latest top 16 legal ones below: 
| | |
| --- | --- |
| Law - 5,517,516 | Lawandlegislation - 5,505,063 |
| Legalissues - 5,318,413 | Privacy - 510,907 |
| Legalprofession - 492,075 | Businessmergersacquisitions - 343,610 |
| Lawenforcement -  286,234 | Legal - 78,500 |
| Compliance - 69,040 | Lawyers -  67,176 |
| Lawfirms -  66,283 | Legaltech - 57,866 |
| Lawyer - 52,409 | Litigation - 45,878 |
| Lawfirm - 42,319 | Employmentlaw - 37,717 |
Key tips
Posting more than once a day significantly decreases reach on subsequent posts. Ideally no more than five pieces of content a week from your personal profile. Company pages' posts and articles are in addition.

Don't hashtag stuff like Instagram. It looks desperate and unfocussed. No more than three or four. Excessive hashtags can trigger a SPAM classification.

Minimise tagging people in posts and only when they have direct relevance to the content. Excessive tagging can create a SPAM trigger if people do not engage. Best to tag in comments.

Scheduling tools are not advised as they have been proven to reduce distribution. Most software don't transfer hashtag links.

Keep growing a quality network of relevant connections to increase eyeballs.

Don't use Unicode or fancy bold fonts to try and stand out.  They can be garbled and unreadable on many Android devices.

Invest time and genuine engagement in your networks and ideal target markets content. This will trigger the algorithm to share more of your content and tailor your unique AI and reciprocity reach.

 
Over the next 12 months expect many more updates and changes. But what will not change is the value of quality content and networks. 
Sue Parker is the founder of DARE Group Australia.