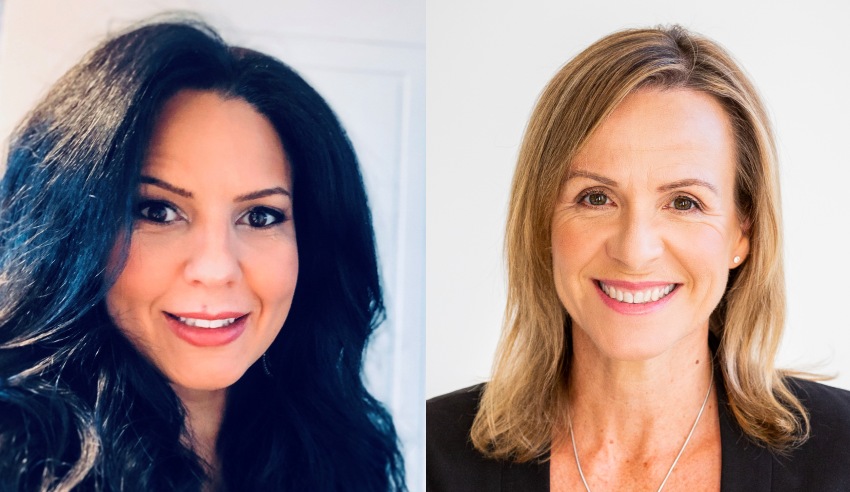 In the age of coronavirus, having the safe space of a mentoring relationship has been critical for two lawyers to successfully manage the myriad turbulence.
Last year, when COVID-19 "started to rear its ugly head", Marsha Bassily (pictured, left) sought a mentor. 
The pandemic, ironically, gifted her some time to look beyond the daily grind of immigration work and take time to instead look inwards.
Speaking to Lawyers Weekly, Ms Bassily – the principal of MB Lawyers – said that coronavirus had wreaked havoc for lawyers across the board, both personally and professionally, including in some of her colleagues. This was an "alarm" for her, she said, and a sign that she had to start treading carefully.
She decided that a mentor might help, and found R3 Resolution principal Julie Somerville (pictured, right) via the Law Society of NSW's mentoring program. The relationship, they agreed, has been essential for them both over the past year.
Increased importance of mentoring
COVID-19 has thrown much of daily legal practice into disarray, Ms Somerville mused, "causing us to revisit how we practice, how we build and maintain a network and how we continue to offer our services in a way that responds to the needs of our clients".
"We are all on a steep learning curve, and there is no precedent to follow on how one pivots in this environment," she said.
"The mentoring relationship provides a safe space to express frustrations and concerns, brainstorm on ways to respond to the new environment we find ourselves in and to learn from one another."
For Ms Bassily, whose firm practices immigration law, such a safe space was essential, given how hard that industry was hit by the pandemic.
"When the borders shut in March 2020, some immigration practices shut their doors too. It was a jolting time for immigration lawyers. We had to pivot very quick to survive, and then thrive. Having a mentor at that point was essential," she said.
"Since the border closure, the government released a tsunami of legislation, policy, media releases (on a variety of platforms), updates, newsletters, and we had to stay on top of all that. Our clients became more anxious, and we had the odd task of being a counsellor, not just councillor (I appreciate why, and by no means am I taking away from the clients' genuine needs here). We also had to have a crystal ball too, as the Government would announce changes off the cuff, or with very little notice. We need(ed) to give certain advice in uncertain times. It's been tough."
Having a mentor to talk to about those challenges, while focussing on developing herself professionally, and her firm, "was, really, a godsend", she said.
Mentoring in the post-pandemic market
When asked why mentoring will be fundamental in the post-pandemic new normal, in which legal workplaces will be increasingly scattered and virtual, Ms Bassily said that mentoring will need to make up a shortfall of in-person conversations as the traditional nine-to-five in the office goes by the wayside.
"We'll crave more and more of that personal connection and conversations in our lives, as we spend more time working remotely due to COVID-19. Less will be the water cooler chats, and the lunch runs, and the after-hours drink, and the birthday celebrations for colleagues. Lawyers will need more personal connection to compensate for that loss," she argued.
"The mentoring relationship is confidential. That confidentiality cloak gives a sort of comfort and boldness to discuss topics that you may not normally discuss with your peers or superiors."
Ultimately, all lawyers will need to have an increased personal connection. We really are the most stressed profession!
Ms Somerville agreed, noting that a mentoring relationship – particularly with someone outside of your workplace – will play a very important role in many ways.
"On a personal level, mentoring relationships provide a space for you to be vulnerable and share your struggles and triumphs without worrying how your peers may react, on a professional level, it provides an opportunity for you to learn new skills, different ways to tackle issues and collaborate with someone who may have a new perspective to bring to the table," she said.
"With few opportunities to network with wide ranges of people and observe other practitioners, there is a risk that our professional perspectives could become siloed or echo chambers – an independent mentoring relationship provides an opportunity for lateral thinking and a diversity of perspectives."
Lessons from the past year
Given the bounty of issues faced by lawyers in the past year, Ms Somerville said that "having a mentoring relationship with someone outside of your immediate work circle is so important to allow open and frank discussions about challenges that are faced, but also to ensure that we gather information from a range of sources that can help us personally and professionally adjust to the ever-changing legal landscape".
Just as everyone needs a lawyer, Ms Bassily argued, every lawyer needs a mentor. 
"We are an aged-based profession (in terms of experience, not physical age), and what I found was that I'm often a mentor for my junior colleagues, but that meant that I didn't have a mentor," she recalled.
"I was missing out on having a professional, who had gone there before me (so to speak), who would listen and help me carve out ideas, complex thoughts, and possible solutions. And someone that would give confidence for growth and development, and validation to experiences."
Ms Somerville has been a "fabulous and generous" mentor, Ms Bassily proclaimed, having provided every aforementioned benefit for her.
"The mentorship program officially ended in April this year, but we still keep our sessions. It has been enormously rewarding, for both myself personally (professional development and wellbeing) and my practice (growth and development)," she said.
Making it work
Ms Bassily offered some tips for other lawyers looking to make their mentoring relationships work for the post-pandemic market: "Make sure it is mutually beneficial to both parties, set some realistic goals, actually like your mentor as a person and professional, share some key values, have mutual respect, set a mutually convenient time and structure your day around it. If you don't start seeing some benefits, then the relationship may not be working, and may need some tweaking."
"If you don't have a mentor during COVID-19, I highly recommend you seek one. It relieves some of that burden thrusted upon us by COVID-19," she advised.
"As the Chinese proverb says, 'A single conversation with a wise man is worth a month's study of books'. (I don't really want to tamper with the age-old proverb, but I'm replacing 'wise man' with 'wise person' here). Now, we all know a lawyer's reading is excessive, so any way to reduce the load, I'm sure, is not only lawyerly clever, but necessary."
"Imagine then, the library you will have saved yourself simply by engaging in mentoring conversations!"