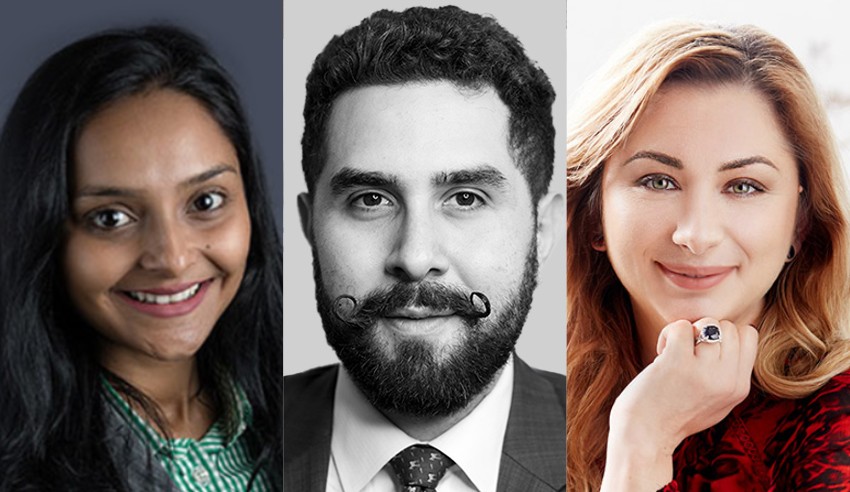 Too often, correspondence with opposing parties devolves into inappropriate point-scoring, aggression, and intimidation, which serves only to inflame conflict, leaving both parties and their clients worse off.
Adopting the right mindset
There is a well-worn joke, Executive Legal partner and head of litigation Jahan Kalantar mused, that just as one should dance as if no one is watching, all legal correspondence should be drafted as if it will be read aloud in open court.
The reality, he said, is that all cases are seen through one's own inherent biases, passions, and personal and professional positions.
"A judge is by definition, impartial, and is to look at things through the cold light of day. If our correspondence is written with the end goal in mind, what it enables us to do is to ensure that every step we take is designed to reach the real issues in dispute rather than become personal and petty," Mr Kalantar explained.
"It allows us to rise above the dispute and to ensure that we talk in a way that befits our real purpose, which is to get a resolution to the matter."
Legal drafting is equally as important as recorded and transcribed vocal advocacy in a courtroom, Longton Legal senior associate Yashvi Shah argued.
"Lawyers should adopt a mindset of writing correspondence to opposing parties as if a judge were to read it, because each and every letter, email, or text could potentially be used adversely against a lawyer, in a court of law, if tendered as evidence against them, be it in professional misconduct, negligence, civil or criminal proceedings in which they may become party to, when that correspondence does not extend the rules of client legal privilege or confidentiality," she posited.
Adopting this mindset is especially pertinent, Kalpaxis Legal director Cassandra Kalpaxis added, in light of an existing culture among certain lawyers to draft and send correspondence that is "aggressive, inappropriate and further inflames the conflict" between parties to a matter.
"I have seen correspondence that is aimed personally at the Solicitor with conduct of a matter which goes to none of the issues in the matter. Writing for the benefit of a judge removes the temptation to engage in the conduct referred to above. It keeps lawyers accountable to the Solicitors Conduct Rules and also to the overarching purpose which underpins the foundation of the area of law in which they practise," she noted.
Why this is so important
Failure to conduct one's self in a manner in accordance with the Solicitors Conduct Rules, Ms Kalpaxis continued, can have "overarching consequences for ourselves professionally but also for our clients which we are engaged to act for".
"We have a responsibility and a duty to ensure that our own interests are not put before that of our clients. We have all received inflammatory correspondence that we wanted to send an immediate response to taking the same inflammatory approach that was set out in the correspondence we received," she recalled.
"However, it is in that moment that remembering to walk away and get some clarity and perspective is most important.
"It is only when we are calm and reflective that we can write as if we were writing for a judge. It is important at that moment to look at the situation and ask what would benefit your client, what is in their best interests and more often than not take an aggressive approach," she said.
Mr Kalantar said that he has been involved in matters where it has "devolved into a personal game of point-scoring" and whilst it is extremely satisfying to send a letter pointing out the deficiencies in an opponent's case, character, and career, it is also a "totally inappropriate and petty maneuverer that brings out the worst in me and hurts my client's position".
"Lawyers should never become angry mouthpieces on behalf of their clients, but instead should adopt an attitude of a trusted advisor seeking to fix the problem. That mindset brings out the best in me and allows me to focus on my job, which is helping my client solve a problem," he advised.
As a criminal lawyer, Ms Shah said she always tries to be aware of exactly what she writes and to whom the recipient of my correspondence is, noting any foreseeable concerns a judge reading the correspondence may have.
"I personally would feel embarrassed and ashamed if what I wrote would be deemed ill-founded by the courts and that is why I would go that extra step to elude the possibility of having my correspondence [really] read aloud by the courts," she reflected.
Flow-on consequences for inappropriate correspondence
There are many situations that no lawyer would ever want to find themselves in, Ms Shah explained, because of an unintentional or intentional sentence or paragraph contained in the correspondence that ends up before a judge.
"All solicitors have a duty to act competently and courteously to the court, client, and to other solicitors. The consequences of a potentially aggressive or intimidating letter or email that may be deemed by a judge as negative could result in a finding of a breach of the Rules, and if a complaint is formally issued against the lawyer, the courts may determine whether or not the solicitor is to be warned, or further action taken depending on the gravity of the circumstances, but that is dependent on the Ethics committee and LPAB," she listed.
"It is imperative to have a mindset that remains alert of what we type, and to whom, and how that correspondence may be interpreted by a judge reading it."
Having an allegation made against you, Ms Kalpaxis warned, can have a significant impact on a practitioner's mental and physical health.
"It is extremely stressful and having allegations made against you should be avoided by compliance with the rules. There are significant and serious ramifications for Lawyers if an investigator deems it appropriate that the tribunal should step in because there should be further investigation around misconduct or for breach of the rules," she advised.
"Within the profession, you will develop a reputation for being a lawyer who conducts themselves in a fashion which is combative, obstructive, rude and aggressive. The consequences of that behaviour make it less likely that people will want to work or collaborate with you.
"Clients also become familiar with such a reputation making it difficult to generate work or to have the freedom to work with the right type of client. Referrals will stop coming in. It is a recipe for a disaster professionally," Ms Kalpaxis surmised.
"Further, the impact that sending such a letter can have on your peers and your colleagues should be of paramount consideration. We have a responsibility to act appropriately and to ensure that we are being cautious of the impact that our words can have on the other people that we work with in the profession."
Mr Kalantar noted that he has been personally offended by correspondence sent from the other side and conceded that some of the things he has said would have offended others.
"With the benefit of hindsight and experience, what did I really achieve? At best, I looked like an irate bully making a point and at worst, I looked like a fool screaming into the void," he deduced.
"It also left me feeling deflated, unhappy and distracted from my purpose. I have also seen the consequences of that correspondence being read in the court by a judge and the court realising that this dispute escalated because of the lawyers and created more issues. That inevitably brings the court's ire."
Driving change
Ms Kalpaxis said she has spent a "considerable amount of time" mentoring her staff about the importance of drafting appropriate correspondence.
"As a senior lawyer, it is our role to identify when correspondence, or an approach taken by a lawyer, is becoming less client-focused and more about a position the respective lawyers have adopted. It is important that we are able to lead by example and collaborate and discuss matters even when acting on the other side to demonstrate leadership and being committed to reaching a resolution that best suits our client's needs," she submitted.
"It is also important that when we receive correspondence from another lawyer that might be inflammatory that we demonstrate and role model the appropriate behaviour when addressing that correspondence. This type of behaviour stems back to the adversarial nature of our jobs and the ongoing competition and conflict that some lawyers feel is necessary to 'win' for our clients."
It is also the responsibility of supervising lawyers, Ms Kalpaxis continued, to ensure that they are mentoring their staff to rise above that behaviour and to remain client-focused each and every time.
"I have often said to other lawyers that when they receive such inflammatory correspondence to write back to a lawyer when their correspondence has sailed very close to the wind and asked them to reflect on why they have sent that correspondence, what they hoped to achieve and how they might have felt receiving such a letter," she said.
"When asked to reflect on their own behaviour most lawyers realise that they have been emotionally invested in their client's case and not being reasonable or acting in accordance with their duties."
Ultimately – and it may sound simplistic, Mr Kalantar said – "try to be nice and decent to one another".
"I used to think it was a point of pride if when the other side saw a letter from my firm, it would cause them to feel a sinking sensation in their belly and start sweating bullets," he recalled.
"I have outgrown this childish mentality and now I encourage people to remember you are dealing with a human being and while you should put your case forward in the best possible terms, you don't want to close the door to a meaningful negotiation. Being proper and polite doesn't just feel good, it actually helps you win."
Final thoughts
For Ms Kalpaxis, her reputation amongst peers and also in the judiciary is "extremely important to me".
"I have worked hard to establish myself and my brand in the legal industry. I do not want to jeopardise that by engaging in correspondence with another practitioner, which aims to simply prove a point or that has been sent from an emotional standpoint. That serves to resolve nothing," she proclaimed.
"My clients also know me as a practitioner who values conflict resolution and pragmatic problem-solving. To engage in acrimonious and inappropriate correspondence would be hypocritical and goes against everything I value as a lawyer."
Ms Shah added: "Whether working at the law firm or working from home, all lawyers have faced some disruption to their practice during lockdown. In this digital age, lawyers have become prone to using eCourts and accustomed to appearing in court via audio/visual link where hearings are recorded, and witnesses are called to give evidence remotely, and therefore, it is even more vital to be careful in how we correspond with other legal practitioners".
Further to this, Ms Kalpaxis said in support, the Solicitors Conduct Rules "apply to every single set of correspondence we send out in our capacity as lawyers".
"They apply to our social media and our exchanges online. Remembering the principle of writing for a judge in these scenarios ensures that you are professional, appropriate and engaging in a manner that is befitting for the standards set out in our profession."