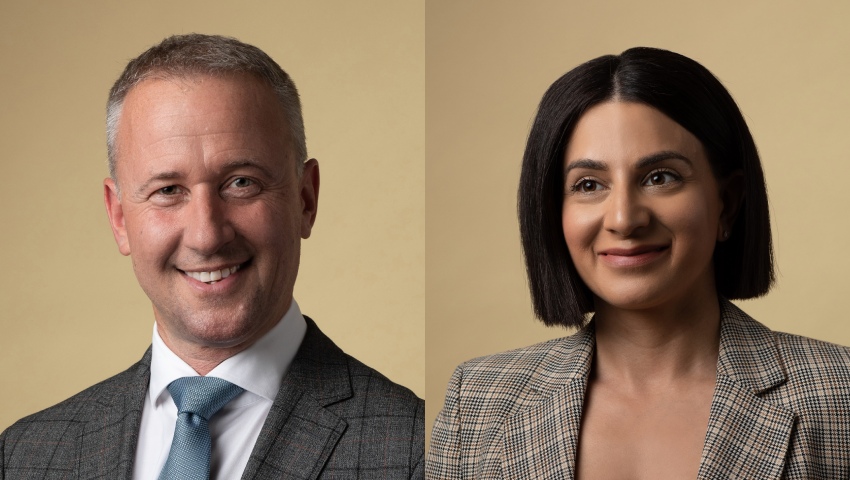 Following the opening of their new office, the Stanley & Co founders have revealed the key to their growth strategy and staff retention.
Boutique law firm Stanley & Co has unveiled its new state-of-the-art office in the Adelaide central business district as part of its growth strategy – and after becoming one of South Australia's fastest-growing small firms.
Stanley & Co was established in 2016 by Rich Stanley and Amra Sabou and has since grown to a team of 16, despite facing a global pandemic.
Speaking to Lawyers Weekly after the firm's new office opening, Mr Stanley said the modern Carrington Street location would be beneficial for staff and clients alike.
"We are fully committed to investment in the Adelaide CBD and in particular, the legal precinct. Given our current location with on-street parking and a spacious area with three meeting rooms and two breakout areas, our Adelaide office currently meets needs and prospective growth. Most of our lawyers are in one of the courts or attending at barrister's chambers each and every day and so it's important that we are walking distance to those locations," he said.
"Given the rise in the community's use of technology during the COVID-19 pandemic, clients that cannot attend our CBD office can still receive the same level of service via electronic platforms such as Zoom and Microsoft Teams. We currently service our interstate and rural clients in this manner and there is no reason why this kind of service cannot extend to those that live in the Adelaide metro, but cannot travel to the CBD."
Since its inception six years ago, Stanley & Co has "experienced exponential growth" and recorded 155 per cent growth in the last financial year, according to Mr Stanley, who said that he was focused on challenging the traditional law firm model.
"We previously worked in a traditional law firm model that was outdated. We suspected that it could all be done better and have happier clients. Amra and I have different strengths that complement each other and we work in complementary areas of law," he said.
"Between the two of us, we knew we could offer a superior level of service to our clients. Having our own firm meant that we could have the freedom to experiment with all of our new ideas and put into practice the kind of service that we knew clients yearned for."
Stanley & Co offers flexible working hours for staff, an extensive wellbeing program and one-on-one personal coaching, which Ms Sabou said was part of "creating a healthy and positive workplace culture".
"Our staff are offered one-on-one personal coaching as part of our innovative staff wellbeing program. We have a business mentor fully integrated into the firm who provides monthly sessions to help our team achieve professional and personal goals," she said.
"The Great Resignation and career burnout is forcing many lawyers out of the industry. We recognise the value of creating a sustainable work/life balance with the wellbeing program designed to keep our employees happy, engaged and enjoy coming to work each day. In turn, we can create better outcomes and achieve better results for our clients."
And after achieving an initial goal of having nearly 20 staff and their own premises, Stanley & Co is focused on innovation, efficiency and team culture, Ms Sabou added.
"We are now looking at entering a period of consolidation whereby we critically look at our systems and procedures and find ways to work more efficiently, allowing us to add more value to a client's experience. We anticipate a further 10-20 per cent growth in staff numbers and turnover in the next 12 months," she said.
"We have a firm culture that rivals the rest. If you ask any one of our staff members what their favourite part of working here is they will likely say, it's 'the people and culture'. We strive every day to make our workplace a nurturing and positive place to be and we think we have achieved that. Further, the quality of the work we produce is of the very highest standard. These two values come far before profits."