Goodbye job applications, hello dream career
Seize control of your career and design the future you deserve with
Are judges succumbing to the 'seductive power of procrastination' with writing judgments?
An expert panel of legal professionals discussed court delays and the perceived "culture of procrastination" in the nation's judiciary at last week's Australian Bar Association and NSW Bar Association conference in Sydney.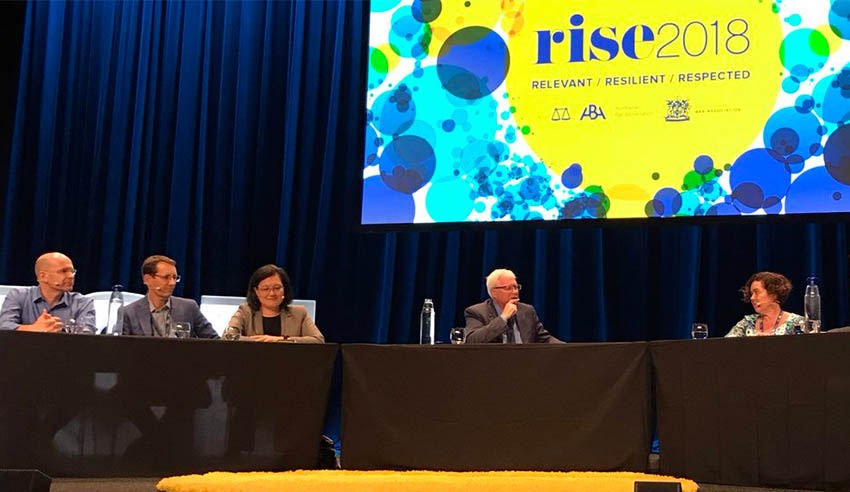 The panel, hosted by ABC presenter Tony Jones – made up of former federal attorney-general Philip Ruddock, journalist David Marr, incoming president of the Queensland Bar Association Rebecca Treston QC, barrister Angus Stewart SC, UNSW dean of law Professor George Williams and AMP capital funds management chair Ming Long – was asked about recent reporting of time spent by Australia's judges.
You're out of free articles for this month
To continue reading the rest of this article, please log in.
Create free account to get unlimited news articles and more!
While Professor Williams said he would welcome a debate on the length of time being taken by those on the bench to hand down a judgment, he said what is missing from the current conversation is context.
"We need to understand of course, you can't simply have league tables and say, 'this person takes more than that person'. Often, there is very good reasons for why some decisions take much longer to decide," he mused.
"I would say bring on a proper debate about the performance of our courts, but to make sure it's actually conducted in a way that's accurate."
He added, however, that the current discourse is "a reminder always that our courts, as with lawyers and others, need always to be respectful and understanding of the community they serve. And it's very easy for someone in a court to exist in a bubble."
Ms Treston said we have to look at what the causes are for the delay. No one is attempting to excuse very lengthy delays in giving judgments, she noted, as it's not in anybody's interests, but there are lots of reasons behind such delays, and funding "of course, is the big one".
"If we have got judges who are working under really quite horrific workflows, they are required to write complex, difficult judgments, which sometimes take weeks, it's going to take a long time to write that judgment."
"I would take issue with a cultural problem of procrastination, I think I would look at it and say what we've got is judges who have these enormous workloads and are not given enough judgment writing time. There's not a sufficient number of judges actually doing the work that's required to be done, and Family Court is the obvious case in point, where there is simply too much of a workload for the very small number of judges who are to do it."
VIEW ALL
Mr Marr considered it from a more political angle, acknowledging the "starving of the resources to the Family Court [as being] a weird situation in Australia".
"It is peculiarly odd, because it is one of the wishes of a very extreme section of the community, the Pauline Hanson world loathe the Family Court, and there is some tension within politics about the proper funding for the Family Court. There's still a feeling amongst some parts of the community that the whole notion of divorce law is wrong and shouldn't be properly funded. It's got to be properly funded," he argued.
Mr Stewart posited that the issue of delayed handing down of judgments is not as widespread a problem as mainstream media has made it out to be. Some courts have delay problems more than others, he reflected, and some judges may have delay problems more than others, but it is not a common scenario across the board.
"In my experience, limited as it is principally to the Federal Court, although by no means exclusively, there's in fact very little problem with delay. And judges in my experience are extremely hardworking, they don't shirk work, they take it on, and they produce judgments pretty quickly," he said.
Mr Marr, however, took issue with those judges who may be taking extended periods of time to pen their judgments.
"If you take all this time to write a judgment, there's something really wrong with you, and I think one thing that lawyers and journalists and writers all know, the seductive power of procrastination. But the lesson of it is that it never gets easier through delay," he said.
"One more point, do Australian judgments have to be so long? Do they have to be so verbose? Do they have to review so much of the basic law? Can we please, please get a bit more succinct? That might help, too."
The panel also discussed indefinite children of detention on Nauru, during which Mr Ruddock made the claim that "they are not in detention".