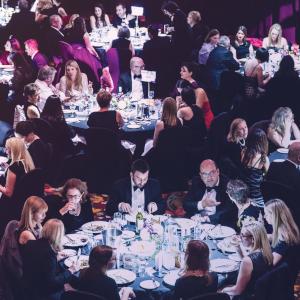 The leading ladies of Australia's legal profession shone brightly at the 2016 Lawyers Weekly Women in Law Awards.
Australian women have contributed to the richness of our nation's legal institutions for more than 100 years. In that time the ranks of female talent in law have grown, forging a proud history of excellence, service and innovation.
The 2016 Lawyers Weekly Women in Law Awards recognised individuals and groups who continue to light the way as torch-bearers and leaders in their fields.
From the nation's brilliant advocates to our brightest and most promising rising stars, these awards celebrate the self-belief and exacting intellect that have been par for the course for generations of Australian women lawyers.
At a special event hosted in Melbourne, around 400 attendees came together to celebrate the women who push and persist, consider and advise – for clients, the profession and the community at large.
We also acknowledge that the road towards change is long. However, as more women set their sights on careers in law, the contours of the profession slowly change and its character strengthens. The ongoing transformation of law is promising and every example of female success deserves our full esteem and recognition.
In that spirit, we toast the following legal firebrands and the promising future of the profession. Congratulations to this year's Women in Law winners.
Judges of the 2016 Women in Law Awards
Lea Armstrong
Crown Solicitor
NSW Crown Solicitor's Office
Linda Baxter
CPD director
Leo Cussen Centre for Law
David Caruso
President
Law Society of South Australia
Vincent Bicudo de Castro
Associate lecturer in accounting
Deakin University Business School
Joseph Catanzariti AM
Vice-president
Fair Work Commission
Amy Challans
Director and immediate past president
Australian Women Lawyers
Lisa Claes
Managing director (Australia and New Zealand)
CoreLogic
Tony Dormer
Managing director
Kreston Dormers
Ted Dwyer
Director
Dwyer Consulting
Professor Fariborz Moshirian
Institute of Global Finance director
UNSW Business School
Caroline Kirton QC
Barrister
Tanya Khan
Managing director and vice-president (Australia and Asia-Pacific)
Association of Corporate Counsel
Stephen Lancken
Managing director
Negocio Resolutions
Duncan McConnel
Barrister
Lori Middlehurst
Director of employment law (Asia-Pacific)
VMware
Stephanie Milione
Convenor
Victorian Women Lawyers
Alexandra Rose
Senior manager – group compliance and regulatory affairs
Insurance Australia Group
Michelle Sindler
International arbitrator
Damian Sturzaker
Partner
Marque Lawyers
Professor George Williams AO
Dean of law
UNSW
Individual awards
Academic of the Year: Dr Alexandra George, University of NSW
Alexandra is an outstanding lecturer in intellectual property (IP) for the law faculty at UNSW. She has developed her programmatic teaching system to offer her students access to real-world examples of IP issues that various jurisdictions face today.
Alexandra encourages deep learning by getting her students to "internalise" the subject matter of her courses. As a solicitor who has practised and specialised in IP law, she harnesses e-law tools and exposes students to a "technology-saturated learning environment" from the get-go, with the end goal of equipping them with the skills they need to adapt to the rapidly changing realities of modern legal work.
Barrister of the Year: Jane Needham SC, 13th Floor St James Hall
In this year alone, Jane has acted in a wide range of matters including the Truth, Justice and Healing Council for the Royal Commission into Institutional
Responses to Child Sexual Abuse, police inquests and an inquiry into the operation of the NSW Australian Labor Party branch rules.
Her work has also taken her further afield, to Fiji and Samoa, where she is involved in estate administration matters. She is presently working on running the largest case to be pursued by private litigants in Samoa's history.
Jane's legal practice is characterised by her signature tact, thoughtfulness and case strategy. She is ever mindful of taking the best approach with a view to minimising harm, particularly when working on sensitive matters such as those that have been aired in the recent Royal Commission into Institutional Responses to Child Sexual Abuse.
Dealmaker of the Year: Julie Levis, Clayton Utz
Julie has acted on almost all aspects of the iconic Barangaroo development project. Since 2013 her work has focused on the 22-hectare site on the western shore of Sydney Harbour.
Julie leads an external legal team representing the Barangaroo Delivery Authority, the government body responsible for the development of the site. She has demonstrated exceptional skill, simultaneously renegotiating development agreements with Lendlease and Crown, in addition to the planning of a unique green utility structure for the precinct.
Her portfolio of work for Barangaroo has also involved casino control issues, precinct governance, carbon neutrality and environmentally sustainable development.
Executive of the Year: Michelle Dixon, Maddocks
The first woman to be appointed CEO at Maddocks, Michelle took over the leadership reins after 17 years working for the national firm. She previously served as team leader for Maddocks' commercial and disputes practice.
Michelle has spearheaded a number of award-winning initiatives that champion flexible work arrangements and gender equality at the firm.
The focus of Michelle's leadership has been "institutionalising" fairer and more accommodating arrangements for her staff, resulting in a 26 per cent take-up of flexible work by staff across the firm.
On Michelle's watch, Maddocks has committed to a 40 per cent female partner target by 2020 and almost 15 per cent of the firm's incumbent partners work flexibly.
General Counsel of the Year: Claire Bibby, Brookfield Property Partners
Claire Bibby is one of Australia's most outstanding general counsel. The highly decorated senior vice-president and general counsel of Brookfield delivers bigger and better results year on year for the company, her legal team and the profession at large.
Under Claire's leadership Brookfield has this year committed to the psychological wellbeing best practice guidelines developed by the Tristan Jepson Memorial Foundation. Claire has also led the company's membership of the Diversity Council of Australia, in addition to sponsoring initiatives for working partners to allow staff extra annual leave during school holidays.
Claire is a passionate mentor and advocate for rising leaders in her field, and she takes an active role in sponsoring three women in the Property Council of Australia's 100 Women in Property list.
In-House Lawyer of the Year: Jessica Norris, Gold Coast 2018 Commonwealth Games Corporation
Jessica is the legal manager and 2IC to the head of legal for the Gold Coast 2018 Commonwealth Games Corporation (GOLDOC). The 2018 Commonwealth Games event will be the first such games to be hosted by a regional city in over a decade.
As legal manager, Jessica is responsible for leading and managing all legal matters relating to procurement for the delivery for the event. To date, this has included securing the contract for Townsville to host the Games' official Regional Village, and the biggest single tender for GC2018, leading and finalising negotiations to contract the official Games host broadcaster.
Jessica has delivered exceptional corporate knowledge for GOLDOC and is also contributing to the younger ranks of legal in-house personnel as part of an internship program between MinterEllison and Griffith University.
Law Student of the Year: Jessica Provost, University of NSW
This promising law student, in the final year of law/criminology studies, has the world at her feet. Last year Jessica won a scholarship to study commercial law abroad at the London School of Economics. She is a proud member of the team UNSW has put forward for the national Kirby Contract Law Moot Competition.
Jessica is currently undertaking work with the Women's Domestic Violence Court Advocacy Service run by the Redfern Legal Centre in Sydney. In 2014 she completed an internship to help establish Australia's first comprehensive national domestic violence services database via a mobile website.
Marketing Communications Executive of the Year: Lauren White, DLA Piper
A blazing force in DLA Piper's communications team, Lauren has driven two new initiatives for the firm's communications this year. Her ability to understand target audiences has seen the successful launch of internal and external communications strategies to raise the profile of DLA's lawyers and promote its corporate and transactional capabilities.
Lauren developed core themes to cut through the PR noise, with a focus on momentum, global scale, seamless support and entrepreneurial spirit. The success of her strategy is evidenced by the wide media coverage DLA has enjoyed across a number of flagship titles.
Mentor of the Year: Jennifer Harris, Clayton Utz
Junior staff at Clayton Utz have benefited tremendously from Jennifer's multifaceted approach to mentoring, which sees her mentees develop analytical thinking and initiative. Jennifer is a dedicated special counsel with the firm's award-winning real estate group, where she has mentored more than 15 solicitors to date.
Collaboration is a strong theme in Jennifer's leadership arsenal and she has actively encouraged young solicitors to form a study group to address a collective knowledge gap that she identified among the junior cohort.
In her own words, Jennifer's aim is to reinforce a culture of "engagement and retention". The breadth and depth of her experience means she is able to offer real-life examples and solutions that few other lawyers may consider.
Not-for-profit-Lawyer of the Year: Skye Worth, Gold Coast Community Legal Centre & Advice Bureau Inc.
As a full-time solicitor working for the Gold Coast Community Legal Centre & Advice Bureau, Skye focuses mainly on family law and domestic and family violence law. The centre is a preferred legal assistance provider for Legal Aid Queensland.
She is part of a state trial of a specialist domestic violence court at the Southport Magistrates Court, where she also regularly participates in operational working group meetings for the program. Her advocacy at the court includes support and representation for applicants and aggrieved persons involved in domestic violence protection order matters before the court.
Earlier this year Skye initiated a project to see a dedicated duty lawyer assigned to the Coolangatta Magistrates Court. She has principally been responsible for providing this service for domestic and family violence clients since July.
Partner of the Year: Shannon Platt, Sparke Helmore Lawyers
Shannon has a number of awards attesting to her excellence as an intellectual property lawyer. This is another feather to add to her cap.
She has over 25 years' experience representing clients in the Federal Court of Australia in trade mark, copyright, patent and design disputes, as well as litigation arising from misleading or deceptive conduct, breach of confidence and trade secret protection.
A partner at Sparkes, she leads the firm's corporate and commercial group and serves as national head of the intellectual property and technology practice, which she established in 2013.
Pro Bono Lawyer of the Year: Sarah Morton-Ramwell, Ashurst
Sarah holds the coveted role of global head of pro bono and corporate responsibility at Ashurst. With an impressive background in human rights law, gender rights and reproductive rights, she was appointed to her position in April 2015, in addition to joining the firm's partnership.
Because of Sarah's dedication, vision and leadership, the firm's offices are now operating and developing local and regional areas of focus to an impressive, consistent standard. Ashurst's London office more than doubled the pro bono hours it contributed since last year, with the average pro bono hours per lawyer jumping from 12.8 to 27.5.
In Australia, Ashurst runs nine pro bono clinics and secondments, including a full-time secondment to the North Australian Aboriginal Justice Agency (NAAJA) Katherine office under Sarah's supervision.
Senior Associate of the Year: Maria Yiasemides, Jones Day
Maria specialises in large-scale insolvency and financial services disputes. She has extensive experience acting for high-profile clients such as CBA, NAB, KordaMentha, McGrathNicol, IBM, Fuji Xerox and Sanofi.
Last year, Maria was also a member of the global pro bono team that prepared a report for the Hague Conference on Private International Law, written to assist in the drafting of a new convention on the recognition and enforcement of foreign judgments.
Maria is dedicated to training more junior lawyers in Jones Day's global disputes team and she has been instrumental in establishing a group development program for new lawyers at the firm.
Sole Practitioner the Year: Dorota Bryks, Bryks Legal
Dorota is a high-performing sole practitioner. The corporate and commercial lawyer acted on a number of business sales and purchases this financial year, including a complex $10 million acquisition.
This hard worker goes above and beyond to find creative solutions to meet her clients' needs and continues to attract new clients as her practice goes from strength to strength. She is so successful in making her clients happy, one particular client has referred another seven to her in FY2015-16 alone.
Special Counsel of the Year: Paula Robinson, MinterEllison
Paula spearheads the legal and brand protection group for the Gold Coast 2018 Commonwealth Games Corporation (GOLDOC). During FY2015-16 the MinterEllison partner has been seconded full-time GOLDOC, after conceiving and structuring the innovative delivery model that saw Minters win the contract bid for the sporting event. This is the first time an event of this calibre has implemented a fully outsourced legal and brand protection function.
Paula is an exceptional legal practitioner, who is currently leading collaborations with multiple government agencies including the Queensland Police Service, the
Department of Transport and Main Roads, Queensland Health, the Queensland Treasury, the City of Gold Coast, the Commonwealth Games Federation, the Australian Commonwealth Games Association, Gold Coast Tourism and Stadiums Queensland.
Thought Leader of the Year: Sarah Bartholomeusz, You Legal
Sarah left her job at a large commercial law firm and, after the birth of her daughter in 2013, has set out to change both the way clients engage with their lawyers and the way lawyers engage with the law.
Sarah established the NewLaw firm You Legal, which engages a team of 20 members across Australia, Hong Kong, the Netherlands, Oman and the USA. The firm has done away with time-sheet tyranny and most client instructions are taken via phone, video conferencing or email.
Sarah's firm has also a developed an innovative policy documentation platform named Growth Shield, which offers clients a strategic link between the vision for their business and its day-to-day operations.
Young Gun of the Year: Katherine O'Regan, Gadens
This rising star joined Gadens' employment and safety group earlier this year. Since then she has undertaken work advising on discrimination matters and been involved in complex workplace investigations.
This young gun is a member of Gadens' innovation working group and also has a leadership seat in the Gadens Lawyers Network. Her position as GLN co-chair includes the oversight and management of the group's budget and strategy, and facilitating internal and external networking opportunities for all members. Katherine was part of the founding group that established Gadens' Women Connect initiative.
Group awards
Boutique Diversity Law Firm of the Year: Keypoint Law
NewLaw boutique Keypoint Law recognises that the structural barriers affecting women in law negatively impact the retention of female talent. Keypoint was conceived by reimagining the traditional business model that saw legal service providers focused on billable hour targets, with little room for flexible workplace arrangements.
KeyPoint believes its remuneration model levels the playing field so that all lawyers, irrespective of gender, are better off.
The firm's daring and innovative approach has attracted a following of practitioners, with the option of running a 'portable practice' especially appealing to more senior lawyers. This particular trend also ties into Keypoint's anti-ageism ethos, which ensures its practising lawyers need not fear a 'tap on the shoulder' or declining revenue once they hit their fifth decade.
Diversity Law Firm of the Year: Gadens
Gadens is leading the charge in attracting a diverse, multi-talented workforce and in the implementation of meaningful strategies to retain its staff. Its efforts to establish a happy, well-supported staff include a focus on work-life balance with the option of varied start and finish times, facilitating working from home, flexible work arrangements (covering part-time and casual work options), job- sharing and a policy that allows people to take planned career breaks.
With an all-encompassing strategy that looks to promoting diversity among staff at all levels, the firm has received a number of accolades. For two years in a row
Gadens has been recognised for employing the highest percentage of female partners and highest percentage of partners working flexibly among Australia's large firms.
Some of the firm's most notable recent initiatives include the development of a family violence assistance policy and a more generous parental leave scheme.
Gadens reports that the majority of staff who took parental leave in FY2015-16 returned to work. The firm attributes this healthy return rate to other established programs that help returning employees transition back into their jobs.
Women in Law Excellence Award: Claire Bibby, Brookfield Property Partners
There are no nominations for this category, with the award going to the individual winner with the highest score.
Claire, the 2016 winner of General Counsel of the Year, impressed the judges with her commitments to charity, to her staff and to action on best legal policy and practice.
A SPECIAL THANKS...
On behalf of Lawyers Weekly, we would like to thank our sponsors Leo Cussen, ACC Australia, Crowd & Co, FTI Consulting and Momentum Intelligence, for their support at the 2016 Women In Law Awards.