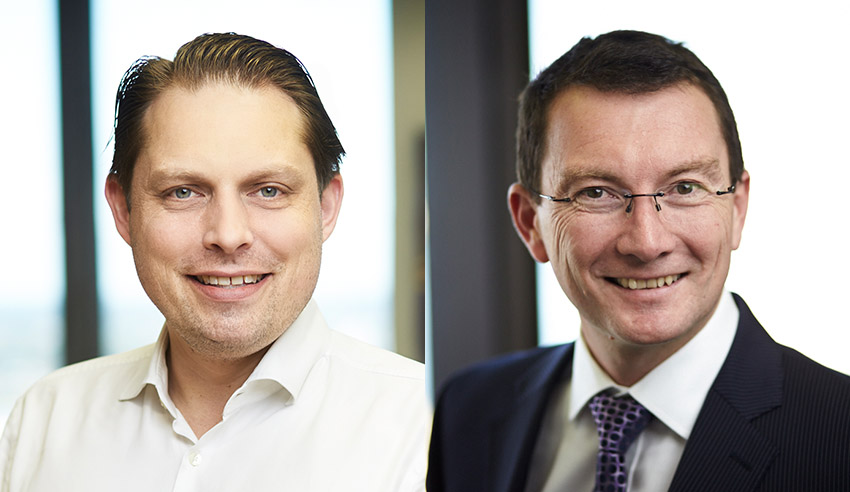 While BigLaw players across the board are implementing measures pertaining to partner draws, employee pay and entitlements, one national firm is going against the grain.
Last week, Ashurst cut partner draws by 20 per cent and asked employees to adopt an 80 per cent work pattern and take an equivalent reduction in remuneration and HFW put a freeze on pay rises and deferred a portion of pay to partners.
Recently, Lawyers Weekly reported that Herbert Smith Freehills has also reduced partner profits and cancelled salary reviews, Gilbert + Tobin has cut back on 50 per cent of partner draws and Norton Rose Fulbright has temporarily stood down 3 per cent of staff and asked the remaining employees to work reduced hours.
One national firm in Australia, however, is running counter to this emerging trend.
In an email to all staff, HBA Legal directors Brett Ablong and Nathan Hepple (both pictured) proclaimed, "Essentially, HBA is solid".
"We wanted to take the opportunity to reassure you that we have no plans for staff cuts (in fact we are still recruiting), or asking anyone to take leave or a pay cut. Naturally, we are being even more prudent than usual with our spending and we've made several cuts on that front (hopefully none of which you will even notice!)," the pair wrote.
"At HBA, management of dividends from the profit of the business [has] always been carefully managed and, where reinvestment is required, it occurs from dividends rather than those dividends being paid – this is no different right now."
HBA is seeing "a steady stream of work" at this juncture, and a spokesperson for the firm said that the aforementioned spending cuts simply refer to the temporary removal of hired coffee machines and weekly fruit deliveries to the office.
In conversation with Lawyers Weekly, Mr Hepple said that the model that a business operates under "can make a huge difference" when there are tough economic or challenging times.
"Essentially, under a traditional partnership model, each year the profits of the firm are divvied up among the partners of that firm. This is their 'profit draw' that they receive on top of their salary. All profit has to be declared and drawn under the rules of engagement of a 'partnership', and so there is nothing left once that 'draw' takes place," he posited.
"Some partnerships won't pay it all out and will reinvest it, but it is then a loan from the partner to the partnership. And the reason all the profit is drawn and rarely reinvested is because partners nearing retirement don't want to reinvest for obvious reasons.
"So, for firms that operate under this model, it's almost like wiping a clean slate every year and starting again the following year. If there is no money left in the business when times are tough, it equates to having no money in the kitty for a rainy day and that's where we are at now…the rainy day is here."
Firms in these situations, Mr Hepple continued, then have to make tough decisions that are currently playing out.
"They have no choice if they want a chance of coming out of this the other side in a reasonable state. And at the end of the day what this amounts to for anyone working in those firms below partner level, sadly, is very little job security," he mused.
"When we started our business eight years ago, we deliberately set ourselves up under a company structure because we think it makes for a more sustainable operation and a better working environment for our people."
To share how COVID-19 has impacted you and your business, please complete this anonymous, two-minute survey here. For more information, please contact This email address is being protected from spambots. You need JavaScript enabled to view it.