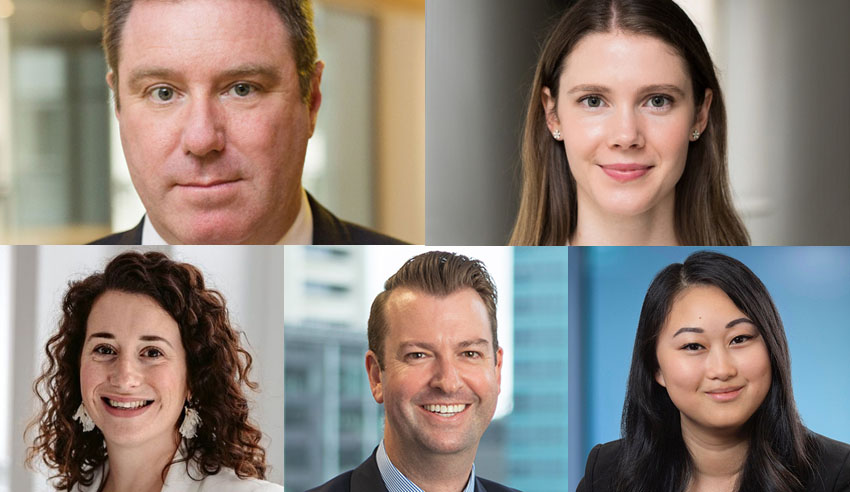 A coronavirus vaccine is expected by March, and as such, law firms may need to consider — if they aren't already — whether or not they can or should direct employees to be vaccinated.
In preparing the office for returns to work en masse, one potential option law firms may be thinking about is the looming vaccine for COVID-19, which — according to Health Minister Greg Hunt — should be available to Australians in approximately four months' time.
Such a directive from legal employers, Swaab partner Michael Byrnes and lawyer Emily Capener told Lawyers Weekly, "is not to be given lightly".
"While employer directions to those working in high-risk environments, such as health or aged care, to vaccinate against various illnesses are common and generally accepted, the notion of a legal employer doing so is likely to be novel," the pair said.
"In ordinary circumstances, it is highly unlikely such a direction would be reasonable. It is trite but nevertheless true that these are not ordinary times — the COVID-19 pandemic calls for a number of measures that would not (and should not) be tolerated normally."
The pair advised — as did three other senior workplace, health and safety lawyers — that law firms will have to deduce whether issuing a mandate for employees to be vaccinated will be lawful and reasonable.
Is it lawful and reasonable?
Assuming a vaccine for COVID-19 is safe and effective, Mr Byrnes and Ms Capener said, it is likely that legal employers will be able to issue a direction for staff to be vaccinated.
"This is in line with the position across employers generally. The rationale will be that the vaccination will be necessary to eliminate or minimise the risk of COVID-19 infection in the workplace to the extent reasonably practicable, consistent with the employer's WHS obligations (under the Work Health and Safety Act)," they said.
According to Harmers Workplace Lawyers executive counsel and team leader Amy Zhang, who is a four-time winner of Lawyers Weekly awards, law firms — as employers — will arguably have power to issue directions to employees to get the COVID-19 vaccine.
"This means that to the extent that there are health and safety risks that can be removed or mitigated, such as through a vaccine, then, on one view, law firms should mandate actions that will ensure that it minimises such risks to the safety of its workers, in accordance with its common law and statutory safety duties," she said.
"However, the critical issue will be whether such a direction is lawful and reasonable in the circumstances. This will depend on a variety of considerations, including the nature of the work that is being performed by particular employees, the nature of the clients and other stakeholders, whether employees can work remotely, the advice and requirements of government and medical bodies at the time, how advanced and successful the vaccine is at the particular time and so on."
Such obligations, Resolution123 founder and principal Carly Stebbing said, include ensuring the health and safety of all employees at work.
"To date, employers have been managing the risk of COVID-19 through a combination of WFH, social distancing and cleaning protocols. Vaccines have not been required to register as a COVID-safe business. If health and safety risks can be managed without the vaccine, I do not think mandating it is lawful and reasonable — especially where, as is the case with all vaccines, there will be associated health risks and some employees may be ineligible," said Ms Stebbing, a former Lawyers Weekly award winner and six-time finalist.
"I think it is reasonable for an employer to request employees get the vaccine; as to whether they can enforce that request, it will depend on the specific personal circumstances of that employee and whether the employer can provide safe work without it."
Lander & Rogers partner Aaron Goonrey said it will ultimately be up to each law firm how they proceed, noting there have been "diverging views" from federal politicians as to whether or not vaccines would be mandatory across the community.
Firms will have to balance the lawfulness and reasonableness of mandating a vaccination in the idiosyncratic physical environment of a law office in accordance with obligations to make that office free of preventable diseases, against the risk of claims arising from side effects or defective vaccines, unfair dismissal and discrimination claims.
"One could argue that if appropriate hygiene and safety measures are in place, not requiring compulsory vaccination may be the safer option for employers, assuming that many employees are likely to become vaccinated by their own volition regardless of a workplace policy to this effect," Mr Goonrey posed.
Ms Zhang said: "Given this is still a relatively untested area, it will be interesting to see the approach of the courts and tribunals as cases make their way through the system.
"Law firms should, at the very least, encourage their staff to get COVID-19 vaccinations so as to discharge their safety obligations, while being mindful of and genuinely consider any medical or other legitimate reasons that may impact on an employee's ability to comply. Genuine consultation will be key."
Conscientious objectors
Employers that consider mandating the coronavirus vaccine will have to consider exemptions to such a workplace directive, Mr Goonrey said, such as health, political or religious grounds which may prevent such an injection.
"It is probable that if an employer made it a requirement for employees to be vaccinated that such a direction will end up before a court or tribunal to test the lawfulness and reasonableness of such a direction. The procedure to be vaccinated is a physically intrusive procedure. And, we are not yet aware of the possible side effects, even with an effective vaccine," he advised.
There is also a large cohort of people, Mr Byrnes and Ms Capener noted, who have a conscientious objection to vaccinations or are part of various "anti-vax" movements.
"There has been talk of raising arguments under various international human rights conventions, the Australian Constitution or even the Magna Carta to oppose vaccination. Arguments of that kind might have a role to play if the government introduces a program of mandatory vaccination but are unlikely to have much (if any) relevance in determining whether a direction from an employer is lawful and reasonable," they said.
"While the needs of employees with genuine medical or health reasons for not being vaccinated will need to be carefully considered by employers, those with conscientious objections alone will very possibly be given short shrift. They might, in some cases, need to choose between their opposition to vaccination and continued employment — although those employees might, in some cases, be able to argue they should be allowed to work remotely until the COVID-19 situation stabilises after the availability of a widely distributed vaccine."
It will be critical, the pair argued, that employers be wary of issuing directions to employees that serve to "gratuitously infringe on their private rights", in light of how critical civil liberties are to individuals and broader society.
"There have been a range of incursions from governments into civil liberties that would, in any time other than a pandemic or war, be considered unacceptable and would, rightly, lead to people rebelling against them," the pair said.
"It is a balancing act — taking necessary measures to control the pandemic without going beyond what is needed and imposing restrictions that are oppressive but do little to reduce risk."
Other potential hurdles
As Mr Goonrey pointed out, however, the difficulties employers may face do not end there.
"The protection granted by human rights charters in Queensland, the ACT and Victoria [means that employees in those jurisdictions] could seek protections based on freedom of conscience, religion or belief," he said.
Furthermore, employers may have to navigate ill suffered by employees who did not want the vaccine and thus are forced to continue working from home, including but not limited to domestic violence and psychological distress, anxiety and depression. On the flip side, there may be employees who are compelled by their firms to be vaccinated so as to return to the office and then suffer side effects, and subsequently opt to hold the law firm accountable, Mr Goonrey suggested.
Continuing on the theme of claims against an employer, he said that there may be litigation brought by employees, such as unfair dismissal and adverse action proceedings, if those workers are non-compliant with a compulsory vaccination policy.
Can WFH and remote working arrangements negate the need for vaccine mandate?
The biggest issue for legal employers moving forward, Ms Stebbing surmised, will be managing the risk of spreading the virus in their workplace.
"If working from home arrangements, social distancing and cleaning alone cannot manage that risk, vaccines must be considered, but whether it can be mandated depends on each employee's personal circumstances. Work, health and safety risk management is specific to each workplace and consequently advice must be tailored depending on the risk of transmission of the virus," she said.
More broadly, however, she questions the premise of the question about a vaccine mandate put to her by Lawyers Weekly, and asks whether employees would be expected to return to the office at all.
"Why are employees required to return to the office? If they have been working from home successfully for the past eight months, is a mandated return to the office necessary or reasonable?"
Having employees work remotely, Mr Byrnes and Ms Capener reflected, has been a critical strategy for law firms in minimising the risk of COVID-19 during this year — should employees continue to work in such a manner, the need for an employer direction to be vaccinated may be lessened, if not nullified in some instances.
"If any legal employers operate entirely virtually, with no face-to-face interaction with colleagues or clients then, prima facie, those employers would find it difficult to argue their staff need to have a COVID-19 vaccination. If, however, there is some contact with clients or colleagues, then that argument strengthens substantially," they hypothesised.
"Remote working might be a solution (consistent with an obligation in some cases to make reasonable adjustments) for employees who can't be vaccinated for medical or health reasons."
Mr Goonrey agreed, albeit coming at it from a different angle: "If employees do not wish to be vaccinated and a law firm wants them to return to the office, they may insist on continuing to work from home, particularly as it has already been facilitated by firms."
The strength of a law firm's argument to mandate the vaccination, Mr Byrnes and Ms Capener said, may depend on the volume of interaction an employee has with other staff and clients.
"The more interaction, the greater the risk and the stronger the employer's right to direct the vaccination. Of course, in the rare case where a legal employee works entirely remotely, and never interacts with clients or other staff, then it would be difficult to sustain a direction — the requisite risk does not arise," they said.
Best practice for leaders
It must be remembered, Mr Byrnes and Ms Capener mused, that directing legal employees to be vaccinated is a "big step" and, ultimately, a reflection of the unusual times we are currently living through.
"Even if the employer forms the view that the circumstances render such a direction lawful and reasonable, managing partners and team leaders should treat it as a 'hearts and minds' exercise and have effective communication and implementation strategies in place," they said.
Leaders in firms must take into account all potential circumstantial responses from their employees, Mr Byrnes added.
"The risk for employers is a third category of employees who will refuse vaccination — not employees who can't for medical reasons, or won't because they inherently oppose vaccinations, but employees who resent an employer dictating to them they need to be vaccinated," he said.
"Blunt, insensitive messaging, predicated on an authoritarian 'you will do as we say' mentality, is likely to represent an own goal for legal employers."
Lessons from pandemic-inspired pay cuts
Moreover, Mr Byrnes said the implementation of pay reductions in the wake of the pandemic-inspired economic downturn — "even if it was a necessary step" — was handled rather poorly by some legal employers, at least in the initial stages of the nationwide lockdown period.
Some employers, he noted, "adopted a dictatorial approach" that serviced to destroy goodwill and cultural capital, he recalled.
"The same mistakes should not be repeated," he posited.
"There should be leadership by example, explanations of why the direction to be vaccinated is necessary to maintain a safe work environment and a mechanism for respectfully dealing with those with medical or health reasons who might not be able to be vaccinated."