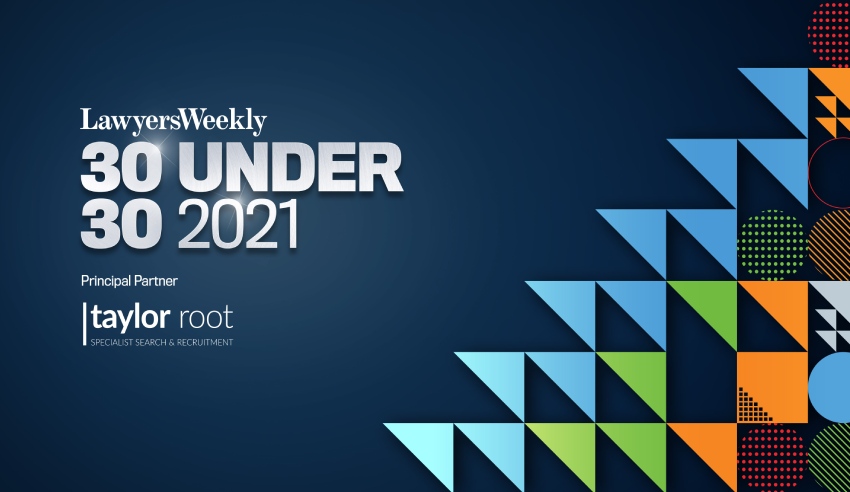 Lawyers Weekly and principal partner Taylor Root are delighted to announce the winners of this year's 30 Under 30 Awards.
The 2021 30 Under 30 Awards is in the books, with some of the best and brightest emerging leaders across Australia's legal profession being recognised and celebrated for their myriad accomplishments over the past year.
Achieving 30 Under 30 status offers the foundation for career progression, providing industry-wide recognition for professional competency while highlighting a passion for the law and dedication for personal advancement.
This year, 656 submissions were received across 30 categories, with 283 selected as finalists and 30 ultimately leaving the event as winners. 
In her opening speech at the awards, Lawyers Weekly editor Emma Ryan said that it is "truly inspiring" to see the efforts, dedication and passion being displayed by young lawyers in such trying times.
"I'd like to give a warm congratulations to all of the finalists tonight who are helping pave the way for those aged under 30, setting a prime example for the next generation of lawyers to come," she said.
"I know I speak for everyone here in saying that you should be extremely proud of everything you've achieved in your career thus far. We know that based on this alone, it is safe to say the future of the legal profession is in extremely safe hands."
Lawyers Weekly thanks principal partner Taylor Root, as well as gold partner Finni and event partners The College of Law and GlobalX, for their invaluable support.
To view the full list of winners, click here.