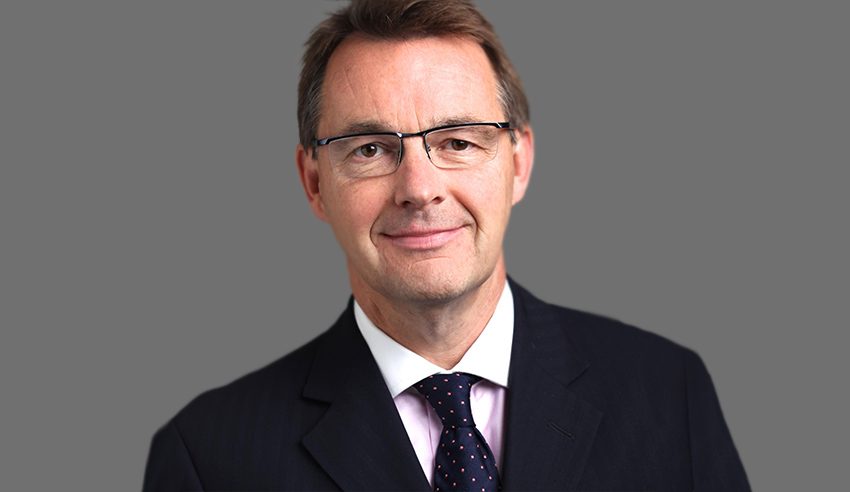 Herbert Smith Freehills partner and India Practice chair Chris Parsons says that speaking about his struggles with mental health issues has become an integral part of who he is. There is "significant strength", he says, in showing your "deep vulnerabilities".
Content warning: This story contains content that may be disturbing or distressing to some readers. Discretion is advised.
Chris Parsons often describes his legal career like a Facebook page – looking at it, one might assume he's had a smooth journey to reach such career heights. The truth, however, is very different.
Mr Parsons (pictured) joined what is now known as global law firm Herbert Smith Freehills in 1984, and has served the firm in the United Kingdom, Hong Kong, Singapore and India, having been practice chair in the latter country for the past 16 years.
Speaking recently on The Lawyers Weekly Show, he mused that, despite such an extraordinary and impressive vocational journey, it is "sort of a miracle that I'm still with the firm 37 years later".
What led to Chris' breakdown
As a young man, Mr Parsons viewed the world as a "difficult and unreliable place, in which there was no room for contentment or relaxation".
Such an impression, he explained, was formed partly due to the "difficult, dysfunctional" relationship he had with his father, leading to "very, very high" levels of anxiety.
Such context meant that, once he got into legal practice, "it was difficult for me to understand whether what I was going through was something that needed to be dealt with, something that needed medical support, or was just the nature of working at an international law firm".
He managed to keep a lid on things until he was made partner, Mr Parsons went on, noting that the framework of the promotion ladder at the firm, which saw him rise from article clerk to trainee, to associate, and ultimately to partner, "provided a scaffolding that I could hold on to".
Upon reaching the partnership, he said, he thought he was supposed to feel as though he had reached some extraordinary pinnacle. Instead, what he felt was "completely exposed".
"I describe it as standing on top of a flagpole – it was only a matter of time before I fell off," he recounted.
After collapsing at his gym one evening, he was rushed to hospital and had "every test imaginable" performed, following which a doctor said, "Chris, there's nothing wrong with you, that's great news".
Mr Parsons' heart sank, however, because he wanted "something rare and exotic" that would explain why he felt the way he did, and that would justify the dependency on alcohol that had developed.
"I couldn't cope with my life," he explained.
Because there was nothing wrong with him physically, psychological and emotional illnesses were all that was left, and his stress and anxiety "spiralled into a very, very deep depression".
"I was capable of doing absolutely nothing. I spent three months in bed crying. I remember one psychiatrist saying, 'You've spent three months crying about your childhood'. I was beaten into submission, really, and I was willing to get help."
"Medication saved my life, and continues to save my life. It makes me feel normal. I've suffered another four serious depressive episodes [since then], and without [medication] I would still, I think, be really ill today," he said.
How his colleagues supported him
In the mid-90s, when Mr Parsons first became ill, "nobody talked about this stuff".
He was willing to speak with medical professionals and his family, but the "last thing I wanted to do", he said, was discuss it at work, because of the stigma that was so prevalent.
"I persuaded myself that if my brain wasn't working properly that the firm wouldn't want me, and it would be impossible. I returned to work with a heavy heart and a great deal of shame. The narrative was that Christ had been working too hard and needed to recharge his batteries, and while it was much worse than that, I was happy to go along with that story," he recalled.
"What was wonderful was that my associates really rallied around and took more of a burden than they had done previously. It was extraordinary. It makes me emotional to think that they just carried this enormous burden."
"And whilst they didn't quite pack me off at 6:00pm, it was clear that they were happy to carry the weight of some of the transactions that they were working on, because they could see I still wasn't well."
Six years ago, Mr Parsons said, HSF began producing their own This Is Me videos, initially an initiative of the Lord Mayor of London for workplaces and staff to talk about mental health challenges. He, along with a handful of others at the firm, recorded their stories.
This set him on a path to becoming a prominent British advocate for mental health. Earlier this year, he delivered a TEDx talk on his personal story, and has for the past five years served as a board member for a research charity, MQ Mental Health Research.
Why speaking out is so important
With hindsight, speaking out is "the best thing I've ever done", Mr Parsons proclaimed.
"I genuinely haven't regretted, for one second, going public. Talking about it, trying to help people, discussing what organisations can do to support their employees, has become a real driving passion."
"It means that I'm unlike [that young lawyer who] dreaded going to work because of the stresses and strains. I cycled to work for 20 years, and for rather too many of those years, I used to pray that I'd be knocked off my bike each morning, because I wanted a physical reason not to go to work," he reflected.
"Thankfully, that prayer wasn't answered, but I wanted it to be."
Speaking publicly about his journey, Mr Parsons continued, has become an integral part of who he is. And, if anything, his standing within HSF – and across the legal profession more broadly – has increased as a result of showing his "deep vulnerabilities", he said.
"My brokenness – of which there is plenty – has resulted in some significant strength. I'm just a more complete human being as a result of suddenly allowing people to see that brokenness."
Mr Parsons has never once, he said, thought of his advocacy as brave.
"I saw it as someone acknowledging that they needed help, and that it was good to help others by talking about my story. You don't need to wait until you're broken in the gutter to do this stuff," he argued.
Workplaces must appreciate, he said, just how common such ailments are.
"Organisations need to understand that it is terrible for the individual concerned, and indeed life-threatening. That understanding needs to pervade every organisation, and we need to try to help people through it."
How is Chris doing now?
Today, Mr Parsons is "mostly in a really good place", he said. However, that doesn't mean, he added, that life is perfect all the time.
An important thing for people to recognise, he advised, is that "we can get to a much better place, but that doesn't mean there won't be challenges along the way".
He recently celebrated his more than three decades of service at HSF by completing 30 walking marathons in 30 days from Mumbai to Bangalore, raising money for Indian widows and their children. The gruelling nature of this expedition, however, did cause his mental health to regress.
Such a relapse, however, did offer a valuable lesson for how best to stay on top of his health and happiness.
"We all need to continually monitor how we conduct our lives. Just in the same way that I needed to make some radical changes to how I was doing my job, I now know that extreme charitable events that are so physically challenging make me ill, and like I did with my job, I have to make sure I don't get to a place where I'm ill again. That is really, really important," he concluded.
Help is available via Lifeline on 13 11 14 and Beyond Blue at 1300 22 4636. Each law society and bar association lists available resources on their respective websites.
The transcript of this podcast episode was slightly edited for publishing purposes. To listen to the full conversation with Chris Parsons click below: