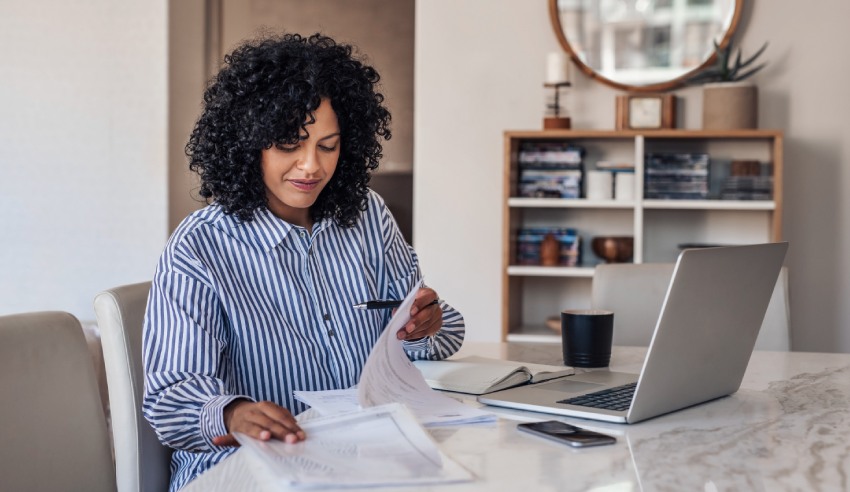 Seeking to better understand if lawyers are using sick leave when they're unwell or if working-from-home arrangements are being used to "push through", Lawyers Weekly asked its audience to share their experiences. Responses indicate that an overwhelming majority of legal professionals are working from home when ill.
In the last couple of weeks, Lawyers Weekly ran two polls, one on LinkedIn and one on the Lawyers Weekly website, to ask respondents: "With an increase in working from home arrangements, are you less likely to take sick leave, and push through from home, when you're unwell?"
The LinkedIn poll, at the time of filing this story, had received almost 950 responses, and the website poll had over 300 replies.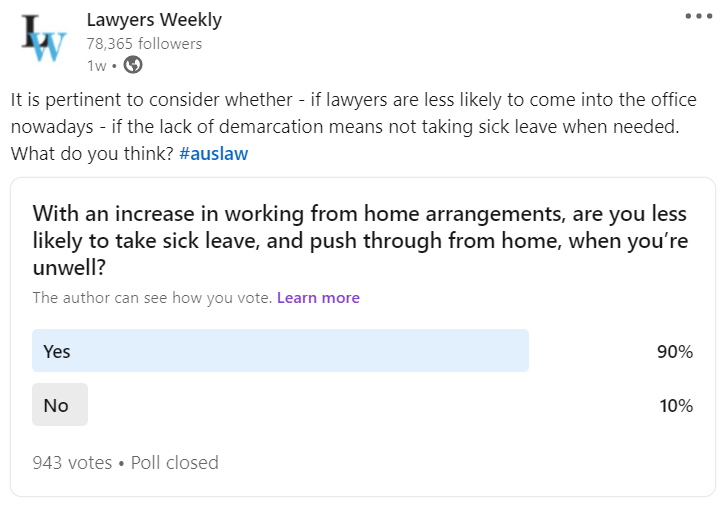 While neither poll is a rigorous study, both indicated that the majority of people are using WFH to avoid taking sick leave. The LinkedIn responses showed that 90 per cent of people are working at home while unwell. The website poll was more balanced, but still revealed a majority (60 per cent) are less inclined to take sick leave and WFH instead when ill.
To better understand the potential negative impact this behaviour might be having on people, Lawyers Weekly spoke with Minds Count Foundation chair Melinda Upton about the impact of not utilising the sick leave allowances (that one is legally entitled to) while working remotely.
Setting the context within the industry, Ms Upton stated: "Most legal professionals operate in extremely high-pressured, performance-driven environments. It is therefore not surprising that many are tempted to 'push through' periods of ill-health rather than taking leave."
She surmised that, "unfortunately, this is often counterproductive".
"As humans, being able to manage our energy levels, recognise when rest is needed and facilitate recovery is crucial to optimising health and performance long-term. Remote work can then make the challenge harder still, with blurred boundaries making it more difficult to detach from work," she said.
"Being disconnected and isolated from work and colleagues could also make health matters worse and delay recovery. We know that managing psychological health in particular is a huge challenge in the legal profession. We are seeing high levels of burnout, reflecting the difficulties involved in managing energy."
Ms Upton concluded that behaviours around wellbeing need to change, with one key component being a shift from a reactive to a proactive approach.
"The most effective way to do this is through role-modelling. Psychologically informed leaders are more likely to promote a psychologically healthy work culture, which cascades through the organisation," she advised.
"By supporting leaders in the Australian legal profession to develop greater psychological awareness and practice protective behaviours, organisations can pave the way for widespread, meaningful change."
Lawyers Weekly also reached out to firms to ask about their current experiences with sick leave.
A Corrs Chambers Westgarth spokesperson advised that their "sick leave balances have remained static for the last couple of years, in line with pre-COVID [sic] levels".
When asked whether they feel like their lawyers take annual leave over sick leave to refresh themselves, the Corrs spokesperson advised: "We encourage our lawyers and broader team to take sick leave as needed when they are unwell."

The spokesperson added: "At Corrs, we also offer bonus leave (a total of five days) in addition to four weeks annual leave. The purpose of bonus leave is to recognise and reward our team, offering additional time to renew, refresh and manage other life priorities."
A spokesperson for DLA Piper indicated that sick leave did go up at the firm earlier in 2022, in line with COVID-19 rising, but that "there are no discernible trends in the utilisation (or not) of sick leave by our people over the past 12 months".
DLA Piper's spokesperson went on: "Our hybrid work environment has supported employees in balancing their work, family and health needs at this time."
Herbert Smith Freehills executive partner, Australia and Asia, Andrew Pike said: "The pandemic has given everyone a greater appreciation of the importance of health and wellbeing."
He continued: "I think many people are more highly attuned to the state of their own health, including their mental health, than ever before. That's a good thing and I hope that it encourages our people to make use of personal leave when they need it."
Mr Pike added, regarding flexibility: "Our people embraced agile working throughout the pandemic and have found it incredibly valuable to have more flexibility around when and where they work. We see a real opportunity to work with our people to establish new work routines and habits to stay connected and make the most of a hybrid work environment."