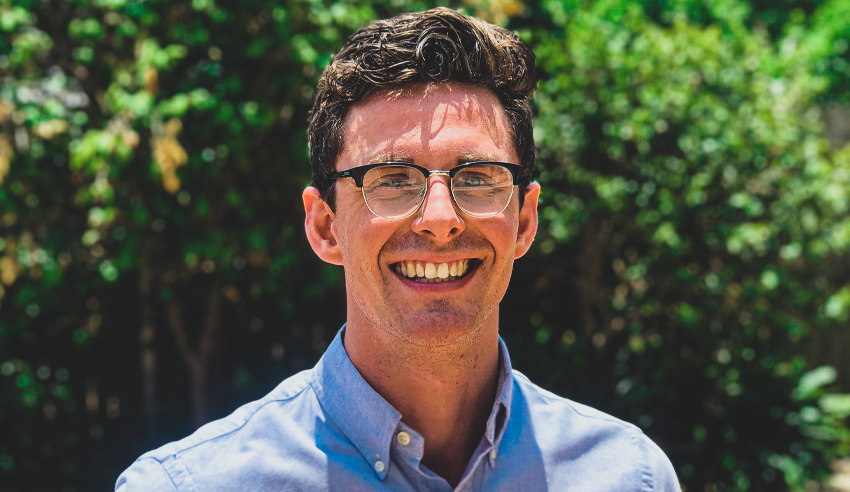 The post-pandemic shift in the legal landscape has opened up a myriad of vocational pathways and opportunities for upcoming lawyers and graduates.
Speaking on The Protégé Podcast, Clayton Utz client relationship manager Sam Burrett (pictured) said that "law-adjacent roles" are shaping up to be increasingly important in a post-pandemic world, offering career pathways to emerging leaders in the law that may not necessarily involve practice.
"There have been law-adjacent careers for a very long time, whether you think of paralegals or even marketing, operations professionals have existed in law firms almost as long as law firms have been around," Mr Burrett said. 
"But as law firms have grown and as other sectors and industries have influenced the way legal business is done, there's been an increasing emphasis on these other professionals and an increasing interest in bringing these disciplines into the way law is practised and the way law firms and even legal departments are run.
"Even in the short time that I've been sort of in and around the legal industry, I've seen the rise of legal ops, and I know that has been around for a while, but it's very cool to be a legal ops professional now.
"I see them going to cool conferences. They have their own community. They've got celebrities and superstars within the legal ops realm, like Mary O'Carroll from Google or Alex Su, who's at Ironclad. I think that that sort of is testament to just how much the professionals or the different disciplines around the law have evolved and how that creates opportunities for young people like me and others who are interested in exploring those paths."
Mr Burrett said upcoming lawyers have found themselves in a really fortunate period of time compared to 10 years ago, "when attitudes towards marketing or legal operations were very, very different in the legal industry".
"I think there's a few factors driving that. At least one of them is sort of the influence of international law firms on the Australian market and the fact that there is so much scale now in the way that law firms operate," he said.
"They need more operations professionals. They need more people in finance. They need more people in marketing and sales to help drive those increasingly difficult percentage growth that they need each year. And so there's the scale factor. 
"There's the COVID factor, which we've all experienced, how digital transformation has sort of accelerated over the last few years. There's also a bunch of other factors, but it's probably never been a better time to experience these careers."
Mr Burrett noted that the demand for these roles also stemmed from the competition in the marketplace, which has intensified post-COVID.
Competition has become increasingly fierce not only from the top-tier law firms but also from alternative legal service providers (ALSPs), which are continuing to grow and strengthening their operations overseas.
"But there's also a sense of competition in the demands that clients place on their lawyers, which are and have been for a while, increasing," Mr Burrett added.
"They're asking for things, for better service, for innovation in the way legal services are delivered. And that drives change across the industry."
As the legal marketplace has shifted dramatically from pre-pandemic conditions, young lawyers can now find themselves taking on a variety of roles from technologists, strategists, operations managers to client professionals.
"Within marketing and business development, there's a really broad range of roles, some you might think of as traditional marketing roles where you are dealing with the firm's website or dealing with the firm's social media, but others are, like my role, a little bit more strategic," Mr Burrett noted.
"We're working on client relationships. We're working on adding more value to clients who are, as I said before, demanding more and more value from their firms. And that leads to changing the way things are done in terms of service delivery.
"Another area of roles, which I think is really interesting and where there's a lot of buzz, is in that legal operations space in-house.
"You have people bringing this expertise, which is a mix of project management or data analysis, and applying that to the way that legal business is done, legal processes, and coming up with solutions to help in-house legal teams demonstrate their value to the business, which is something that they are increasingly asked to do."
Mr Burrett emphasised that although these roles are slightly more defined, there are so many different experiences that people can have in this space.
"I haven't followed myself a consistent path. I've worked in marketing and sales, I've worked in relationship management and strategy, and then a little bit of my job has been operations as well," he said.
"So over time, in these adjacent roles, you have to piece together the skills that you want and the path that you want to take, because it's not necessarily as clear, obviously, as it would be practising law."
It can become an exciting prospect for a lot of lawyers, Mr Burrett continued, where there is a lot of sideways movement and different types of career trajectory, unlike the traditional graduate to partner pathway.
"I think in marketing and business development, it's actually quite similar to consulting in the big four, where you have fairly structured levels that you go up, and across those levels, you acquire more and more skills in a framework that you could access that is very, very clear," he explained.
"But I think what we're talking about more broadly is how these skills then apply in a changing legal industry, in a changing landscape, and I think that's the trick for me. 
"The exciting part is pulling all the different little bits from these different career paths and putting them into your own, which I think there is more opportunity to do maybe in these adjacent roles than there are outside."
The challenge is trying to find or create that personal guiding path in their career, according to Mr Burrett.
"For me, that has been connecting with people, people from across the legal industry. I think there's so many of us who are around the legal industry but not necessarily practising, and that creates a really strong bond," he said.
"I've met some really great people from such different areas, whether they're in-house lawyers in cryptocurrency startups or legal transformation specialists in really large oil and gas companies. But they are all sort of brought together by the fact that they're taking alternative parts. 
"If you are willing to sort of reach out and connect with these people, they're everywhere, you'll find that they're really willing to talk. And that helps you create a little bit more of a straight line or a path when you are having to do it yourself."
The transcript of this podcast episode was slightly edited for publishing purposes. To listen to the full conversation with Sam Burrett, click below: