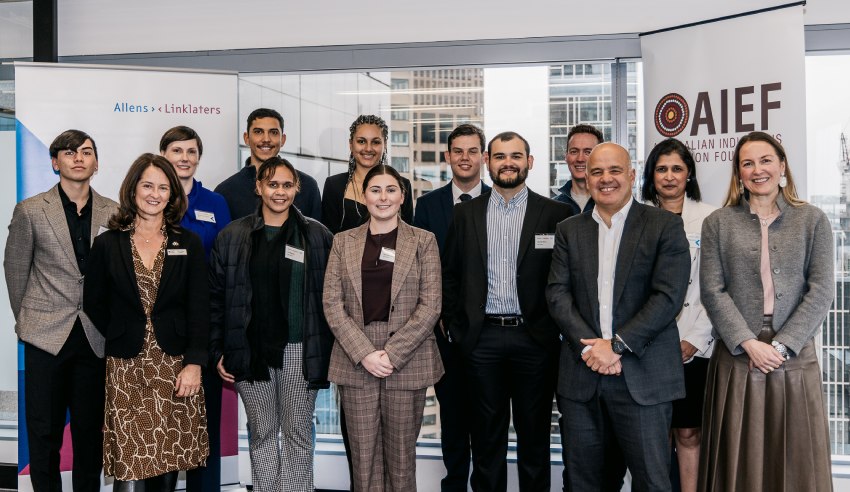 Indigenous students and alumni from the Australian Indigenous Education Foundation (AIEF) have attended a special boardroom event to mark NAIDOC week and 15 years of partnership with Allens. 
Indigenous students and graduates from the AIEF Scholarship Program travelled to Melbourne from around the country to participate in career-support sessions that explore pathways into the legal profession. The event was hosted by Richard Spurio, managing partner of Allens and AIEF ambassador. 
Students and graduates were able to gain pivotal career advice from some of the company's most seasoned partners and practitioners. 
AIEF executive director Andrew Penfold AM said the opportunity aimed to support the next generation of Indigenous leaders to achieve their goals and succeed in their chosen fields. 
"Our results prove beyond a doubt that when Indigenous young people are given a chance to receive a quality education they perform at the same levels as their non-Indigenous peers," said Mr Penfold.
"These young Indigenous people earn their education through hard work and grit — they have to get up, stand up, show up and do the hard yards themselves," Mr Penfold said. 
"We are proud to have partnered with Allens for many years. With 10 per cent of AIEF graduates studying law or business, we are grateful for their assistance in supporting the aspirations of Indigenous students to dream big and achieve." 
Mr Spurio commented: "We are a proud partner of AIEF and are pleased to have been able to share some of our experiences with students and graduates from across the country and hear directly from them about their journeys so far and their plans for the future.
"Events like these allow us to hear firsthand about how the work of the AIEF is making a real difference and providing opportunities for young Indigenous students to learn, grow and build successful futures of their own," Mr Spurio said.
AIEF works in partnership with the government and private sector to provide scholarships for Indigenous students from over 400 communities across Australia. 2021 was one of the organisation's most successful years, with students achieving a 94 per cent retention and year 12 completion rate. A further 91 per cent of alumni are engaged in employment, tertiary studies or other pursuits.