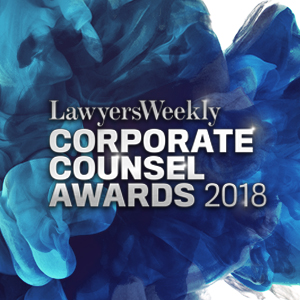 Lawyers Weekly is pleased to announce the finalists for the inaugural Corporate Counsel Awards.
For the first time ever, the Corporate Counsel Awards will recognise the individual and group achievements of in-house lawyers and legal teams across a plethora of industries in Australia.
Since opening early last month, we've seen a significant number of high-calibre submissions, both from those who represent ASX-listed companies and also SME champions.
The finalists have been selected for their ability to demonstrate commitment to paving the way for achievement and advancement in their organisations.
The winners of the Corporate Counsel Awards will be selected by a panel of independent judges and announced at a black-tie gala dinner on 17 February 2017 at the Westin Hotel Sydney.
To learn more about the event or to purchase tickets, click here.

The finalists for the 2017 Corporate Counsel Awards are:
Individual categories
Academia, Training and Education Lawyer of the Year
Shane Matthews, Kaplan Australia
Tara Hastings, TAFE Queensland
Daniel Rampling, The University of Newcastle
Theo Kapodistrias, University of Tasmania
David Cosgrave, University of Southern Queensland
Agribusiness Lawyer of the Year, presented by lexvoco
Julie Ryan, Accolade Wines
David Thomas, Costa Group
Banking and Finance Lawyer of the Year, presented by Thomson Geer
Michelle Thomsen, Bank of Queensland
Aron Rattew, Challenger Limited
Avi Gordon, Hall & Willcox Lawyers
Ailsa Bailey, NAB
Helen Mediati, Wells Fargo
Delie Etherington, Westpac Banking Corporation
Construction and Real Estate Lawyer of the Year, presented by DibbsBarker
Stefanie McDowell, Nexus Delivery
Claire Bibby, Brookfield
Shelley Maxwell-Smith, CIMIC Group Limited
Victoria Strong, Duro Felguera Australia Pty Ltd
Hugh O'Brien, Mirvac
Rebecca Edwards, PAYCE Consolidated Limited
Andrew Selim, The GPT Group
FMCG Lawyer of the Year, presented by LOD - Lawyers On Demand
Julie Ryan, Accolade Wines
Tim Guy, Funtastic Limited
Aman Saxena, PepsiCo ANZ
Troy Swan, Staples Australia and New Zealand
Julian Rebechi, Swisse Wellness Pty Ltd
Hanna Gyton, Swisse Wellness Pty Ltd
Government Lawyer of the Year, presented by Thomson Geer
Rebecca Kenny, Australia Council
Louise Rafferty, Australian Government Solicitor
Jenny Taing, Australian Securities and Investments Commission
Kara Miller, Sustainability Victoria
Healthcare, Pharmaceuticals and Biotech Lawyer of the Year, presented by DibbsBarker
Suzanne Greenwood, Catholic Health Australia
Navaneetha Dilipumakanth, GlaxoSmithKline Consumer Healthcare Australia Pty Ltd
Iresha Herath, Western Health
Industrial, Materials and Manufacturing Lawyer of the Year
Victoria Strong, Duro Felguera Australia Pty Ltd
Tamara Kayser, Incitec Pivot Limited
Ben Lee, Mercedes-Benz Australia/Pacific Pty Ltd
Infrastructure, Utilities and Energy Lawyer of the Year, presented by Hays
Julian Bechini, ABB Australia Pty Limited
Victoria Strong, Duro Felguera Australia Pty Ltd
Susha Fisher, Kellogg Brown and Root Pty Ltd
Daniel Krutik, Origin Energy Limited
Nevenka Codevelle, APA Group
Insurance Lawyer of the Year, presented by McInnes Wilson
Sheree Siow, AIA Australia
Darryn Hammond, RACQ
Duncan Ramsay, Steadfast
Sports and Entertainment Lawyer of the Year, presented by LOD - Lawyers On Demand
Paula Robinson, Gold Coast 2018 Commonwealth Games Corporation
Nik Searby, Jumbo Interactive Limited
Melissa Le Clerc, Royal Agricultural Society of NSW
Technology, Media and Telecommunications Lawyer of the Year, presented by LOD - Lawyers On Demand
Alexandra Smith, Adecco Group Australia
Shoshana Shields, eBay
Mark Schwarz, Teletrac Navman
Cameron Cross, NBN Co Limited
Rachel Launders, Nine Entertainment Co. Holdings Limited
Spencer Chipperfield, Sensis
Jason Georgallis, SingTel Optus Pty Limited 
Sunil Puranikmath, Telstra
Transport and Logistics Lawyer of the Year, presented by LOD - Lawyers On Demand
Alison Cusack, ANL Container Line Pty Ltd
Jacob Waye-Harris, Cobham Aviation Services
Michael Brennan, TNT Australia Pty Limited
Travel, Tourism and Hospitality Lawyer of the Year, presented by LOD - Lawyers On Demand
Caroline Thorne , Expedia Australia Pty Ltd
Eloise Curry, Qantas Airways Limited
Dayna Field, Virgin Australia
Team categories
Agribusiness Team of the Year, presented by lexvoco 
Accolade Wines
Costa Group
Banking and Finance Team of the Year, presented by Thomson Geer
IFM Investors
NAB
Suncorp Group
Construction and Real Estate Team of the Year, presented by DibbsBarker
Nexus Delivery
Brookfield
Mirvac
FMCG Team of the Year, presented by LOD - Lawyers On Demand
Accolade Wines
Domino's Pizza Enterprises Limited
Jurlique
PepsiCo ANZ
Government Team of the Year, presented by Thomson Geer
NSW Department of Planning and Environment
Playfair Visa and Migration Services
Sustainability Victoria
Indigenous Affairs Legal Services Branch within The Department of the Prime Minister and Cabinet
Infrastructure, Utilities and Energy Team of the Year, presented by Hays
AGL
IFM Investors
Origin Energy Limited
Insurance Team of the Year, presented by McInnes Wilson
AIA Australia
Steadfast
Suncorp Group
Sports and Entertainment Team of the Year, presented by LOD - Lawyers On Demand
FOX SPORTS Australia Pty Ltd
Gold Coast 2018 Commonwealth Games Corporation
Royal Agricultural Society of NSW
Technology, Media and Telecommunications Team of the Year, presented by LOD - Lawyers On Demand
Adecco Group Australia
amaysim
eBay
Envato Pty Ltd
NBN Co Limited
Nine Entertainment Co. Holdings Limited
SingTel Optus Pty Limited
Uber
Vocus Group Limited
Transport and Logistics Team of the Year, presented by LOD - Lawyers On Demand
Cobham Aviation Services
TNT Australia Pty Limited
Travel, Tourism and Hospitality Team of the Year, presented by LOD - Lawyers On Demand
Mantra Group
RACQ
Virgin Australia