New GC toolkit launched to reduce costs and increase efficiency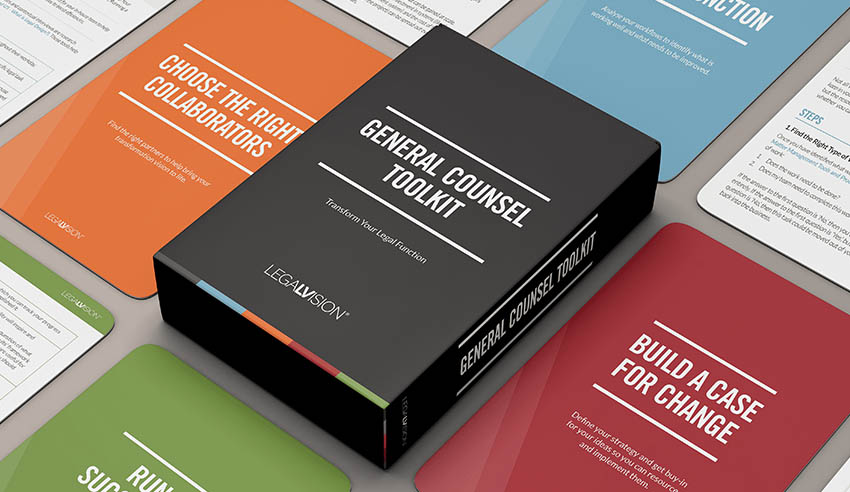 NewLaw firm LegalVision on Monday unveiled a new "industry-first" resource to help general counsel introduce innovation into their legal function, streamline operations and better focus on strategic priorities.
The General Counsel Toolkit, developed by LegalVision (LV), is a free resource and contains 35 cards organised into the five phases of an in-house counsel's transformation journey, including know-how, practical activities and case studies on teams that have transformed their legal function.
The toolkit, LV told Lawyers Weekly, is for GCs who are "proactively seeking" to minimise costs and boost the efficiency of their teams, as well as bolster their innovative practices, better streamline operations and direct attention to strategic priorities.
It also, the firm added, features "rare insights" from IAG, InCounsel, Astrid Kohlmeier Legal Design and Gilbert + Tobin.
It draws on the NewLaw firm's experience working with numerous clients over the past year to design, deliver and launch a unique managed service offering dedicated to marketing compliance, it said.
IAG executive manager of agility and legal operations Anna Golovsky said: "In-house teams are under pressure to improve processes, resource allocation and cost management. These pressures have coincided with the legal and regulatory environment becoming increasingly complex, along with technological advancement."
"It is now critical for you to be able to demonstrate your team's value and to ensure that finite resources are strategically allocated," she said.
LegalVision legal transformation manager George Turnbull added: "We often hear from in-house teams about how difficult it is to free themselves up from business-as-usual to focus on strategic legal work."
"This toolkit is the first of its kind and addresses that problem with a practical, hands-on solution. While the idea of undertaking transformation – especially when you're under the pump – may seem daunting, it's not as hard or as time-consuming as you might think, especially with the help of the toolkit."
Legal departments that wish to access the General Counsel Toolkit should contact LegalVision or download a copy from the firm's website.