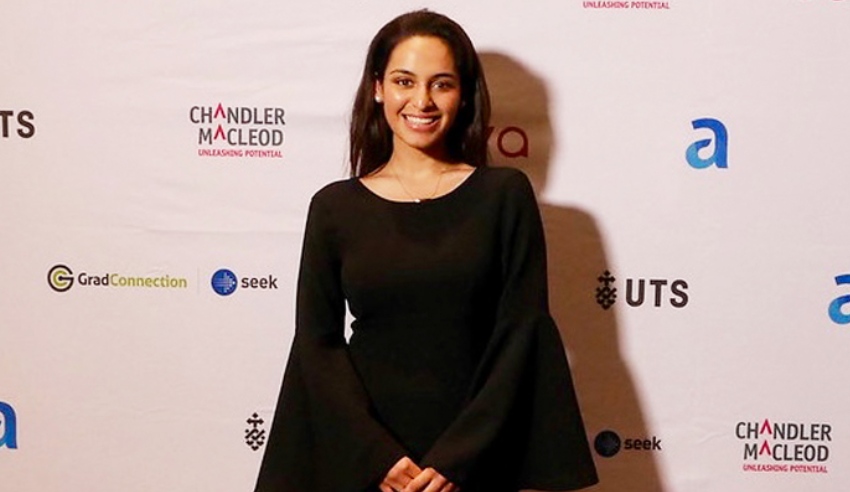 From connecting with incredibly influential leaders to collaborating with her peers on world-changing projects, one final-year student has already achieved and been recognised for so much. In a conversation with Protégé, she discusses how other aspiring lawyers can identify and then pursue their own big career goals. 
Final-year Australian National University (ANU) law student Angelique Nelis spent a lot of her childhood giving back to those less fortunate in every way she could: whether it was volunteering in orphanages across the world or launching social campaigns from her schoolroom. This passion for helping others has followed her throughout law school and will continue into her aspiring international law career. 
"The reason why I believe it's so important [to give back] is because from a very young age, we're told that we can be leaders and we can make an impact on the future. But what I have come to realise is that we don't need to wait for the future or for us to become adults to do this," she said on an episode of The Protégé Podcast. 
"We can do it from a very young age. There are incredible people out in the world doing some amazing things and it shows that you can be leaders of today and you can make a change today, no matter what age you really are. That ultimately has really influenced me and allowed me to try to give back as much as I can." 
Using this drive to do more, Ms Nelis first spent some time in New York City where she collaborated with 300 delegates for the Change the World Model United Nations (CWMUN) program where she led a coalition and was co-author of the draft United Nations resolution discussing nuclear-free zones in the Pacific. Later, she would go on to complete an intensive course at The Hague Academy of International Law. 
Before flying to New York to represent Samoa as its delegate, Ms Nelis said she wanted to first learn more – "there's only a certain degree that you can really learn from the internet or general Google searches" – so she reached out to the Samoan High Commissioner who was in Canberra at the time. To her surprise, the High Commissioner was very responsive and very willing to sit down with her. 
"We spoke about some really important things such as gender equality, and things that are impacting her nation specifically, such as climate change. Then when I represented Samoa a few weeks later at the UN general assembly, I felt very well-equipped because I had spoken to some amazing people who firsthand had experienced those things," Ms Nelis said. "It was a very humbling experience." 
In addition to the High Commissioner, Ms Nelis has reached out to and connected with other incredibly high-profile professionals, including the Honourable Michael Kirby, and the president of the ICC (International Chamber of Commerce) International Court of Arbitration Claudia Salomon. Ms Nelis said Ms Salomon had a "very busy schedule" but "makes time to have a chat and provide advice" to aspiring lawyers. 
Asked how she found the confidence to reach out to these kinds of individuals, Ms Nelis said the mentality she has when she goes into anything is to "just have a go and put yourself out there. It is quite challenging and it is quite nerve-wracking and of course they can reject you, but the best thing they can say is yes."
Much like Justice Kirby and Ms Salomon, Ms Nelis said she enjoys talking to younger people – whether they are aspiring lawyers or not – to give advice. For Protégé listeners, she discussed how to best identify their passions in law and how to use this to look for and secure their own unique experiences and legal achievements. 
"Sometimes in law school, you think that a certain area sounds good or there are other benefits to them – monetary or otherwise – but you really need to spend some time reflecting on that and thinking, 'is that the pathway I want to go down?'.
"If you aren't too sure, I would suggest volunteering maybe in a society of your choice. I'm quite active in the ANU International Law Society as an executive – as the careers director there. But any volunteering in those societies [will mean that] you get to understand the ins and outs of a practitioner's lifestyle," she shared. 
Once their passions have been identified, Ms Nelis said it was then important that budding lawyers are reaching out and connecting with the right people – but not with the drive of building up LinkedIn connections or using them as means to an end. 
"It's really important to note when talking about networking that it's not just about making connections with people on LinkedIn or via emails just for them to write a reference letter or be a referral. You really need to make a genuine connection with people, and not just view it as a stepping block," Ms Nelis said. "Those people have a lot to offer and genuinely connecting with them is extremely important." 
Finally, she offered: "The third [piece of advice] is putting yourself out there and giving it your best go. Putting yourself out there is extremely important." 
For more from Angelique on her experiences in and outside of the law so far and advice on how to stand out in the profession, listen to the episode here. 
If you have any questions about the episode or if there are any topics that you might want us to look into, please reach out – we would love to hear from you!
We're also always open to new guests so if you have an exciting story to tell, if you're standing out as a student or graduate, or if you can offer some tips for our young lawyers, get in touch.
You can reach us here:
Emails: This email address is being protected from spambots. You need JavaScript enabled to view it. or This email address is being protected from spambots. You need JavaScript enabled to view it.
Socials: Follow us on LinkedIn, Facebook and Twitter or reach out to me directly here.