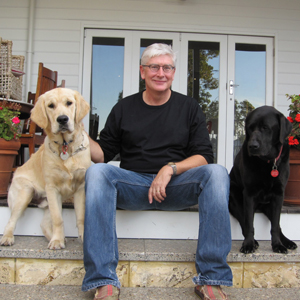 A prominent managing partner and finalist in the Lawyers Weekly 2013 Australian Law Awards has revealed how his battle with depression reinforces his view that law firms need to be run differently.
A prominent managing partner and finalist in the Lawyers Weekly 2013 Australian Law Awards has revealed how his battle with depression reinforces his view that law firms need to be run differently.
John Poulsen (pictured at home with his family's dogs), the managing partner of Squire Sanders in Australia, was first diagnosed with depression in 2000.
Describing the last two years as the "toughest he has ever had", Poulsen has spoken scathingly about a large law firm culture that tolerates bullying and rewards the selfish pursuit of profit at the expense of the health and wellbeing of staff.
"The fish rots from the head," said Poulsen, the former head of Minter Ellison in Perth, when describing the influence of managing partners on a firm's psyche. He said that the traditional six top-tier firms in Australia promote a culture in the partnership that "cannibalises each other".
"They [partners] are under pressure because they are tied into a lockstep or the incomes they need, and the behaviour at those firms is borne out in the pressure put on lawyers.
"It becomes unhealthy and what I call a vicious circle instead of a virtuous circle."
Poulsen is vying for the Managing Partner Award at the annual Lawyers Weekly 2013 Australian Law Awards, proudly sponsored by List A Barristers, in Melbourne tomorrow tonight (26 July).
You can still purchase tickets here.
Living with depression while running a firm
John Poulsen's depression was born out of personal tragedy.
In 2000, the Minter Ellison partner of a decade standing had just suffered the loss of his father. Poulsen was understandably devastated, and when the initial feelings of grief crept over into whether or not it would be a good decision to get of bed and go to work, he saw a doctor.
"I felt really strange," said Poulsen. "I felt perfectly capable of functioning, but I felt like I was in a hole and it is black and I can't get out and I don't know why."
Poulsen had never previously struggled for motivation.
Happily married with two young children, now in their 20s, he had always loved being a lawyer.
He still does, but living with depression means there will be times when it rises to the surface and dims the joy he continues to find from the important things in his life: family, friends and work.
"It never goes away, it is always lurking there.
"There have been times over the last two years where I have thought 'oh God, this is tough' and I can feel it coming back," he said. "Then you put in place getting more exercise, making sure you switch off from work [and] doing the things you love, which for me is spending time in my vegetable garden and cooking."
Poulsen begins chuckling as he recounts that giving up his at-times two-pack-a-day smoking habit has made the exercise part of the equation a lot easier, before adding "and never stop taking your pills".
Law firms can be run differently
In 2011, Poulsen took 13 partners with him from Minters, where he had been ensconced as the head of the national firm's Perth arm since 2007, and threw in his lot with new global arrival Squire Sanders.
As the Perth arm of the firm at the time was not financially integrated, Poulsen was able to institute a range of policies there that he carried over with him as the Australia managing partner of Squire Sanders.
Those policies have been heavily informed by his personal experience of living with depression and the high rates of depression within the legal profession.
 
"Whilst I have been a managing partner, I have never run a firm as a sweatshop," he said.
In 2010, Minters' Perth office won a Federal Government Work-Life Balance Award. Policies introduced by Poulsen to make the firm more collaborative and flexible after a period of high turnover and low morale had increased retention rates and led to a more engaged workforce. 
However, Squire Sanders has also kept many traditional private practice performance measurements, including timesheets and billable hours targets.
"We probably have lower targets and billable hours when compared to some of our competitors, and have recently redesigned our premises on a non-hierarchical basis," said Poulsen, who expects his lawyers to be hard working and profitable but also happy.
A survey of 20 managing partners by Lawyers Weekly earlier this year found that 70 per cent of those firms set billable hours targets of between five and seven hours.
Fifteen per cent of those firms surveyed had targets of more than seven hours.
Squire Sanders sets its lawyers below partner level a billable hours target of 6.5 hours per lawyer.
For the troops on the ground in the firm's Perth office, that means its lawyers are expected to put in.
"It can be difficult sometimes to hit that target when you might have other business development activities or administration activities to carry out, but at other times it is not an issue," said Dominique Hartfield, a senior associate with the firm in Perth.
Hartfield said that a typical working day for her starts at 7.30am and finishes between 5.30pm and 6pm. She said Poulsen has always been open about his depression with the firm, and that having senior people like Poulsen talk about such a personal issue openly was of benefit to all practitioners.
"The profession as a whole should be doing more about depression, and the more people that can talk openly about it, like John, helps remove any stigma surrounding the issue or that you are showing weakness or limiting opportunities in your career."
Poulsen also believes the profession should be doing more about depression.
He saves his most savage criticisms for a large law firm culture that he believes has placed greed at the top of the law firm temple at the expense of the happiness and, in some cases, the welfare of staff.
The remuneration system at Squire Sanders has moved away from the lockstep system that is in place at many law firms, with only 30 per cent of a partner's income directly related to financial metrics.
The rest of the partner's pay packet is based on metrics that Poulsen said are "related to what are good behaviours for good lawyers".
"As a managing partner, you should run a firm where a collegiate and collaborative culture is rewarded and selfish, silo-type behaviour, which is all about 'how much can I bill and look good?' is not."