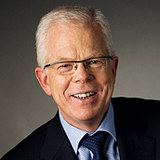 Salaries are down according to a new salary survey, which shows lawyers must adjust their salary expectations in line with other industries.
Mahlab Recruitment's 2013 salary survey, Harder Faster Smarter: The New Competitive Regime, released today (2 August), confirmed partners are feeling immense pressure: their income has either declined or flat lined, and some have had their remuneration structures permanently adjusted downwards.
Robert Milliner (pictured), who was the chief executive partner of Mallesons during its merger with King & Wood, was unsurprised by the findings and said they were a symptom of structural shifts in the legal market that have been lurking in the background since before the GFC.
"They are much more disruptive and enduring than many [law firms] have been either prepared to accept or, more markedly, respond to," said Milliner, who is currently a senior advisor at UBS and the B20 Sherpa for Australia.
The comprehensive survey, conducted online in June, found that 51 per cent of firms made minor (3.7% on average) increases to salary bands this year, compared to almost three quarters last year and 92.3 per cent in 2011. Large firms have instigated pay freezes, job cuts and flexible work programs this year, on a scale unseen since the start of the GFC, in an attempt to prop-up profits for partners.
Partners who have moved to specialist global and mid-tier firms have found their earnings may not be commensurate with the past, but all indicated they were motivated by finding a home compatible with their values and supportive of their practice, including fee rates.
"This is a major wake-up call for many of the partners in law firms of any size about what they'd like to earn and have been accustomed to earning, and what they're likely to earn in the future," said Katherine Sampson, managing director of Mahlab Recruitment.
Leaving the band
Junior lawyers, too, must dampen their "widespread" expectation that their salary will go up a band with each year of service, said Sampson.
For the first time this year, firms have markedly resisted the previously sheeplike experience of banding, and the survey anticipated this trend would gain traction next year.
"Some solicitors will be disaffected by it but it's more the way the rest of the world operates; that's what it's like out in the corporates," said Sampson (pictured right).
In-house counsel saw a 2.8 per cent average national salary increase this year, down from 4.5 per cent last year.
Bonuses picked up the slack in many cases, with 63 per cent of law firms paying bonuses, more than double the 30 per cent paid last year. Of the 75 per cent of in-house respondents eligible to receive a bonus, 63 per cent received one.
Milliner said lawyer and partner salaries would need to become subject to other industry-type constraints based around performance and value, rather than lockstep partnership systems, for firms to be competitive in the changed market conditions.
"We've had a pretty special existence for a while now," he said, adding that the sophistication and quality of performance systems in most law firms is poor.
Corrs Chambers Westgarth, which managed to avoid pay freezes this year, has implemented a new performance-review framework to allow greater and more flexible rewards for individual lawyer performance. Milliner said it would take time for such initiatives to take hold because of the cultural consequence they have on the way work is allocated and performed in firms.
"It will mean bigger gaps based on performance than historically there have [been]. Moving to a more accountable based system requires broader and more effective performance metrics; it requires the importance of value and culture still to be there, but where the law firm model struggles is that it doesn't handle cultural change well," he said.
Race for real innovation
Clients are now using a range of options, including smaller firms with highly-skilled lawyers, sophisticated in-house legal teams and contractors, legal process outsourcing (LPO) and direct barrister briefing to solve their legal problems.
To succeed in such a market, Milliner argued law firms must differentiate themselves and innovate.
"We're relatively down the scale in that level of innovation. Too much focus is either spent on doing things faster, doing things cheaper and price discounting; to me, that is not an innovation at all," he said.
Working hours increased by 47.5 per cent for survey respondents due to less staff to undertake the work because of non-replacement of roles, an increase in project work and less graduates or junior solicitors to delegate to, among other factors.
While innovations are still playing out in large firms that have merged with offshore entities, Milliner said the real innovation will come when firms re-work their target market and practice structure.
"It will require the re-working of firm's service delivery model to suit that precise client market, a re-working of their career and remuneration structure and their physical structure … it's a whole series of things that say we are going to handle that differently to everybody else," he said.