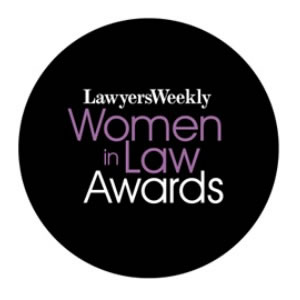 Lawyers Weekly has announced the finalists for the fourth annual Women in Law Awards.
The highly anticipated event recognises the achievements of women in the legal industry at all levels, and in all areas.
A total of 132 finalists representing 70 firms, organisations and universities were named across 18 categories.
The winners will be selected by a panel of 20 judges, including Law Council of Australia president Duncan McConnel, Australian Law Reform Commission president Rosalind Croucher and Victorian Women Lawyers convenor Kirsten Adams.
The response from the profession was such that Lawyers Weekly launched an additional two categories to cater to barristers and special counsel wanting a piece of the award action.
The winners will be announced at a black tie gala dinner at the Grand Hyatt in Melbourne on 27 November – tickets available now.
The finalists for the Women in Law Awards 2015 are:
Academic of the Year
Jodie O'Leary, Bond University, Qld
Cathryn Nolan, RMIT University, VIC
Dr Marilyn Krawitz, University of Notre Dame, WA
Dr Allison Silink, University of Technology, NSW
Barrister of the Year – presented by FTI Consulting
Renee Enbom
Elizabeth Cheeseman SC
Fiona McLeod SC
Claire Howell
Boutique Diversity Law Firm of the Year
Hive Legal
RACS
LegalVision
JHK Legal
Freedman and Gopalan
Dealmaker of the Year
Kylie Lane, Ashurst
Elspeth Arnold, Ashurst
Evie Bruce, King & Wood Mallesons
Claire Rogers, King & Wood Mallesons
Yuen-Yee Cho, King & Wood Mallesons
Diversity Law Firm of the Year – presented by FTI Consulting
King & Wood Mallesons
DLA Piper
Herbert Smith Freehills
Baker & McKenzie
Clayton Utz
Corrs Chambers Westgarth
Advent Balance
Executive of the Year
Mary Padbury, Ashurst
Kate Jordan, Clayton Utz
Jodie Baker, Hive Legal
Sue Kench, King & Wood Mallesons
Michelle Dixon, Maddocks
Angela Skandarajah, Minter Ellison
Andrea Michaels, NDA Law
Louise Shelton, Squire Patton Boggs
Mary Digiglio, Swaab Attorneys
General Counsel of the Year – presented by ACC
Claire Bibby, Brookfield
Kylie McPherson, Diageo
Kim Morison, Ernst and Young
Bridget Powell, HSBC Bank
Carmel Mulhern, Telstra Corporation
Vanessa Bourne, University of Wollongong
In-house Lawyer of the Year – presented by DLA Piper
Christine Ng, Airservices Australia
Kimberly Statham, Carnival Australia
Courtenay Zajicek, Majors Group Australasia
Sue Laver, Telstra Legal Services
Law Student of the Year
Ashleigh Barnes, University of Technology
Cassandra Seery, Deakin University
Lynette Dong, Monash University
Tareena Martin, University of Adelaide
Katherine Warner, University of Adelaide
Marie Iskander, University of New South Wales
Jenna Mercer, University of New South Wales
Hannah Reid, University of Technology, NSW
Taylor Macdonald, Western Sydney University
Parrys Raines, University of Wollongong
Marketing Communications Professional of the Year
Anita Bennett, AdventBalance
Sharon Thompson, Ashurst
Lauren Scott, Clayton Utz
Kate Piper, Corrs Chambers Westgarth
Alexandra Jones, LegalVision
Kate Arnold, People + Culture Strategies
Tracey Whyte, Piper Alderman
Mentor of the Year
Katie Wrigley, RACS
Joanna Brand, Billabong International Limited
Clarissa Rayward, Brisbane Family Law Centre
Catherine Osborne, Curwoods Lawyers
Melinda Upton, DLA Piper
Jane Hider, DLA Piper
Nicole Maxwell, HWL Ebsworth
Michaela Bartonkova, Maurice Blackburn
Samantha Daly, McCullough Robertson
Fiona McLeod SC, Victorian Bar
Partner of the Year – presented by e.law International
Kylie Lane, Ashurst
Elspeth Arnold, Ashurst
Jo Daniels, Baker & McKenzie
Nikki Robinson, Clayton Utz
Frances Williams, Corrs Chambers Westgarth
Sonia Apikian, Gadens
Colleen Platford, Gilbert + Tobin
Elizabeth Macknay, Herbert Smith Freehills
Amanda Davidson OAM, Holman Fenwick Willan
Sharon Henrick, King & Wood Mallesons
Sandra Steele, K&L Gates
Katrina Rathie, King & Wood Mallesons
Pro Bono Lawyer of the Year – presented by ACC
Justine Autour, Colin Biggers & Paisley
Talya Faigenbaum, Faigenbaum Family Lawyers
Rebecca Gilsenan, Maurice Blackburn
Kathryn Booth, Maurice Blackburn
Kylie Groves, Squire Patton Boggs
Emily Hawcroft and Caitlin Davies, Minter Ellison
Leanne Collingburn, Norton Rose Fulbright
Heidi Nash-Smith, Wotton + Kearney
Kathryn McMillan QC
Bronwyn Hartigan QC
Senior Associate of the Year – presented by e.law International
Alyssa Phillips, Ashurst
Alison Kennedy, Clayton Utz
Kristina Botsis, Corrs Chambers Westgarth
Lalitha Visuasam, Hall & Wilcox
Angela Chung, King & Wood Mallesons
Elizabeth Hundt Russell, King & Wood Mallesons
Melissa Sinopoli, Macdonnells Law
Jessica Reid, Maddocks
Vavaa Mawuli, Maurice Blackburn
Daria McLachlan, Sparke Helmore
Rachel Dawson, Herbert Smith Freehills
Vanessa Baic, K&L Gates
Sole Practitioner of the Year
Kate Ashmor, Ashmor Legal
Sara Hatcher, Focus Legal
Anny Slater, Slaters Intellectual Property Lawyers
Special Counsel of the Year
Samantha Shields, Baker & McKenzie
Jennifer Harris, Clayton Utz
Sanushka Seomangal, HWL Ebsworth
Belinda Montgomery, K&L Gates
Jodylee Bartal, Lander & Rogers
Bettina Sheeran, Maddocks
Kiri Purdy, Minter Ellison
Claire Forster, Norton Rose Fulbright
Tina McAulay, Pragma Legal
Ros Wicks, Turks Legal
Thought Leader of the Year – presented by Leo Cussen
Kate Ashmor, Ashmor Legal Pty Ltd
Clarissa Rayward, Brisbane Family Law Centre
Sarah Lynch, BucketOrange Magazine
Shae McCartney and Claire Smith, Clayton Utz
Elspeth Hensler, Francis Burt Chambers
Katie Miller, Law Institute of Victoria
Megan Lawton, Law Society Northern Territory
Mirabella Stammers, Legally Yours Pty Ltd
Fiona McLeod SC, Victorian Bar
Young Gun of the Year – presented by Leo Cussen
Samantha Robson, Ashurst
Isobelle Watts, Clayton Utz
Libby Radjenovic, DibbsBarker
Georgia Wall, Gadens
Amelia Morgan, Herbert Smith Freehills
Debra Ellis, Herbert Smith Freehills
Kristen Hammond, Holman Webb
Verity Scandrett, Sparke Helmore
Elizabeth Aitken, TressCox Lawyers
Emma Smallwood, Women's Legal Service