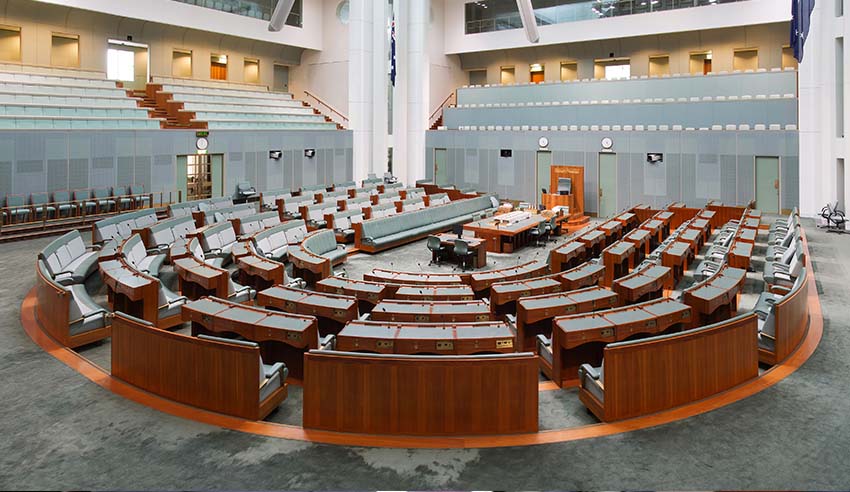 If the second exposure draft of the Religious Discrimination Bill goes through, members of legal associations will have protection for their religious beliefs and activities. What do Australia's law societies and bar associations think about this?
Much has already been said by members and groups of the legal profession about the revamped draft of the Religious Discrimination Bill.
Human Rights Commissioner Ed Santow said some provisions were "too severe", Public Interest Advocacy Centre CEO Jonathon Hunyor said some sects of the community "stand to have their rights eroded" and the Australian Discrimination Law Experts Group (ADLEG) said the bill prioritises religion "over other protected attributes".
One issue arising from the second exposure draft that hasn't escaped the attention of legal member associations, however, is the bill's Prohibition of Indirect Discrimination section, clause 8, covering employer conduct rules and – now – qualifying body rules.
According to the Attorney-General's Department's explanatory notes on the bill, it will be "unlawful for a qualifying authority or body to discriminate against a person in relation to authorisations or qualifications on the ground of religious belief or activity".
In other words – if a law society or legal member association wanted to stop a member from, for example, expressing homophobic views based on religion, that society or association would likely be unable to do so.
According to ADLEG, it is "unnecessary and objectionable [to provide] unique protection to members of qualifying bodies who express religious views, and not any other views".
"As a matter of equality, there should not be one rule for indirect discrimination on the basis of race, sex, disability and age, and another rule for indirect discrimination on the basis of religion. Employer conduct rules should be considered under the same 'reasonableness' test in all federal discrimination laws," it wrote in its submission to the A-G's Department in response to the second exposure draft.
Lawyers Weekly approached the Law Council of Australia (LCA) and all 16 state and territory law societies and bar associations to determine their positions on the following:
 

How the member associations feel about a proposed limitation on their ability to prevent members from espousing views which may be simultaneously offensive or discriminatory but also in keeping with their religious views;

 

Whether the member associations support or oppose the proposal; and

 

What action, if any, the member associations will take in response to the proposal.
Law Council of Australia
LCA president Pauline Wright told Lawyers Weekly that the advocacy group is concerned that the inclusion of qualifying bodies in subclause 8(4) represents a "substantial and unnecessary departure" from the orthodox reasonableness test regarding indirect discrimination under current law.
"This standard reasonableness test enables consideration of all relevant circumstances in determining whether conditions, requirements or practices are reasonable for the purposes of the indirect discrimination test," she explained.
"LCA supports freedom of religion, and the right to manifest religious expression. In most instances, it considers that statements of belief made by legal practitioners would be reasonable. However, in rare instances, statements which are, for example, publicly made by a senior member of the profession which have the effect of seriously denigrating another group may bring the profession into disrepute and raise questions about its fairness in delivering justice.
"Currently, relevant provisions of the Australian Solicitors' Conduct Rules could be relied upon to regulate such behaviour. These include rules designed to preserve public confidence in the profession and the administration of justice.
"However, under the bill, it may be difficult to prove that the application of these rules formed an 'essential requirement' of the legal profession, particularly where a statement of belief was made outside of the course of legal practice."
LCA considers that it is important, she observed, that legal professional bodies maintain the ability to regulate such conduct by the legal profession "appropriately, effectively and reasonably".
"It is also important to maintain diversity and tolerance in the profession. [We are] concerned that subclause 8(4) gives undue emphasis to the manifestation of religious freedom over these legitimate objectives. As such, it may impede the legal professional bodies' own ability to regulate the profession effectively," she said.
"LCA is also concerned that the restrictions on law employers from making conduct rules for their employees concerning statement of belief outside the course of employment unduly [restrict] their legitimate objectives to maintain diversity and tolerance in the workplace and maintain their corporate reputation."
As such, Ms Wright surmised, the advocacy group supports the removal of paragraphs 8(2)(e) and 8(4) concerning qualifying body conduct rules.
It has, as of earlier this week, lodged a submission with the A-G's Department outlining its position on the second exposure draft of the bill, including the above provisions.
Bar Association of Queensland
In conversation with Lawyers Weekly, BAQ president Rebecca Treston QC said a key objective of any reform agenda should be the consolidation of protections through a coherent federal framework, "preferably by adopting consolidated Commonwealth anti-discrimination or human rights legislation".
However, she continued, BAQ is "concerned that the government's reform proposal will perpetuate the fragmentation of existing protections".
"More fundamentally, the association is concerned that, instead of promoting the understanding that human rights are universal, interdependent and indivisible, the proposal generally elevates the protection of freedom of religious expression above other recognised freedoms, such as the right not to be discriminated against on grounds of race, sex, or sexual orientation in a manner which disproportionately limits their pursuit," she said.
"In that regard, the proposal risks heightening existing divisions in society. It is the view of the association that, in lieu of the present proposal, efforts would be better directed at building broad agreement on a federal Human Rights Act."
Elsewhere, Ms Treston said BAQ is concerned that "protection from religiously motivated hate speech under the bill is weaker than the protection from racially motivated hate speech under the Racial Discrimination Act 1975 without evident justification for the difference in approach".
"Where the line is appropriately to be drawn is a matter about which views plainly differ. However, the setting of different thresholds for protection against various forms of hate-speech appears unprincipled and should be avoided," she wrote.
"Australia's human rights obligations are not divisible and, as a matter of international human rights standards, none is more important than another."
Queensland Law Society
QLS did not respond directly to our questions but instead pointed to their own submission on the bill, which mused on the Commonwealth acts dealing with discrimination on the basis of an individual's right or a particular attribute.
"This is problematic and creates the potential for different rights and attributes to be treated differently under the law, including differences in complaint mechanisms. It is the view of some of our members that these religious freedom reforms are unnecessary and appear to prioritise religious beliefs above other protected attributes," the society wrote, echoing the concerns of BAQ.
"To ensure there is equal application of the law, we submit there should be a single piece of federal anti-discrimination legislation, rather than a piecemeal approach to dealing with human rights. Such legislation would ensure that individual rights and attributes are protected while allowing for a single complaints mechanism to operate and be accessible to everyone."
Other law societies and bar associations
The Law Institute of Victoria declined to comment on clause 15 of the explanatory notes, however, a spokesperson did note that "such behaviour would be likely to subject to the law society's code of conduct".
"If a law society member has their membership revoked on the grounds of unacceptable conduct, then that person may pursue other available remedies, such as those outlined in the law society's grievance policy," the LIV spokesperson said.
Law Society of NSW president Richard Harvey said his state's association supports LCA, put forward in that advocacy group's submission. Similarly, the NSW Bar Association backed the LCA's position.
At the time of filing this story, Lawyers Weekly had not heard from The Law Society of the ACT, ACT Bar Association, NT Bar Association, Law Society Northern Territory, Law Society of SA, Law Society of Tasmania, The Tasmanian Bar or the WA Bar Association.
The SA Bar Association and Law Society of WA declined to comment.