'I chose not to be another statistic'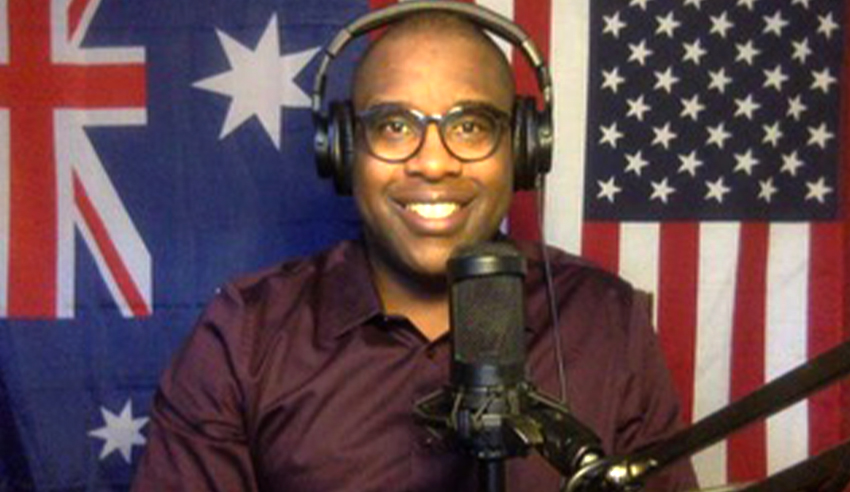 Having grown up in the projects of Las Vegas, become a US state senator and now practising law in Melbourne, Donald Betts Jr has a unique take on public service and systemic racial injustice.
Surrounded by the flags of his native land and his adopted country, Mr Betts told Lawyers Weekly that his ultimate goal in life is to "inspire service in the public interest".
This inspiration, he explained on The Lawyers Weekly Show, stems from his own upbringing and longstanding systemic issues pertaining to race he has both witnessed and experienced as an African American in the US.
"I grew up in a single-parent home where the lack of educational services, mentorship programs, job training and employment was lacking, and it opened the door for many to poverty, depression, violence, drugs, gangs, and of course constantly being racially profiled. And I wanted to change that. I wanted to do something different. When growing up in an area where you saw friends that you went to school with, either murdered or incarcerated at a young age, you determine in your mind that you want to pursue something more. You want to pursue something more," he recounted.
"Given my background from life in the projects of Las Vegas to some of the struggles that I saw along the way, I was determined to set out that my goal in life is to inspire service in the public interest, whatever that looks like, whether it be politics or the law, or my own personal volunteerism and getting out there to encourage the next generation to be significant and do something worthwhile with the one life that we have on this Earth."
In his own words, Mr Betts "chose not to be another statistic". He did this by getting elected to the Kansas House of Representatives in 2004 at the age of 24, before transitioning to the State Senate, where he spent five years. During his time as an elected official, he championed legislation to ban racial profiling, introduce education reforms and reduce recidivism rates for drug offenders.
That said, he added that he doesn't know how he would have emerged from the projects of Las Vegas had he not had teachers and other persons in the community to support him.
"It could have been at any minute, at any moment, that my life was either taken through the violence that was perpetrated in the community or by the hand of an officer. And that's a sad reality. So when you have a public that is living in that type of fear [everyday], the moment they see blue lights flicker behind them as they're driving their vehicle and [panic] sets in, there is a systemic problem that must be addressed, not only on the local and state level, but it needs to go from [top-down] from the leadership," he said.
In 2009, he moved to Australia to be with his wife, Tania, and started studying the JD at Monash University. He now works as a legal services executive at Norton Rose Fulbright, in the global firm's Melbourne office.
Taken together, these cultural, political and legal experiences make Mr Betts uniquely placed to reflect on systemic racial injustice, both here and abroad.
In his native America, he mused, "the justice system, we would say, is geared against people of colour".
"Black Lives Matter is a black-centred political will and movement building project that was birthed in response to the acquittal of George Zimmerman [in relation to the death of teenager Trayvon Martin]. It's an ideological and political intervention in a world where black lives are systematically and intentionally targeted for demise," he explained.
"It is an affirmation of black people's humanity, our contributions to society, and our resilience in the face of deadly oppression that has spurred what we see now as a movement, as a revolution. And what is happening, bar associations and governments are now changing their laws on the statutes to implement policies, racial profiling policies, and reviewing the sentencing guidelines that have placed a knee in the neck of citizens to really thrive.
"And, as a result of the horrifically graphic and violent death of George Floyd, a movement that originally started in 2013 has now transformed and reinvigorated to become an enormous movement led by the next generation of leaders from all walks of life, who are peacefully protesting and willing to risk it all for the sake of justice, with the resounding message resonating on every corner of the Earth as we can see, that Black Lives Matter.
"The message rings triumphant, when in the midst of COVID-19 organisations have recognised this businesses, law firms and governments are making swift changes to their policies and implement the inclusion in the diversity. So, we're seeing a lot of change on the statute books, but also in the way that we deal with the people of colour when it comes to them, interfacing with the law."
Looking at the Australian experience, Mr Betts cautioned against presuming that such systemic issues in the US do not also arise here.
"There was a study conducted – Speak Out Against Racism – in 2019 that found one-third of New South Wales and Victorian governments-based students have experienced racial discrimination from their peers. I have the privilege of enrolling in an Indigenous People and the Law course at Monash, where I read studies and cases detailing accounts of shocking atrocities of mass killings, slavery, lost wages and stolen generations that robbed human beings out of their dignity and out of their [liberty], which created generational trauma that continues to restrain and oppress mentally and physically the oldest continuous culture on the planet," he said.
"The way Indigenous people have been treated in Australia is bordering on the obscene. For people with ancestry stretching back 75,000 years and have preserved the land of the young and free, it is a crying shame that the descendants of the guardians of the land are disproportionately imprisoned, lacking education, and living in the shadows of extreme wealth and affluence."
Mr Betts proclaimed that he is "ashamed for us".
"Four hundred thirty-plus [Indigenous] deaths in custody make my heart break for a country that I have adopted as my home, one that I've grown to love, and one that I am proud to raise my children. People often say, 'Well, at least Australia is not as bad as the US and other parts of the world'. Well, I say to them that just because it is not as bad, it surely does not make it good and therefore is no better," he mused.
"Until we Australians uplift, preserve and respect Aboriginal Australians as our national treasures, we are no better than we Americans. And I'm hoping that Australia leads the way to something that the rest of the world can say, 'Hey, you know what? Those Aussies get it. They're changing the whole spectrum and they're showing us how to do it.'
"I think that's important from my view, living in this most beautiful country where it's the land of milk and honey. Why shouldn't every person in this nation, particularly our [Indigenous] population thrive?"
To listen to the full conversation with Donald Betts Jr, click below: