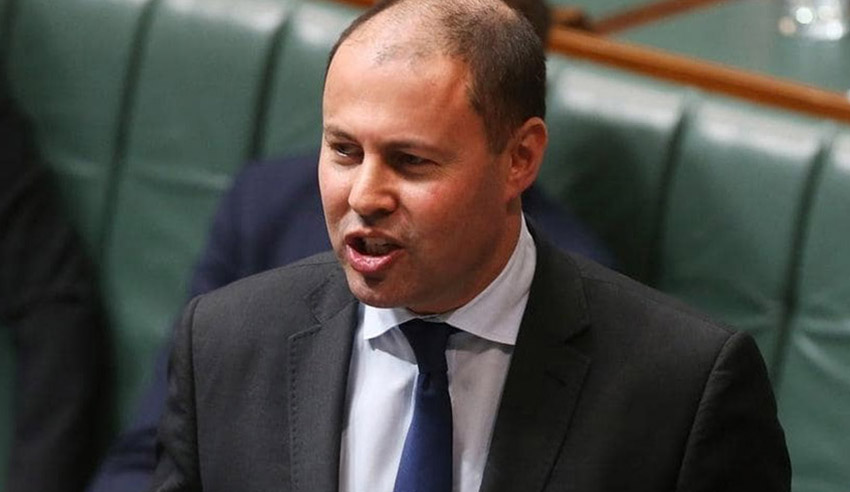 Treasurer Josh Frydenberg has handed down the 2022-23 federal budget, in anticipation of the looming election. Here are the key takeaways for Australia's legal profession. 
In the final budget before the 2022 federal election, delivered earlier tonight (29 March) to the House of Representatives, Treasurer Josh Frydenberg said that the Morrison government is looking to the future and delivering "a plan for the times".
"Realistic about the growing threats we face. Ambitious for our country and our children. Optimistic about what can be achieved. As we emerge from the pandemic, we are building an even stronger, more secure and confident Australia," he proclaimed.
"Where aspiration and enterprise are encouraged and rewarded. Where families have greater flexibility and choice. Where those in need get a helping hand. Where greater self‑reliance leaves our nation less vulnerable. Where our modern competitive industries create new jobs. Where Australia and our allies protect our national interest.
"This is our vision for Australia."
Here are the measures announced in the budget that will impact upon legal professionals:
Relief and incentives for small businesses
For SME law firms, there were numerous tax-relief measures announced "to support investment and create jobs". Small and family businesses, Treasurer Frydenberg declared, "are at the heart of our economy and local communities".
To that end, the Treasurer promised the following in his speech:
"For every hundred dollars a small business spends on training their employees, they will get a $120 tax deduction"; and

"Every hundred dollars these small businesses spend on digital technologies like cloud computing, e-invoicing, cyber security and web design will see them get a $120 tax deduction".
Further, the following was pledged in the budget papers:
$10.4 million over two years to enhance and redesign the Payment Times Reporting Portal and Register to improve efficiency and reporting;

$8 million to the Australian Small Business and Family Enterprise Ombudsman to work with service providers to enhance small-business financial capability;

$4.6 million over two years to support the New Access for Small Business Owners program, delivered by Beyond Blue, to continue to provide free, accessible, and tailored mental health support to small-business owners; and

$2.1 million over two years to extend the Small Business Debt Helpline program operated by Financial Counselling Australia to continue to provide financial counselling to small businesses facing financial issues.
Resourcing for Attorney-General's Department
Over five years from 2021-22, $61.6 million will be provided to support Commonwealth prosecutions and legal aid commissions, to respond to privacy complaints and take enforcement action, and support small businesses and employees on workplace issues, according to the budget papers.
The pledged funding includes:
$16.5 million over two years to support legal aid commissions to meet the cost of legal representation, including independent children lawyers;

$15.7 million over four years from (and $4 million per year ongoing) to increase the Commonwealth Director of Public Prosecution's capacity to respond to its increasing caseload;

$5.6 million over four years for the Fair Work Commission to establish a dedicated unit to support small businesses, including with unfair dismissal and general protections disputes;

$2.5 million over two years to support the Financial Rights Legal Centre's National Insurance Law Service to continue to provide legal advice and advocacy for consumers in financial distress due to insurance claim disputes; and

$1.6 million to continue a pilot for a single case management solution for the Administrative Appeals Tribunal.
Resourcing for Office of the Special Investigator
The federal government is also moving to provide additional resources to support the work of the Office of the Special Investigator's (OSI) investigation and prosecution of potential war crimes in Afghanistan.
The budget papers announced the following:
$3.9 million to the Attorney-General's Department to advise OSI on matters of international law, obtain legal assistance from foreign jurisdictions and to protect sensitive national security information in potential criminal proceedings; and

$2.8 million to the Commonwealth Director of Public Prosecutions to provide legal advice to OSI, including training for investigators and brief preparation.
This measure is to be offset by redirecting funding from the Department of Defence, the papers noted.
Funding for family law services
The Morrison government, the budget papers detailed, is "committed" to improving the family law and justice systems through investments.
To this end, the government has pledged the following:
$87.9 million over four years to assist families to resolve their family law matters in a timelier way and improve the safety and accessibility of the family law system;

$52.4 million over four years to protect victim-survivors against cross-examination by family violence perpetrators;

$8.4 million over three years for a pilot of a new service delivery model to provide survivors of sexual assault with greater access to dedicated legal services to support their recovery and engagement with the criminal justice system; and

$1.2 million over four years for a grant to the not-for-profit Court Network to support the rollout of Court Network volunteers operating at the Federal Circuit and Family Court.
Superannuation in family law proceedings
From next month, superannuation assets will be visible in family law proceedings. The ATO will, the budget papers outlined, be able to share information with the courts on super assets held by parties to family law disputes.
"This will help deliver fairer and more equitable outcomes for women going through separation proceedings by reducing the scope for former partners to under disclose their assets," the papers argued.
Community legal services
The Treasurer also announced a $1.3 billion package to end violence against women.
"More frontline services, emergency accommodation, and support to access legal and health services for women and children in need," he said.
$7 million was pledged, over two years, for nine women's and community legal services across the country, to help women access legal assistance and – for those who require it – migration support.
Elsewhere for CLCs, $5.4 million over two years from 2021-22 was promised for existing legal assistance services operating within Queensland and NSW to support flood-affected individuals, small businesses and primary producers to access "timely legal assistance as required".
In Western Australia, the Aboriginal Legal Service will receive $2 million over two years to expand the Youth Engagement Program as part of the Kimberley Juvenile Justice Project in the Kimberley and Pilbara region, which provides case management, mentoring, court support and advocacy services to help young Aboriginal people to comply with bail conditions and court orders.
Ongoing litigation
The Morrison government will continue, the budget papers noted, to fund legal action for those seeking compensation for losses incurred as a result of pharmaceutical companies delaying the listing of generic forms of medicines on the Pharmaceutical Benefits Scheme through undue legal actions.
"The financial implications for this measure are not for publication due to legal sensitivities," the papers stated.
Additionally, the government will be providing funding in 2022-23 to undertake court-ordered discovery processes associated with the McDonald v Commonwealth class action, which has been brought on behalf of Aboriginal and Torres Strait Islander persons who had wages withheld during 1933-1971.
Again, the budget papers did not disclose the quantum of funding for these discovery costs.
Insolvency reform
The budget papers noted that $29.8 million is being pledged, over four years, to further reform insolvency arrangements. Funding for this includes $22 million to implement reforms to unfair preference rules, including enhancing the Assetless Administration Fund and $7 million to clarify the treatment of trusts with corporate trustees under Australia's insolvency laws.
Deregulation
As part of its desire to reform Australia's regulatory landscape, so as to ensure that the national economy "remains productive, competitive and agile", the federal government is pledging the following:
$11.2 million over five years to continue work in reducing the regulatory burden for business arising from compliance with mandatory safety and information standards under Australian Consumer Law; and

$1.4 million over two years to the Attorney-General's Department to progress a national approach to modernise the execution of common legal documents.
Treasurer's argument for the election
Concluding his speech to the House of Representatives, Treasurer Frydenberg said that over the last three years, "Australians have been tested".
"Drought, fire, floods, global pandemic for which there was no playbook. Despite the challenges, our economic recovery is leading the world," he surmised.
"This is not a time to change course. This is a time to stick to our plan."