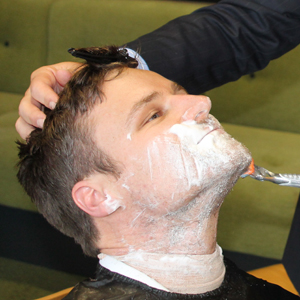 A senior associate's close shave with the boss has raised $2000 for breast cancer research.
Slater & Gordon senior associate Nick Mann (pictured) has honoured a promise to shave his beard if he reached his fundraising target at this year's Mother's Day Classic, an eight-kilometre run to support the National Breast Cancer Foundation.
The public pruning took place at the firm's Melbourne office last Thursday (22 May), with Slaters' managing director Andrew Grech wielding clippers and then a rather sharp razor.
Mann had pledged to shave his beard if he raised $1000 for the Foundation. It looks like he may have underestimated the generosity of his family, friends and colleagues, whose donations totalled $2000. However, Mann has his suspicions about their motives.
"I suspect some gave a little extra just to ensure I would get rid of the beard," he said.
"I got a lot of gentle ribbing, and not so gentle prodding, from colleagues about my beard over the past few months. I decided it had to go, but not before I raised money for a worthy cause."
Folklaw admits that we, too, are partial to the clean-cut look...
More than 400 Slaters staff took part in the 2014 Mother's Day Classic nationally, raising a total of $21,000.