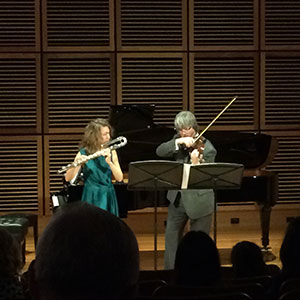 Music has helped a Corrs Chambers Westgarth partner find balance and love outside of the law.
Music has helped a Corrs Chambers Westgarth partner find balance and love outside of the law.
Corrs partner and professional violinist Thomas Jones is one of the lucky few who excel at both technical and creative pursuits.
Jones (pictured right with his wife, Laura Chislett Jones) gave a world-premiere performance at the Conservatorium of Music in Sydney last week (21 August).
The event showcased the works of Iranian composer Reza Vali, who has been dubbed "the Iranian Bartok" for translating folk songs into classical pieces.
Speaking with Lawyers Weekly, Jones revealed that Vali wrote a "very intense and quite beautiful" arrangement for him called Love Drunk. Jones fittingly performed the piece with his wife, flautist Laura Chislett Jones, and pianist David Miller at the concert.
Husband and wife returned to the stage to premiere another classical piece, this time from Sydney composer Moya Henderson; the concert also featured the works of earlier composers Josef Suk and César Antonovich Cui.
"It was a blend of old and new," said Jones when describing the program.
Jones has played professionally for more than 25 years and has toured extensively with American and Australian orchestras.
When asked what led him to the law at a time when his career as a musician was at its peak, Jones said it was "a case of yin and yang".
"We all have more than one passion in our life," he said.
"I don't regret any of the decisions I've made and enjoy the intellectual challenges that the practice of law offers me."
Jones is keen to help other lawyers/musicians balance the two crafts. He recently started the Corrs Sydney Lawyers Orchestra to keep musical talent in the legal profession alive.
Despite bearing the Corrs name, the Orchestra includes up to 40 lawyers from a range of firms, such as Allens, Clayton Utz, K&L Gates and King & Wood Mallesons, as well as members of the Bar.
"There's an increasing recognition in the legal profession that it's very important to encourage people to be whole individuals and have a degree of balance in their lives," said Jones, a specialist in telecommunications regulation.
He admitted, however, that it has been a challenge juggling a busy practice and his commitments as a musician and composer.
A long-term collaboration
Helping to keep Jones' ying-yang forces in harmony is his wife, Laura, whom he met when he was the leader of Sydney Youth Orchestra and she was the principal flautist.
The couple were teenagers at the time and went their separate ways after studying at the Conservatorium of Music in Sydney together, Thomas to the US and Laura to Europe. But unlike the classical tearjerkers Jones has performed over the years, this love story had a happy ending.
The pair reunited almost 20 years ago when they both returned to Australia and have been together ever since.
"We met through music and music drew us back together," added Jones.
Folklaw loves a happy ending!