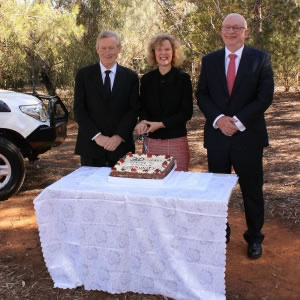 On the red earth of Whyalla, beneath swaying gum trees, South Australian legal officials cut a cake to mark 30 years of service to the community.
Whyalla is a regional area in South Australia that would comfortably fit Switzerland, Denmark, The Netherlands, Croatia, Ireland and Austria within its borders.
The legal aid outpost, just across the road from the Westlands Shopping Centre, has serviced a population spread across 300,000 square kilometres for the past three decades.
The wide smiles of Legal Services Commission director Gabrielle Canny, chairman Michael Abbott QC and Whyalla office chief Tim Weiss in the photo (right) mask their growing concern about inadequate legal aid funding.  
"It's very important that those people are able to access justice as much as anybody in the city," Ms Canny told ABC News.
The Productivity Commission has recommended that $200 million be immediately channelled into the legal aid sector to make up for the sharp decline in funding, including $60 million worth of cuts since early 2014.
However, the federal government did not increase funding in the most recent budget, a move heavily criticised by the legal community.
Two community legal centres in South Australia are likely to close if the state and federal governments do not secure funding by 1 July under the new National Partnership Agreement for Legal Assistance.
Folklaw hopes these historic and important legal aid centres will see many more birthdays, but this now hinges on the whim of government.