Why 'wearing many hats' in 2021 looks different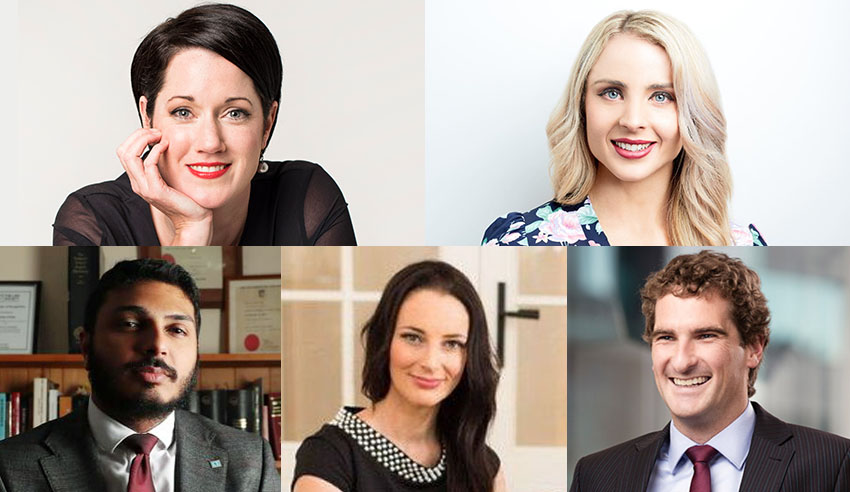 The need for boutique lawyers to wear many hats has taken on a different meaning in the age of coronavirus. Looking ahead, how such practitioners manage the juggle will be vastly different to pre-pandemic days.
For Sweetlove Family Law principal Megan Sweetlove – who is a law firm owner, student, wife, mother and introvert all at once – the idea of wearing many hats has "been a familiar tale for a number of years".
"2020 in many respects made the juggle a little easier and forced a change in perspective I have been craving," the Adelaide-based lawyer told Lawyers Weekly.
Better streamlining
The silver lining of COVID-19, Barton Family Lawyers principal Courtney Barton mused, has been that in changing "to adapt to the new environment we now live in, it has resulted in a significant streamlining of our business".
"We now sign all court documents electronically and they are filed within hours of being sent to each party. We now do 50 per cent of client appointments by phone or by zoom and 90 per cent of my mediations post the pandemic have been in zoom format," she explained.
"My observations both as mediator and lawyer have been that utilising zoom for mediations this has reduced the emotional stress of each of the parties when participating in the mediation process."
The COVID-19 pandemic has no doubt accelerated the adoption of technology by law firms and transformed the way legal practices operate, Crotty Legal principal Dinesh Loganathan said in support.
"Boutique firms that were rather tardy in embracing technology were forced to digitalise their practices in order to sustain operations. One thing that remained unchanged even in a crisis is the expectation of clients for faster and efficient results," the Hobart-based lawyer said.
"Technology plays an important role in keeping people connected and increasing productivity by allowing more efficient use of time. The progress towards a more technologically advance and digitalised legal service should not only be temporary solution aimed at overcoming the pandemic restrictions, but an evolution towards delivering high quality and efficient legal services. Another issue which affected boutique firms is practice management."
Don't strive for balance
When asked about how boutique lawyers can and should manage the juggle in the new normal, Ms Sweetlove pushed back on the idea that there can be an equitable or proportionate distribution between various aspects of one's life.
"I'm not convinced there is balance – or that balance is even something we should strive to achieve with our competing interests and responsibilities. It suggests an even distribution, or that things are equal across our differing responsibilities, when in reality the weight will shift, often and frequently, depending on where our attention is needed," she opined.
"To strive for balance is placing further pressure on ourselves to achieve 'more', or measure ourselves against some unachievable, and perhaps unidentifiable and misguided idea of perfection. It is a far better use of our emotional resources to become comfortable with the regular shift in demands for our attention."
Ms Barton said that she juggles many hats as a business owner, a wife and a mother of a 20-month-old, "which is challenging at the best of times".
"In order to maintain my mental health, I prioritise having me time which includes going to the gym and going on walks with my fur babies. I have flex days where I work from home now and again so I can spend time with my son," she noted.
"As my team grows, the balancing game will become even more difficult and I will need to manage new challenges such as employing new staff and maintaining a healthy office culture. I look forward to facing these challenges and growing my business to be the best I can be."
Time management
Perth-based practitioner Stefan Paterson, who left a mid-tier firm in August of last year to set up his own shop, Paterson IP, said there was a "steep learning curve to get the back end up and running", and how to manage things such as accounts and business admin whilst still servicing clients.
"I quickly found that scheduling specific times for marketing, accounts, planning, etc., helps to ensure I can switch between the different hats of running a firm. By doing this, I found the stress of running a firm was reduced, which means I can be more focused when I deal with my clients," he said.
"There are also a lot of new online platforms that streamline the back end. Spending the time to get platforms up and running correctly is invaluable and provides a bit of routine which makes planning my day much easier.
"Making time for yourself away from work to recharge and decompress is just as important as all the other business activities. Talking to other boutique firm owners also helps to see how you can better operate, but, more importantly, it provides reassurances that you can't be great at everything – outsource the things you struggle with."
Ms Sweetlove agreed: "In some ways, I think 2020 has brought us all a new perspective on what is actually required to perform our jobs well, at the level we think they should be. And this new perspective has allowed us to give ourselves the 'permission' make (more) time and space for our most important personal relationships, and other interests we always 'plan' to make more time and space for and include in our schedules – but for whatever reason, we don't, or haven't."
"It is important to know the tasks and jobs that need doing, and to do them well, always – we have that professional and ethical responsibility. However, 2020 showed us we can achieve these things in a timely way, and still enjoy life beyond our desks without our practices collapsing.
"It's also important to have a list of things that you want to make space for – the things you enjoy, the people who bring you joy and find creative ways to incorporate those pursuits into your day."
Communication and wellness
Communicating well via such tech platforms has been key to managing the significant changes in our working environment over the last 12 months, Ms Sweetlove noted.
"Where communication has mostly been by telephone or email, choosing our words and tone carefully has become increasingly more important than ever before. In these mediums, the subtle and valuable non-verbal cues usually present during in-person interactions have been absent and so the words we choose to use in our communication create the world that follows: for ourselves, our families and our clients," she outlined.
"As such, there seems to be far greater levels of kindness and compassion amongst us all. Colleagues have been kinder towards each other and in some ways, last year has forced us all to embrace less-adversarial approaches in resolving disputes between our clients.
"If this is something we all commit to continuing, ultimately, that can only lead to improved well-being, increased levels of happiness, decreased levels of depression and anxiety, and the ability to juggle our workloads and life-loads in a far more graceful manner." 
Lessons from 2020
As the owner of a boutique law firm coming into 2021, Halcyon Legal principal Rachel Cox said that her South Melbourne-based practice has "changed significantly".
"I now work from a home-based office. Hours lost in travel have been gained to be used productively, whether for work or family. Remaining connected is critical; with family and friends foremost, but also with clients, as family law is an exceedingly personal area of law. I've realised I don't need to check my email 'one last time' after dinner, nor do I need to respond immediately because 'it can't wait'," she recounted.
"Working from home doesn't mean 'working always'; I am allowed to 'switch off', and in fact it is encouraged. I've had to make some financial changes to accommodate my clients' own financial strains owing to COVID. I've taken on a casual paralegal who works entirely remotely – Dropbox and email are our primary forms of communication. The realisations that I could operate entirely remotely and supervise a paralegal remotely also were gains from 2020, previously I would have thought that might be near impossible."
There were also important business lessons, Mr Loganathan stressed.
"Working from home enabled firms to still operate, it did not allow for a firm to undertake some areas of work they would have otherwise been able to undertake. Firms referring clients to another boutique firm increased, creating a referral network among local firms. Maintaining and further developing the referral network is something boutique firms should consider," he advised.
"We live in an era where consumer behaviour is becoming increasingly diverse and this pandemic has demonstrated the importance of adapting, making and embracing changes no matter how risky they are. Moving forward, developing versatile business practices and investing in the right legal technology has become a top priority for me."
Overall, Ms Sweetlove mused, "the experience of 2020 – the juggling working-from-home and parenting responsibilities, home-schooling – was one that provided perspective and helped me see the adage of work fills the space you give it, is true.
"We all have only 168 hours in each week. 2020 provided perspective to choose how we spend those hours wisely and carefully," she concluded.