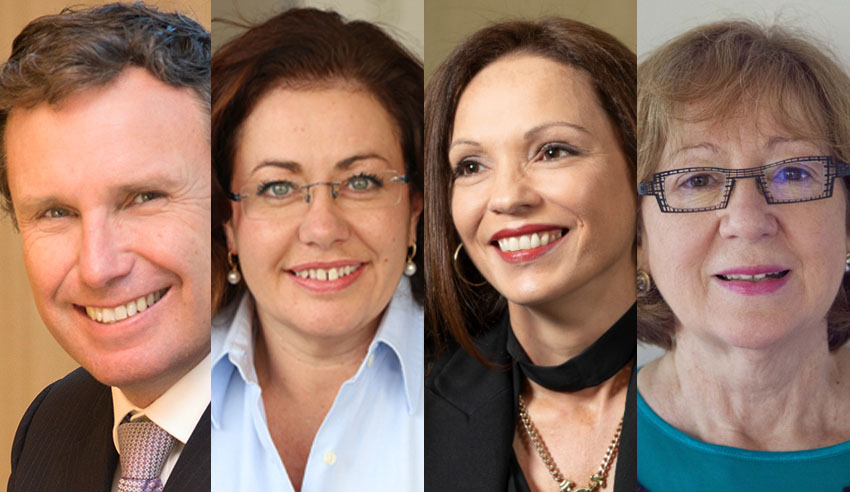 Marketplace appetite for firm mergers and acquisitions is reportedly higher than ever, and – as Australia turns its attention to a "new normal" – SME practices may be considering a "strategic reboot" in order to grow and succeed.
Appetite to buy, sell or join forces
Right now, FMRC director Sam Coupland said, the appeal of acquiring other law firms, or merging with them, is "higher than ever" – something he spoke about on The Lawyers Weekly Show last year.
"The rationale behind it seems to be that the infrastructure of many firms can handle more gross fees so if there is an opportunity to plug a practice in without additional overhead (other than salaries of course) then firms are keen to look at it," he explained.
COVID-19 has "broken work habits that were once rusted on and opened up new conversations and ways of getting things done", Prodonovich Advisory principal Sue-Ella Prodonovich reflected.
"As a result, firm owners and fee-earners and their clients are reconsidering priorities and have developed an appetite for change. When restrictions hit, firms tested their culture, infrastructure, and management to discover just how much they could do in a short time. Entire firms moved to WFH status in days – I think it took some leaders by surprise! The experience has emboldened firms who experienced success and for others it might have crystallised decisions to move on," she elaborated.
Such proclamations are not without merit. According to Dr Rosemary Howell – UNSW Law professorial vesting fellow and chairman of business consulting firm Strategic Action – local data and international commentary suggest that while mergers and takeover activity slowed during the pandemic, it has once again entered the thinking and planning of law firms.
"All indicators are that while activity is increasing it will take a while to reach pre-pandemic levels. The pandemic had a profound impact on how law firms operate and, apart from client service, firmly moved the focus internally," she said.
"The first challenge was to survive. Now, it is clear that most law firms will survive, they are turning their attention to how they will thrive. Mergers and acquisitions have long been a means of law firms seeking the assets and reach of other practices to achieve what they are unable to achieve on their own. Many practices are leaner, and this is likely to fuel an appetite to merge or acquire as a quick way to rebuild."
Bartier Perry chief executive Riana Steyn – whose own firm has grown notably in recent times – reflected that the ability or otherwise of firms to navigate the age of coronavirus will likely have influenced their market positioning moving forward.
"We are likely to see movement in the market where firms that have not navigated the pandemic well financially, technologically and/or culturally may be looking to join larger firms to mitigate future uncertainty and risk," she posited.
"We are also likely to see teams moving between firms where staff are disappointed with how their employer has conducted itself during the pandemic. Either way, this presents opportunities for firms that, during COVID-19 remained solid – both financially and culturally, and are looking for opportunities to increase their share of the market."
Business considerations
The past year, Ms Steyn said, has seen an acceleration of the trend away from boutique-style branding towards a more "broad-based legal brand" of tens of partners.
"That's including attracting teams and partners from national firms. The pandemic has effectively created a burning platform for firms that have not been performing well or have been considering a change of ownership. For these firms, looking at selling the business may be the best or the only way forward," she hypothesised.
"At the same time firms, looking to grow will see the opportunity in this and will be looking to acquire these practices, albeit with a more cautious approach due to persisting high levels of uncertainty. The demand is there, and the supply is likely to be greater than in the past. There are no doubt deals to be done as a result of COVID-19."
Mr Coupland agreed, saying he too has seen this "increased appetite for acquisition".
"When COVID-19 first hit, some people thought there would be bargains to be had as firms may be suffering financially. This has not proved to be the case so the 'bargain hunters' have retreated without making any acquisitions. The fundamentals of a deal haven't changed," he said.
"Law firms aren't worth any more or any less. Vendors shouldn't think there is silly money out there where someone will pay over the odds. Likewise, acquirers shouldn't expect to stumble on a bargain or a desperate seller of a quality practice."
For this reason, Mr Coupland surmised, the profession will be seeing a lot more mergers as opposed to acquisitions – that is, "a merger both parties get to share the upsides of any economies of scale".
Ms Howell added that such merger scrutiny suggests that law firms, across the board, will have very different reasons for joining forces with another practice.
"Managing the 'urge to merge' means that it is only a good option if it supports the broad strategy of the firm such as to enhance the range of offerings, support succession planning and add depth in target industries," she advised.
"It can be a very dangerous option if driven by short term tactics fuelled by the 'we need to grow fees urgently' mentality. Law firms need to be rigorous in assessing how a merger or a sale supports their strategy and not be drawn into reacting to a short-term panic about the future."
Ultimately, Ms Prodonovich said, firms will have to evaluate "how stable your client base is, what relationships you control, and how relevant or distinguished your skills are to a market".
Positioning your firm to buy out another
Of course, getting the business ready for expansion or sale must include consideration of numerous environmental factors – almost all of which, Mr Coupland identified, pertain to culture. Those factors can, broadly, be split into two elements, Ms Howell said: internal (partner aspirations and values as they pertain to negotiations) and external (impact upon firm clients and managing relationships and brand).
For Ms Prodonovich, it has to also entail being "crystal-clear about the strategic purpose for expansion; and be open-minded about ideas or people to partner with".
The cumulative impact, Ms Steyn mused, is that the ease with which an acquired firm can be integrated into the purchasing firm is what will ultimately make or break a deal. Such integration traditionally pertains to operating systems, workplace policies and procedures and environment, but nowadays, pandemic-inspired attitudes and approaches will also be fundamental.
"A word of caution – a lack of cultural alignment will result in the loss of key staff, and in the legal industry where talent is a key asset, key staff losses – more often than not are followed by client departures. This will devalue your purchase significantly," she warned.
"Also, note that the work doesn't stop once the deal has been done – how well you integrate new staff, clients, other stakeholders will determine the success of your acquisition over the longer term. Other environmental factors to consider include the impact on brand and reputation, client engagement, and impact on your ability to comply with tender obligations e.g., CSR commitments, ESG commitments etc."
Taking all of this into account, Mr Coupland said that price is still a threshold issue for acquired firms, and thus an attractive offer is paramount.
"How you package up the price is important but don't think people are going to want to roll their firm into yours because of your culture – every firm thinks their culture is uniquely good.  Uncertainty about the future means that how you structure any deal will vary from firm to firm," he said.
Ms Howell outlined three steps that firms looking to buy should implement: "First, ask where are we now? Seek help to map out the distinguishing characteristics of the firm, its brand and market position. What matters and must be part of any merged firm?
"Second, where do we want to be? If our strategy is successful, what kind of firm will we be? What work will we do and what is the culture that will unite us? Paint the picture of what success looks like, what price the firm is prepared to pay and what is not negotiable. And third, how do we get there? A sale or acquisition always needs to be considered alongside other options and to proceed it needs to be validated as the best option."
Firms must go through these steps, she advised, before they even begin to research and assess targets.
Moreover, Ms Steyn added, firms that are keen to leverage the opportunities that COVID-19 has created need to be extra vigilant with due diligence to ensure that "value is obtained and culture is sustained".
"In addition to in-depth financial analysis and forecasting and getting a good handle on the equity in the business, key questions will have to be asked about the likelihood of key client retention and key staff retention, and proactive strategies must be employed to ensure that key clients and staff are onboard with and committed to the move," she explained.
Positioning your firm for sale
On the other side of the coin, Ms Steyn continued, the starting point for any firm looking to be bought out is to ensure a real commitment from the owners or relevant stakeholders, and then if this is achieved, to align the management team with the desired outcome, "as they will be integral to getting your house in order".
"Apart from the financial clean-up, steps need to be taken early-on to secure key clients and key staff. Agreements with underperforming staff should be terminated in a timely manner. Once your house is in order and you are ready to articulate with clarity your value proposition to prospective buyers, I would strongly recommend that you engage an external, objective expert to assist with negotiating a commercial deal with prospective buyers," she detailed.
Strengthening this guidance is Mr Coupland's insistence that firms ensure profitability with "minimal reliance on the senior people".
"What you are selling is an ongoing parcel of profit. If this profit is derived from the people who are selling the firm or reliant on them then the firm won't be worth much, in the same way a McDonald's franchise is worth many millions of dollars and a high-end restaurant is a financial sinkhole," he lectured.
Ms Howell's three-step process for those looking to buy is also applicable here, she said, adding that it is also helpful for firms to seek expert opinion on sourcing data on how the firm is perceived by competitors and clients, having a "reality check" about pragmatic pricing expectations, and subsequently identifying and evaluating all options.
These may include, she said, "breaking up the firm and selling parts, selling the whole firm, allowing some partners to rebuild with part of the firm – there are often more alternatives than first appear".
Alternatively – or, put another way – firms should simply reverse-engineer the entire process, Ms Prodonovich suggested: "Conduct due diligence on your own firm.  Would you acquire it?"
Taking advantage of market conditions
COVID-19 has forced us, Ms Howell mused, to stop and think. Lawyers rarely, she noted, have had so much time for reflection. "Now is the time," she said, "to have a strategic reboot which embraces all possibilities for building a durable business."
Ms Steyn agreed, noting there are silver linings to the pandemic-inspired challenges: "For progressive firms looking to grow their capabilities and market share, in a finite marketplace, the disruption has presented opportunities to do so.
"It will be important to assess these opportunities appropriately, and as business leaders we need to be open to them. Ultimately, why let a good crisis go to waste?"
For those still unconvinced, Mr Coupland hammered home the aforementioned points: "Some of the fastest-growing and most successful firms have achieved this by merger or acquisition. It can be a more cost-effective way of growing than organic growth and the associated recruitment costs."