Goodbye job applications, hello dream career
Seize control of your career and design the future you deserve with
Former AG London-bound: George Brandis' parting words as he bows out of politics
Queensland Senator George Brandis QC has used his valedictory speech to lament how difficult it has been defending the rule of law from other politicians who "fail to understand it" during his tenure as federal Attorney-General, as well as express his regret about not being able to see through reforms of the federal judiciary.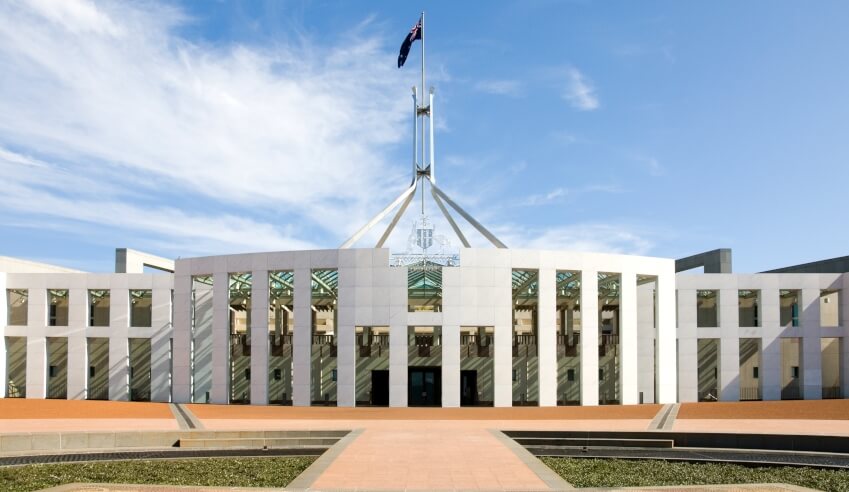 Ahead of his relocation to London to take up the post of Australian High Commissioner to the UK next month, former Attorney-General George Brandis QC (pictured) had some parting words for the Senate.
You're out of free articles for this month
To continue reading the rest of this article, please log in.
Create free account to get unlimited news articles and more!
Senator Brandis, who is an older statesman for Liberal moderates, described his political career as one that had left him "bloodied perhaps but nevertheless unbowed".
The former AG joined the Senate representing Queensland in 2000 and was re-elected three times. Over the course of an 18-year political life, he has served as Attorney-General, Shadow Attorney General, Minister for Arts and Sport and Leader of the Government of the Senate.
"I have had a very fortunate political career," Senator Brandis said.
"Of the 18 years I've served in this place, my party has been in government for two-thirds, which meant I had the opportunity to serve as a minister in all three coalition governments of the period — not, by the way, that the thrill of the chase of opposition was not enjoyable in its own way, particularly during the second term of the Labor government. But I never came into politics for the blood sport."
Brandis warns of belligerent and intolerant populism, concerned for rule of law
The former AG is believed to have taken a swipe at federal Home Affairs Minister Peter Dutton, when he called out "powerful elements of right-wing politics" that posed what he described as a profound challenge to the modern Liberal Party and, crucially, the rule of law. Mr Dutton has courted extensive criticisms from the legal profession in the past 12 months following comments (usually made on talkback radio) about the impartiality of the judiciary, and by suggesting that pro-bono lawyers who worked with asylum seekers were "un-Australian".
Senator Brandis attributed what he considered to be "right-wing postmodernism" to be the cause of this threat to the values of the classical liberal tradition.
VIEW ALL
"Increasingly, in recent years, powerful elements of right-wing politics have abandoned both liberalism's concern for the rights of the individual and conservatism's respect for institutions, in favour of a belligerent, intolerant populism which shows no respect for either the rights of individual citizens or the traditional institutions which protect them," Senator Brandis said.
A more pointed reference to Mr Dutton was made when the former AG referred to the ardent defence of the rule of law during his time in cabinet. He said that although his position as AG was that of a "political official", the nation's first law officer had a higher duty — that being to the law itself.
"I have not disguised my concern of attacks upon the institutions of the law: the courts and those who practice in them. To attack those institutions is to attack the rule of law itself," Senator Brandis said.
"It is for the Attorney-General always to defend the rule of law, sometimes from political colleagues who fail to understand it or are impatient of the limitations it may impose upon executive power."
"It is a duty which, as my cabinet colleagues know, on several robust occasions I have always placed above political advantage," he added.
A good number of good appointments to the bench
Before Senator Brandis stepped down from his role in December and a ministerial re-shuffle revealed that Western Australian politician Christian Porter would succeed him as AG, he had appointed about one-fifth of the total federal judiciary within four years.
This included nominating three judges of the High Court of Australia, including the nomination of Australia's first female Chief Justice Susan Kiefel AC, as well as Family Court Chief Justice John Pascoe, Federal Circuit Court Chief Judge Will Alstergren, and Justice David Thomas to the role of Administrative Appeals Tribunal president.
Senator Brandis said that he was honoured to have made these judicial recommendations to cabinet and serve as "the gatekeeper to the third arm of government".
"Unless they are controversial, judicial appointments attract little notice from political commentators, yet the nomination of candidates to the judiciary is one of the most important things an Attorney-General does," Senator Brandis said.
"I'm immensely proud of the calibre of the women and men who have become members of the federal courts in my time, all of them recognised by those best placed to judge them, their peers in the legal profession, as outstanding."
In attendance for Senator Brandis' valedictory speech on Wednesday were HCA Chief Justice Susan Kiefel, and Justice Edelman; the Acting Chief Justice of the Family Court and Chief Judge of the Federal Circuit Court William Alstergren; the Commonwealth Solicitor-General Dr Stephen Donaghue QC Australian Human Rights Commission (AHRC) president Professor Rosalind Croucher.
Regret restructure of federal judiciary left outstanding
Despite underscoring his crowning achievements in public office, that being bipartisan support for new national security laws and the legalisation of same sex marriage, Senator Brandis dedicated a component of his speech to a major project that he wished he could see made reality.
In consultation with the heads of the Federal Court, the Family Court and the Federal Circuit Court, the former AG had come to an in-principle agreement to reform the federal judiciary. The senator said that he hoped Mr Porter would carry on with efforts to fundamentally restructure the federal judiciary, with a view to cutting trial costs and length of waiting times. The reforms would have particular benefits for family law matters, Senator Brandis added.
"It is the one large item of unfinished business I leave behind. But unfinished business is the lot of all attorneys-general who embark upon significant law reform," he said.
Final dig at former Cth Solicitor-General Justin Gleeson
As Senator Brandis ran through a list of mentors and close party room colleagues to acknowledge, he tipped his hat to fellow Queensland senator, Ian MacDonald. The shout-out to "the Father of the Senate", with whom Senator Brandis said he was not always on friendly terms with, included a walk down memory lane.
Specifically the AG returned to an especially bitter spat with the nation's Second Law Officer back in October 2016, when a very public fall out occurred between Senator Brandis and Justin Gleeson SC. Mr Gleeson had been appointed as Commonwealth Solicitor-General by the previous Labor government.
The legal and constitutional affairs committee was convened to determine whether a Senate direction, which concerned the way that the Solicitor-General can be briefed, had been tabled by Attorney-General George Brandis QC without proper consultation. That issue became moot once Mr Gleeson stepped down from his post and the direction was quietly withdrawn.
In his letter of resignation, the Solicitor-General cited an "irretrievably broken" relationship with the then AG. Some quarters of the legal profession were so shocked by the events that they called for George Brandis to step down.
During the 2016 senate committee inquiry, Ian MacDonald had exchanged some strong words with Mr Gleeson, with Senator Brandis recollecting in his valedictory speech:
"Mr Gleeson may have been the polished Sydney silk and Senator Macdonald the knockabout North Queensland solicitor, but there was no doubt who had the forensic triumph that day, when, Ian, your cross-examination exposed Mr Gleeson's secret conversation with the opposition, concealed from the government, his client, concerning matters to which an obligation of professional confidence plainly attached."
"That was the end of that. We may say of your cross-examination: it wasn't pretty, but it was pretty effective."
Senator Brandis' speech could have been one last attempt to re-write his own version of that history. He will replace Alexander Downer as Australia's High Commissioner to the UK in March.
"Conducting the relationship between Australia and the United Kingdom in the coming years will be a task, I expect, every bit as challenging and satisfying as any I faced as Attorney-General," Senator Brandis said.
"With the United Kingdom withdrawing from the European Union and looking to re-engage more closely with kindred nations like Australia, there has never been a time more rich with opportunity."