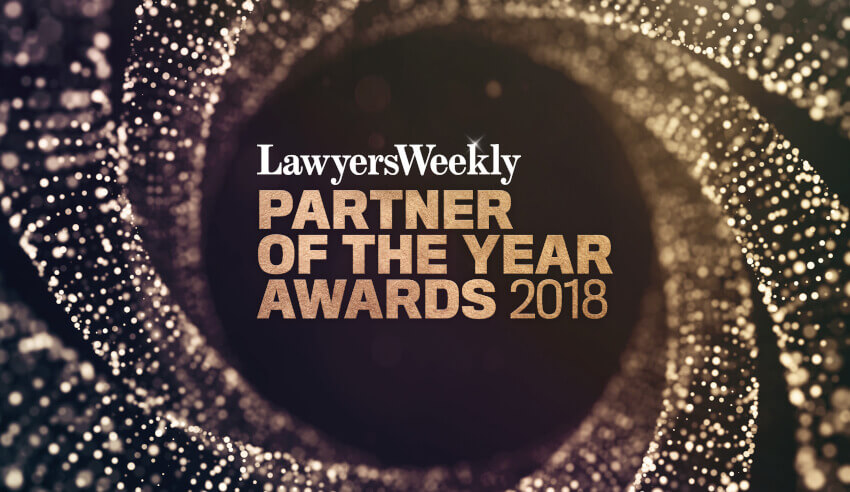 Lawyers Weekly is pleased to announce the finalists for this year's Partner of the Year Awards.
Back for its third consecutive year, the Lawyers Weekly Partner of the Year Awards, in partnership with Major, Lindsey & Africa, seeks to celebrate professional excellence in partners across a range of practice areas.
After a significant amount of submissions, this year's finalists represent the best of the best, showcasing impressive leadership, technical expertise, mentorship and business development skills. 
"This prestigious and competitive awards program showcases Australia's top subject matter experts in the legal field, and the leaders of the profession," said Lawyers Weekly managing editor Aleks Vickovich.
"Those celebrated as finalists and winners can demonstrate exceptional performance in their area of practice, as well as have outstanding contributions to their organisations, client networks and the broader community."
Lawyers Weekly congratulates all of the finalists and looks forward to celebrating with you at a black-tie dinner on 15 June 2018 at the Four Seasons Hotel Sydney where the winners will be revealed.
Click here for more information. To book tickets, click here.
The 2018 finalists for the Lawyers Weekly Partner of the Year Awards are:
Banking and Finance Partner of the Year
Anthony Walsh, Dentons
Hayley Neilson, Herbert Smith Freehills
Jennifer Schlosser, Ashurst
Sarah Jones, JHK Legal Australia
Commercial Partner of the Year
Caroline Snow, Russells
Christine Fleer, Arnold Bloch Leibler
Emma Heuston, LegalVision
Glenn Hughes, Russells
Hugh Griffin, Hazelbrook Legal
Dr Martyn Taylor, Norton Rose Fulbright
Michele Muscillo, HopgoodGanim Lawyers
Peter Jolly, Thynne + Macartney
Philippa Stone, Herbert Smith Freehills
Richard Partridge, Gadens
Stuart Byrne, Clayton Utz

Competition, Trade and Regulation Partner of the Year
Daniel Marquet, Corrs Chambers Westgarth
Elizabeth Avery, Gilbert + Tobin
Gina Cass-Gottlieb, Gilbert + Tobin
Kirsten Webb, Clayton Utz
Dr Martyn Taylor, Norton Rose Fulbright
Stephen Voss, Thomson Geer
Construction and Infrastructure Partner of the Year
Amanda Davidson, Davidson. Legal, Consulting, Advisory
Olivia Lau, Ashurst
Patrick Mead, Carter Newell Lawyers
Sandra Steele, K&L Gates
Scott Mort, Bradbury Legal
Stewart Nankervis, MinterEllison
Veno Panicker, Blackstone Waterhouse
Criminal Partner of the Year
Andrew Tiedt, Armstrong Legal
Daniel Hua, Cridland & Hua Lawyers
Nick Hanna, Hanna Legal
Peter Saggers, Howden Saggers Lawyers

Dispute Resolution and Litigation Partner of the Year
Amanda Banton, Squire Patton Boggs
Andrew Lacey, McCabes Lawyers
Carlos Jaramillo, William Roberts Lawyers
Colleen Platford, Gilbert + Tobin
Graydon Dowd, Hall & Wilcox Lawyers
Jason Betts, Herbert Smith Freehills
Liam Prescott, DLA Piper
Louise Massey, Dentons
Robert Ishak William Roberts Lawyers
Sam Bond, SBA Law
Family Law Partner of the Year
Alexandra Moles, HopgoodGanim Lawyers
Amy Honan, Michael Lynch Family Lawyers
Belinda Spong, MST Lawyers
Chrissy Leontios, CLEON Legal & Mediation Services
Collette McFawn, Lander & Rogers
Jennifer Hetherington, Hetherington Family Law
Kristy Perdriau, Perdriau Family Lawyers
Michael Seton, Ryan & Seton Lawyers
Monica Blizzard, KHQ Lawyers
Pierce Carstensen, McInnes Wilson Lawyers
Financial Services Partner of the Year
Caroline Snow, Russells
Claire Wivell Plater, The Fold Legal
Harry New, Hall & Wilcox Lawyers
Hugh Griffin, Hazelbrook Legal
John Berrill, Berrill & Watson Lawyers
Michael Vrisakis, Herbert Smith Freehills
Michelle Segaert, EY
Nathan Hodge, King & Wood Mallesons
Scott Charaneka, Thomson Geer
Government Partner of the Year
Greg Lee, Redenbach Lee Lawyers
Holly McAdam, Sparke Helmore Lawyers
Jamie Doran, Clayton Utz
Keith Redenbach, Redenbach Lee Lawyers
Health Partner of the Year
Alison Choy Flannigan, Holman Webb Lawyers
Catherine Henry, Catherine Henry Lawyers
Francesca Menniti, Curwoods Lawyers
Kathryn Booth, Maurice Blackburn Lawyers
Sabine Phillips, Gadens
Dr Teresa Nicoletti, Mills Oakley
Insolvency Partner of the Year
James Marshall, Ashurst
Jason Opperman, K&L Gates
Peter Hegarty, Hegarty Legal
Scott Taylor, Taylor David Lawyers
Wiebke Herrmann, James Conomos Lawyers
Insurance Partner of the Year
Carlos Jaramillo, William Roberts Lawyers
Con Tzerefos, Ashurst
Gillian Davidson, Sparke Helmore Lawyers
John Van de Poll, Holman Webb
Kim Shaw, Maurice Blackburn Lawyers
Melissa Fenton, Colin Biggers & Paisley
Patrick Mead, Carter Newell Lawyers
Richard Wood, Gilchrist Connell
Robert Ishak, William Roberts Lawyers
Intellectual Property Partner of the Year
Adam Simpson, Simpsons Solicitors
Edward Genocchio, Spruson & Ferguson
Hayden Delaney, HopgoodGanim Lawyers
Katrina Rathie, King & Wood Mallesons
Ross McFarlane, Phillips Ormonde Fitzpatrick
Shannon Platt, Sparke Helmore Lawyers
Mergers and Acquisitions Partner of the Year
Andrew Walker, Clayton Utz
Bruce Adkins, Corrs Chambers Westgarth
Hugh Griffin, Hazelbrook Legal
Kylie de Oliveira, Clayton Utz
Philippa Stone, Herbert Smith Freehills
Reece Walker, McCullough Robertson
Richard Partridge, Gadens
Rory Moriarty, Clayton Utz
Tim Gordon, Gilbert + Tobin
Migration Partner of the Year
Anne O'Donoghue, Immigration Solutions Lawyers
Jimmy Morcos, Sabelberg Morcos Lawyers
Joanne Kinslor, Kinslor Prince Lawyers
Rita Chowdhury, Integrate Legal
Sarah Dale, Refugee Advice & Casework Service (RACS)
Native Title Partner of the Year
Hayley Haas, Arma Legal
Mark Geritz, Clayton Utz
Oliver Gilkerson, Gilkerson Legal
Tony Denholder, Ashurst
Planning and Environment Partner of the Year
Anthony Whealy, Mills Oakley
Danny Arraj, Blackstone Waterhouse Lawyers
Rebecca Dixon, Ashurst
Stan Kondilios, Hall & Wilcox Lawyers
Tim Quirk, Thynne + Macartney
Pro Bono Partner of the Year
Brooke Massender, Herbert Smith Freehills
Heidi Nash-Smith, Wotton + Kearney
Jeremy King, Corrs Chambers Westgarth
Joanna Renkin, Lander & Rogers
Kathryn Booth, Maurice Blackburn Lawyers
Dr Teresa Nicoletti, Mills Oakley

Projects, Energy and Resources Partner of the Year
Amanda Davidson, Davidson. Legal, Consulting, Advisory
Bruce Adkins, Corrs Chambers Westgarth
David Mason, Ashurst
Jenni Hill, Clifford Chance
Mark Geritz, Clayton Utz
Tanya Denning, Ashurst
Real Estate Partner of the Year
Aaron Webb, Thynne + Macartney
Carl Black, Squire Patton Boggs
Chris Mitchell, King & Wood Mallesons
James Ryan, Speirs Ryan
Jason Cornwall-Jones, Ashurst
John Wells, Lander & Rogers
Julie Levis, Clayton Utz
Nikki Robinson, Clayton Utz
Tim L'Orange, Mills Oakley
Warwick La Hood, Australian Business Lawyers & Advisors
Taxation Partner of the Year
Arthur Athanasiou, Thomson Geer
Betsy-Ann Howe, K&L Gates
John Walker, Baker McKenzie
Paul Sokolowski, Arnold Bloch Leibler
Tony Frost, Greenwoods & Herbert Smith Freehills
Vik Sundar, Chamberlains Law Firm
Technology, Media and Telecommunications Partner of the Year
Dr Martyn Taylor, Norton Rose Fulbright
Matthew McMillan, McCullough Robertson
Simon Burns, Gilbert + Tobin
Workplace Health and Safety Relations Partner of the Year
Catherine Dunlop, Maddocks
Jamie McPherson, DWF (Australia)
Joel Zyngier, Gilchrist Connell
Penny Stevens, Sparke Helmore Lawyers
Shae McCartney, Clayton Utz

Workplace Relations Partner of the Year
Alexandra Grayson, Maurice Blackburn Lawyers
Duncan Fletcher, K&L Gates
James Mattson, Bartier Perry
Joel Zyngier, Gilchrist Connell
Kirsty Faichen, Herbert Smith Freehills
Michael Harmer, Harmers Workplace Lawyers
Ross Jackson, Maddocks