Jones Day being sued by 6 associates for 'fraternity culture'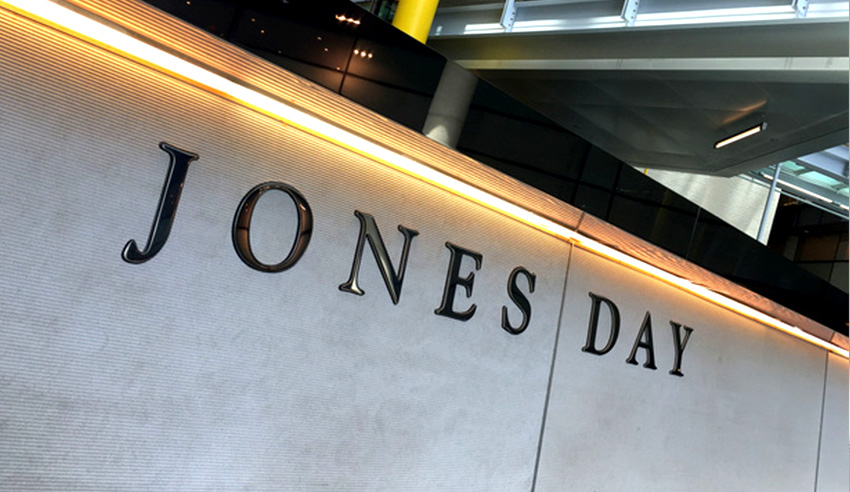 The United States arm of global firm Jones Day is facing a class action from six female attorneys, all former associates of the firm, for "systemic discrimination based on gender, pregnancy and maternity".
In a 107-page class and collective action complaint filed in the US District Court for the District of Columbia (Case 1:190cv00945-RDM), plaintiffs Nilab Rayhar Tolton, Andrea Mazingo, Jane Doe 1, Jane Doe 2, Jane Doe 3 and Jane Doe 4 are alleging that Jones Day's culture is a "brotherhood ruled by one man", and operates as a fraternity "in a perversely literal sense".
"Senior male partners mentor young male associates, give them preferential assignments, facilitate their access to clients, introduce them to the firm's powerbrokers, and groom them for membership in the firm's partnership, even when their legal skills are notably deficient," the complaint reads.
"Female associates, by contrast, have fewer opportunities for mentorship, are promoted in smaller numbers, and earn less for equal work."
The allegedly low number of female partners at Jones Day is attributed to women "who choose children instead of careers", affirming the baseline expectations that female attorneys must choose one or the other, the plaintiffs continue.
"Female associates who do not advance, particularly those who have children, are thus presumed to have chosen family over work. Meanwhile, female attorneys without children also face discrimination based on gender stereotypes about motherhood, family responsibilities, and/or marital status."
Furthermore, the complaint posits that "it pays to be male" at Jones Day.
"In Jones Day's fraternity culture, male brotherhood is affirmed and strengthened by comments and conduct that derogate women, leaving female associates to choose between capitulation and exclusion. For example, in the office where Jane Doe 4 worked, male partners often kick off the firm's holiday party (no outsiders allowed, including spouses) by encouraging drinking in the firm's offices. This in-office drinking is followed by alcohol-fueled dancing, with the firm's male management gawking at dancing female associates for amusement."
"In the California office where Plaintiffs Tolton and Mazingo worked, firm social events regularly devolved into opportunities for male partners, associates and clients to harass and humiliate female attorneys. At one dinner, one partner demanded that three female summer associates sing and dance to a Care Bears song (an event captured on video); at another, a client and former Jones Day associate drunkenly refused to rise from the communal bench, requiring a female summer associate to climb over him in order to leave the table."
Elsewhere, pregnancy "proves unprofitable" for the firm, the plaintiffs alleged.
"Within Jones Day's culture of male privilege, women must work harder for less to have any hope of advancing. Once they become pregnant, the presumption is that they are on their way out; the burden is on the new mother to prove that she is the exception to the rule," the complaint reads.
"A second pregnancy is almost insurmountable."
The complaint outlines 19 counts of allegations against the global firm, and notes that a jury trial is demanded.
The six plaintiffs – who wrote in the complaint that they have filed "on behalf of themselves and all similarly situated female attorneys" – are being represented by US-based employment firm Sanford Heisler Sharp.
The allegations and class action follow Lawyers Weekly's recent reporting of a human rights suit being brought against Piper Alderman by one of its own partners.
At the time of filing this story, Jones Day has not responded to numerous requests for comment from Lawyers Weekly.