The top law firms graduates want to work with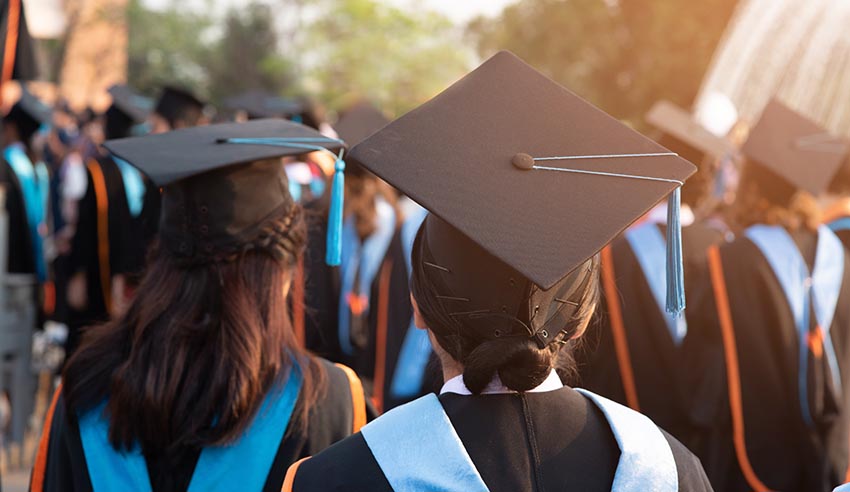 Eight of Australia's BigLaw firms are some of the most sought-after workplaces for law students. Lawyers Weekly chats to each firm to break down what about the firm makes them attractive to new lawyers emerging into the legal profession.
In its fifth year, GradAustralia has identified eight law firms that university students are most attracted to. Each firm experienced a shift from 2019's ratings, demonstrating an overall improvement in students' aspirations to work in BigLaw firms.
The law firms to make the list of the Top 100 workplaces students want to work in are, in order of placement, Allens, Herbert Smith Freehills, MinterEllison, Clayton Utz, King & Wood Mallesons, Ashurst, Corrs Chambers Westgarth and Gilbert + Tobin.
Allens has topped the list again and sits 32nd in the overall Top 100 rankings. Its chief people officer, Jane Lewis, credits this with the firm's staff, "which truly sets us apart". All BigLaw firms recognised that people, and workplace culture, are a big factor.
This commitment to staff has shined through in the results, with 22 per cent indicating they would stay in their position for more than five years if they secured a position with their top-rated firm. A further 65 per cent believed their course prepared them with the right skills for the job and 21 per cent are expecting a post-study graduate position.
Lawyers Weekly spoke to each of the top-rated firms to get an idea of what makes the firm so attractive to law students. This series will then examine the wellness, initiatives and programs on offer to graduates and how students can achieve a spot in the firm.
Why the BigLaw firms stand out to new lawyers
First place Allens said it has a particular focus on the people in the workplace, with an understanding that "successful and enjoyable careers" come from the focus on support and commitment to people to "be the best they can be" in an encouraging environment.
"Our people have opportunities to work on multidisciplinary, diverse teams," Ms Lewis said. "[They are] exposed to world-leading clients, have access to flexibility, wellbeing support and the ability to tap into long-term career pathways."
In recent years, the firm has focused on giving students a deeper insight into what life at Allens is like through engagement programs, campus activities, a podcast and other initiatives. Ms Lewis said the firm is helping students gain a better understanding of "our people, our culture, our clients and the difference we make in our community".
Herbert Smith Freehills graduate recruitment manager James Keane and resourcing manager Australia Liz Henry said its opportunities make the firm stand out.
"In addition to building skills and experience working on complex matters with some of the world's biggest clients, it is our inclusive culture and commitment to innovation that [make] us stand out," said Mr Keane and Ms Henry of the results.
MinterEllison, who ranked first in Lawyers Weekly and Momentum Intelligence's Legal Firm of Choice survey as most attractive firm for all lawyers, said it has been working intensely over the last few years to build an environment that enables staff to thrive.
"We recognise that legal careers are broadening and we are focused on enabling our people to develop their areas of interest that we know will be required for firms of the future," said a MinterEllison spokesperson, adding it runs "right through" the firm.
MinterEllison focuses on flexible career paths, allowing graduates to settle early if they find an area of interest to build their career in that chosen field. It assists the firm with preparing for a future legal profession on how it will need to aid an emerging market.
"We also understand the importance of shared values, of finding meaning at work that resonates with what drives our people to persevere, strive, be curious and deliver their best work," said the MinterEllison spokesperson. "For some people this includes the opportunity to be involved in our broader pro bono community investment programs. For others, it might be ongoing academic work or broader professional achievements."
At Clayton Utz, the firm is proud of its "friendly, supportive and down-to-earth" culture. It welcomes graduates who are client focused and willing to "roll up their sleeves" and can bring their diversity of thought and experiences to help tackle challenges.
The firm understands that one-to-one contact and ongoing support are important, which are available to graduates in the form of buddies, formal and informal mentorships and "plenty of opportunities for social events" to network within the firm.
"We have invested a lot of time and energy into building a first-class graduate program to help graduates feel supported as well as to nurture and develop their experiences and skills," said Clayton Utz's head of talent Amy Lennox.
At KWM, the firm recognises that legal graduates have a broad range of career options when leaving university and their "expectations and priorities are constantly evolving".
A spokesperson for the firm added: "They are no longer looking for a job, they seek an opportunity, an experience and a purpose. That means that to stay relevant, we have to constantly engage with this cohort, listen and understand what matters to them and evolve our graduate offering in response."
The firm said it's set apart due to its international platform and international graduate program, a bespoke future-focused training program, its supportive environment, recognition of holistic contribution, flexibility, transparent conversations about careers and opportunities to make a positive impact on communities.
"We know that our reputation for legal excellence and the opportunity to do challenging and cutting-edge work for market leading clients is still important for graduates when considering KWM," said the firm's spokesperson.
At Ashurst, the firm is committed to "living our values", which include a passion about quality and delivering through collaboration and thinking differently.
"Our teams are collaborative and have an international way of thinking which certainly [are] something that [attract] many of our graduates," said head of HR Australia Richard Knox. "There's absolutely no Ashurst 'type', but there are common threads amongst our high-performing graduates – they have great attention to detail, passion and their willingness to get involved, resilience and self-awareness."
Director of people and performance Ross Hargreaves at Corrs Chambers Westgarth said the firm provides its lawyers with opportunities to work on some of the major global mandates, which sees the firm stand out as a desirable workplace for law students.
"Our strong international network enables us to second people to top law firms around the world. We support graduates and junior lawyers build their future, wherever they want to take it," said Mr Hargreaves of student opportunities.
Finally, Gilbert + Tobin said it knows from graduates themselves what the drawcards are that make the firm stand out. A spokesperson for the firm said it's known for having a flat structure and the development opportunities that this creates.
"Graduates receive a lot of autonomy, they can work directly with partners and clients and they're encouraged to have a voice in the firm. We have also recently created the opportunities for our Perth and Melbourne-based grads to do a rotation in other offices to broaden their practice and client expertise," said the spokesperson.
A big focus is on its innovation and technological disruption. The spokesperson said it actively encourages everyone to explore better ways of meeting the needs of its clients and graduates have the opportunity to join project streams.
"At G+T, not only do graduates have the chance to work on some of the highest profile transactions in the market, they also contribute to the firm's pro bono and CSR practice. That commitment to social justice has been a part of the firm's DNA since its inception and it's felt by everyone at all levels," said the G+T spokesperson.
"Most importantly, it's the people. It's no secret law is a high-pressure environment.
"Our people genuinely care and look out for each other; you're never left alone to work on something and that's crucial for graduates. Plus, our demographic is quite young and diverse, we like to have fun and don't take ourselves too seriously."
This email address is being protected from spambots. You need JavaScript enabled to view it.