What the top law firms offer for graduates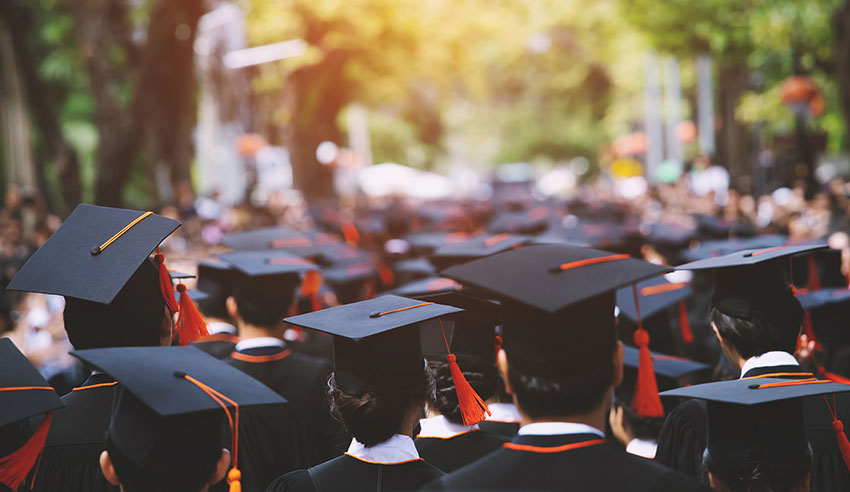 Lawyers Weekly identified eight of the BigLaw firms graduates want to work with. This week, we take a look at what new starters stand to receive from their favourite firm.
GradAustralia published results of its Top 100 workplaces for graduates, and in its fifth year, eight of Australia's BigLaw firms made the list. They are, in order, Allens, Herbert Smith Freehills, MinterEllison, Clayton Utz, King & Wood Mallesons, Ashurst, Corrs Chambers Westgarth and Gilbert + Tobin. Each of them experienced a shift from 2019's results.
Each of the BigLaw firms identified the commitment to people as the biggest factor for its attractiveness. The firms go the extra mile in delivering on mental health initiatives, flexible work practices, support and thoroughly designed graduate programs.
Lawyers Weekly spoke to each of the eight firms to identify what about the workplace attracts graduates to the firm. In this edition, we break down the policies and programs graduates can expect if they score a spot at one of Australia's top-rated firms.
What graduates can expect from their chosen BigLaw firm
Allens was rated first place in the rankings for most attractive firm, and in our Protégé bulletin last fortnight, it credited its commitment to ensuring the staff are able to focus on "being the best they can be" in an encouraging, supportive environment.
Speaking on what graduates can expect from a career at Allens, its chief people officer Jane Lewis said the firm is committed to supporting the health and wellbeing of people and creating a culture that encourages and fosters this connection. Ms Lewis said the firm knows wellbeing combines "physical, mental, emotional and social factors".
"We're big on communication and conversation and we have a range of practices and policies in place to help graduates manage their wellbeing," Ms Lewis said.
She added the firm has a focus on work allocation and management, flexible working practices, pro bono activities and committees, to sports and wellness activities, gym memberships, flu vaccines and healthy catering. All graduates also have a dedicated performance coach and can access the firms' employee assistance program.
Graduate recruitment manager James Keane and resourcing manager in Australia Liz Henry at Herbert Smith Freehills said its graduates can access a global mental health strategy, including a range of programs that ensure overall wellbeing.
"These include our Mental Health Champions program and onsite psychology services," Mr Keane and Ms Henry said. "To embed practices that support efficient and effective ways of working, we recently launched our How We Work guidelines."
MinterEllison aspires to deliver a workplace that fosters agility, empowerment and the autonomy that is embedded in the "cultural fabric of the firm". A spokesperson said it's critical that the firms' people trust the firms and believe in a sense of meaning.
"We want to really capture the imaginations of our people and support them in thinking creatively about what it is that we can offer in terms of career growth and positioning," the spokesperson said. "What client opportunities are going to engage them at stages in their careers? What secondments really make sense? Importantly, where are their creative and strategic stretches?"
"These are critical questions our leaders are discussing to engage the highly educated group who have a truly global outlook and understand the value of innovation."
MinterEllison added that it understands "there's more to life than your job" and ensures there are opportunities to take unpaid leave for special requirements covered by its usual leave polices to either study, work overseas or be a judge's associate. The firm also offers social events, discounted health insurance and even in-house massages.
At Clayton Utz, it's really important for people to "enjoy their work". Head of talent Amy Lennox said the firm looks seriously at its offerings and ensures that it is always happy and healthy. Wellbeing and positive mental health are at the top of its priority list.
"We have high levels of mental health literacy at the firm supported by 200+ advocates. Advocates participate in training and/or receive accreditation as either a mental health champion or mental health first aid officer," Ms Lennox said.
The firm has also appointed a national flexibility manager to ensure there are programs in place for flexible working. Clayton Utz has also included a range of programs open to graduates, including mindfulness sessions and resilience training.
"As a firm, we also focus on giving back. Through our leading community program, our graduates have access to volunteering opportunities as well as the onsite visits and education through our 30 community partners," Ms Lennox said.
At King & Wood Mallesons, graduates have access to a range of policies and benefits that include agile and flexible working, time in lieu, gym memberships and other health checks, after hour meals, access to technologies and Employee Assistance Program.
"However, policies and benefits are not a panacea for a positive experience," said the firms' spokesperson. "What is more important to us is creating a supportive environment that enables our people to balance high performance with sustainable ways of working that promotes wellbeing."
KWM said it is constantly exploring how it can improve the experiences of individuals and teams, and it is actively learning and adapting through engaging with people. Last year, the firm engaged in a series of listening forums to understand experiences.
"The graduates were incredibly generous with thoughts and feedback and their insight was valuable. We will continue to actively seek their input into evolution of strategy."
The graduate program at Ashurst runs over 18 months, with graduates completing three six-month rotations. The firm also offers a virtual internship program – a free, interactive program that offers insight into life at Ashurst.
Each state has a slightly different clerkship system, helping develop an understanding of what it's like to work at Ashurst, to experience its culture and the type of work they do.
"We are absolutely committed to welcoming talented candidates from all walks of life, backgrounds and universities, and have been for many years. We've always looked at factors beyond strong academic performance, and take a holistic view of candidates and broader skills and experience they can bring," said head of HR, Richard Knox.
Director of people and performance Ross Hargreaves with Corrs Chambers Westgarth said the firm recognises the importance of health and wellbeing and has committed to improving the workplace through a range of programs and policies.
"In particular, our [email protected] program provides a range of initiatives that brings insight and awareness to assist people in maintaining good health, by supporting their physical, mental and emotional wellbeing," Mr Hargreaves said.
"Importantly, we also recognise the role a person's manager plays in wellbeing and so we place emphasis on effective 'everyday leadership'."
Finally, Gilbert + Tobin maintains a positive environment for its employees through the various programs and initiatives in place. Immediately, staff can enjoy spaces with lots of natural light, greenery, an open plan layout and leading IT equipment. Socially, the firm organises a variety of activities within the company.
G+T said it is proud of its commitment to diversity and inclusion, which has always had an "integral part" in its culture. There is a firm-wide Diversity Council, with a core focus on mental wellbeing, accessibility, flexibility, gender and senior women.
"Our G+T innovation team plays an important part in the streamlining and automation of our work practices, which has had a direct impact on graduates," a spokesperson for the firm said. "An example of this is a tool we developed to improve productivity of due diligence. Traditionally graduates would have spent countless hours doing this work."
This email address is being protected from spambots. You need JavaScript enabled to view it.