The myriad challenges facing First Nations lawyers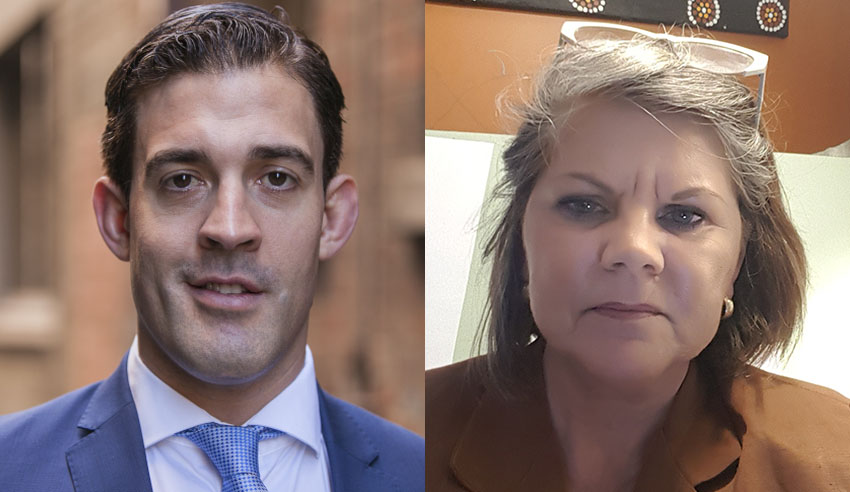 Racism remains all too common a feature of the legal vocational journey, say three senior Indigenous legal professionals.
The cultural, community and family differences facing Indigenous lawyers when entering the legal profession are challenging when compared to the "typical" lawyer or law student, especially when looking at the battles which have been imposed upon our elders and previous generations.
On the whole, Australia's legal profession is made up of intelligent individuals who, unfortunately, are often not "culturally intelligent" when it comes to Indigenous affairs, says Linda Ryle. More than most, the former Queensland president of the Indigenous Lawyers Association and Birri Gubba and Kamilaroi woman says, have not been afforded the opportunity to learn about, appreciate, respect nor understand First Nations people or the societal, interpretive or value set differences.
"As Indigenous lawyers we can have significant opportunities and a real voice of empowerment so we must exercise our professional responsibilities carefully.  Overall, our nation's legal profession does need improvement towards the proper function of rights for Indigenous Peoples", says AMK Law principal Matthew Karakoulakis, whose family heritage is Narungga, of the Yorke Peninsula in South Australia.
"The legal system has an important role towards achieving reconciliation as we seek better representation of issues affecting First Nations [peoples].
"Our legal system, should look at better addressing issues affecting our First Nations [peoples] including in relation to deaths in custody, disposition of property and disadvantages caused by loss of family rights, traditions discrimination and widespread cultural racism. Then, it would mean greater potential for addressing these [kinds] of problems within our legal system."
Racism starts in law school
It is exhausting, Ms Ryle recounts, to go through life having to justify one's existence.
"Too often, I have seen that look in the eyes of another that denotes suspicion, and disbelief, and I have experienced how these presumptions unjustly play out first hand – I cannot of course be a good, capable, honest or reliable person because I am an Aboriginal [woman]," she says.
"Aboriginal [women] always have an ulterior motive, apparently, always scheming to get something for nothing. The microaggressions are infuriating and only topped by knowing that some battles are not worth fighting, some people/authorities/institutions not worth challenging (due to the guaranteed alienation, detriment and reprisal – the legal profession could factor significantly here, along with the other justice agencies".
This need to justify one's self is, Kamilaroi woman Candice Hughes and Mr Karakoulakis reflect, all too common for Indigenous law students who then become lawyers in Australia.
When Ms Hughes – YFS Legal solicitor and winner of last year's Indigenous Lawyer of the Year category at the 2019 Women in Law Awards – commenced her law degree, she was confronted with the "same ignorant comments" as when she had undertaken her justice degree 15 years earlier.
"Comments from fellow law students about Aboriginal and Torres Strait Islander law students receiving free degrees, being marked easier, questioning access to culturally safe spaces at university, and offerings of ignorant explanations for Aboriginal and Torres Strait Islander's participation in the criminal justice system, in our community, and our history," she outlines.
"These comments were made by law students I entered the legal profession with. I can only speak for myself, but have witnessed racist and inappropriate comments and treatment of Indigenous people by members of the judiciary, defence lawyers and prosecutors. Cultural capability training should be compulsory in terms of admission and ongoing professional development."
Mr Karakoulakis' experience has been more positively focussed, whilst still noting that racism has been had an effect on his legal vocational journey.
"From the beginning at university, I saw the opportunity to enter the legal profession as an opportunity of being able to positively impact the disadvantage, invasion, dispossession and injustice suffered by First Nations [peoples]," he expresses. 
"Within the legal profession issues of racism need to be addressed and rights of Indigenous [peoples] need to be fully recognised. The respect of our First Nations communities needs to be honoured through an inclusionary approach towards speech, behaviours and attitudes. As lawyers we need to adhere to our professional duties, whilst also acknowledging and applying our Indigenous [lore] in so far as possible."
Too often, Ms Ryle surmises, Indigenous Australians are "measured against some [infantilised], fictional character of white imaginings", defining who they are supposed to be and how they should present to the outside world.
This happens, she notes, "to a point where (because many like me – don't fit the fantasy) I must be 'one of the good ones', 'must be more white than blak', 'must've had government help', 'got a free law degree', 'the degree for blaks is less onerous', 'will have skeletons in my wardrobe', 'will undoubtedly be promiscuous', and when all those presumptions fail to be proven – I must simply be special, and an exception to the rule."
"The reality is, of course, I am not an exception nor am I any more special than any other First Nations woman (lawyer or otherwise)," she says.
Mr Karakoulakis submits, "The encouragement of Indigenous lawyers in our profession can enable greater levels of justice and the more Indigenous lawyers involved can assist in enabling greater actions against the embedded prejudices of discrimination".
"Intergenerational racism and historical injustices impose the meaning of dispossession and racist events upon our current and future generations," he surmises.
"These same wrongs and historical injustices cause immoral racism and consequences of inequality in the experiences within law. There is a genuine necessity for members of the legal profession to obtain the levels of cultural competency and awareness deserved for all members of the legal profession."
RAPs and other attempts at improving justice outcomes
In order to address these ingrained aforementioned issues, and also better support diversity, inclusion and promote reconciliation and justice, law firms of all stripes implement myriad initiatives such as Reconciliation Action Plans, and member groups such as the Australian Bar Association, for example, has been vocal in its support for the Uluru Statement from the Heart. Such advocacy and measures can be meaningful, Ms Hughes says, but have more teeth if and when they are drafted in collaboration with and led by Indigenous persons.
"Organisations are often happy to publish these documents, but not the yearly audit or summary of targets achieved. Or targets not achieved. For these documents to be meaningful, there needs to be transparency and accountability, a conversation about what was done well, and what needs to be done better," she explains.
"Individual firms should use their weight and resources to advocate for systemic change in discriminatory laws, the implementation of the recommendation of the 1991 Royal Commission into Aboriginal Deaths in Custody, pro bono support given to Indigenous legal services and community legal centres, implement cultural capability training to all staff, support state Indigenous legal profession associations, and support of Indigenous staff in culturally safe manner."
Mr Karakoulakis offers a similar view, observing that the design and publication of RAPs within the legal profession is a positive shift and "only the minimum point of responsibility", because reconciliation has to be achieved through greater community, political and legal obligations.
He further expresses "in regards to reconciliation, we each are individuals and culture can be different [among] the various mobs and [families]. Understanding these differences within the context of organisational engagement is important. Local Aboriginal community organisations can often be very helpful for those wanting to discover differences and embrace the needs of our Indigenous [peoples] and our cultures, only then can it lead to the betterment of the profession overall."
The measures implemented by legal institutions across the board are "replete with [oft-published] good intentions", Ms Ryle notes, but she questions whether such matters receive the requisite business attention.
"These matters are too often very poorly, or superficially resourced and when the funds are allocated in the general ledger, they are relegated to the discretionary events or marketing budget," she outlines.
"Screeds of authoritative research and empirical evidence exist in support of diversity, inclusion and intersectional engagement, evidencing the substantial benefits to markets, productivity, profits, client satisfaction, employee health and wellbeing and justice. Whilst some great advancements may appear to have been achieved in some sectors [first people] continue to remain the last priority across our own lands."
Ms Ryle was "once a believer in RAPs, alas no more", she muses.
"They may have had great potential once, however, the execution and oversight (both internally and by RA) [fail] to enforce the higher and appropriate levels of accountability in a formal business context (certainly nothing like the attention health and safety, cyber security, privacy, data retention or corporate reputation attracts)," she says.
"RAPs are more aligned with marketing exercises; they are not maps for strategic, sustainable, authentic, business development or change. Too many D&I measures and the like are the 'blak, red and yellow' window dressing to the reality of business as usual – too often far less aesthetically pleasing or commercially and ethically embedded."
The majority of large corporate and government institutions, Ms Ryle continues, are finding that they "must rethink their strategies and review their risk assessments to appropriately accommodate First Nations perspectives".
"The number of First Nations lawyers is increasing, and the expertise and interest in developing this [intersectional cultural change grow] with positive intention. This is not 'business as usual' – it is confidential, emotive, disruptive, challenging, inclusive and creative," she says.
Advice for emerging Indigenous lawyers
Our national legal profession can be a hugely rewarding environment, Mr Karakoulakis reflects, and the next generation of Indigenous professionals should look to foster relationships and mentors to assist their development, identify opportunities and also better prepare for racially slanted challenges that may present themselves, he suggests.
"Emerging Indigenous lawyers can play a significant role because there is a strong need to have greater Indigenous lawyers in all areas of the profession, including at organisational board level, commercial enterprise, family law, crime and in community affairs," he says.
Further, Mr Karakoulakis urges young emerging lawyers to appreciate the diversity in what it means to be "Indigenous and we each have different world views." He explains, "remember, who you are and where you come from and respect your own views whilst believing in yourself and your abilities whether you might have been brought up on country, with traditional culture, raised in the bush or raised away from [family] in a more suburban upbringing."
"Another major consideration for emerging Indigenous lawyers is to approach the practice areas with equal vigour and to bring an attitude of influence wherever possible to be involved in the opportunities of cultural understanding and awareness ever so needed."
"Know yourself and your mob first," Ms Ryle advises.
"Learn, commit to and embed your [cultural principles] into your professional practice and in fact in everything you do. It's the adherence and commitment to your [culture] that [make] you Indigenous (not simply "that look" or your certified heritage). Cultural [heritage] is a way of being, just as are [blak ethics]. Be true to yourself and your [ancestors], allow yourself to take your whole [cultural] self to work.
"Unfortunately, there continues to be places of employment that will never appropriately understand respect or support you in honouring your [cultural] commitments and obligations – identify those places early and avoid, avoid, avoid – knowing they are not ready to appreciate you."
Aboriginal and Torres Strait Islander lawyers must "stand strong and stand proud", Ms Hughes says in support.
"We are small in numbers, but we are growing and growing strong. Reach out to your state Indigenous legal [professional] association. These associations provide valuable support to our lawyers, legal professionals, and law school academics and support staff. Participate and engage in mentoring programs (official and unofficial) and cultural supervision will also provide valuable support," he says.
A career spent in many areas of legal practice "has the current potential to be very destructive to First Nations professionals, Ms Ryle continues.
"Never be afraid to opt out in favour of true happiness and fulfilment. It takes immense courage to make this call and martyrs are no longer fashionable or necessary. You're having successfully completed a law degree is a great accomplishment and has the potential to take you along a variety of different, very satisfying, and supportive career paths," she advises.
"Should you decide to stay and practice, surround yourself with a good, honest, culturally sound mob and seek out a worthy mentor/coach (both [cultural] and [professional]). Do your [cultural due diligence]! Accept that your learning will be lifelong (both in the law and otherwise)."
Final word
Moving forward, Australia's legal profession must be more than "merely culturally competent", Ms Ryle concludes: "It is a privilege to educate yourself about racism instead of experiencing it." 
First Nations people (including lawyers) continue to carry the burden of informing our non-Indigenous colleagues about the truth of the past (too much of which continues to impact us all). As essentially community-minded individuals we must continue to invite others to join us, on an equal footing as we search for real equity – both in the law and in life more generally. Every element of the contemporary lives modern Australians live has a First Nations perspective, experience history and impact.
Paraphrasing a sentiment, she recently heard that resonated with her, in the context of some of the [executives] she coaches (in [cultural intelligence]) Ms Ryle adds: "Unlearning white supremacy isn't Instagrammable. It is deeply personal, existential, and difficult work. It often feels horrible. It will make you cry. You might become depressed. It can be very lonely and isolating. It will shatter your ego and your belief system."
"Encourage your colleague's friends and associates to do it anyway, and be there to support their learning. As a clever bunch (First Nations [lawyers]) we must continue to find the 'extra' within us to share the immense benefits our differences can and do bring across society and that does not mean [sugarcoating] the wrongs, it means being courageous enough to call them out, and consistently and confidentially offering alternatives," she says.
Mr Karakoulakis agrees: "The function of our legal system is vital for the rights and justice which should be established for Indigenous [peoples]."
"Hopefully, this can be improved as a result of the recognition and career advancement of Aboriginal and Torres Strait Islander lawyers," he says.