How a Biden presidency could impact Australian lawyers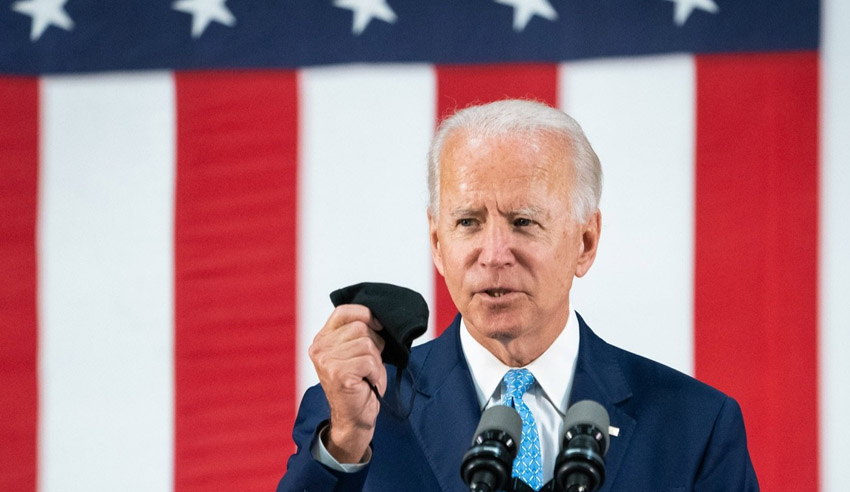 A victory by former vice-president Joe Biden in the looming presidential election could result in a vastly different professional marketplace for Australian practitioners.
If current national and state polls are to be believed (and one would be forgiven for being sceptical about such data, following the errors of Brexit, the 2016 American and 2019 Australian elections), Mr Biden is on track to become the 46th president of the US, perhaps even by a landslide margin over incumbent Donald Trump.
In what has already been arguably the most extraordinary year of the 21st century, the American presidential election, set to be held on Tuesday, 3 November, is set to redefine the long-term future of the US, including but not limited to its direction on judicial appointments and foreign policy.
Given how topsy-turvy the legal professional landscape has become since March, it is important to consider how the November vote can and will affect the fortunes of Australian lawyers in numerous practices areas – particularly in light of a "new normal" marketplace in which only a partial reversion to pre-pandemic conditions is set to occur.
In this two-part series, Lawyers Weekly examines the potential regulatory, marketplace and cross-jurisdictional consequences of a Biden presidency and a Trump re-election. Here, we take a took at the prospective outcomes should the Democratic nominee emerge victorious. Next week, we will explore the impact should the Republican incumbent be returned by the voters.
Capital markets
In a normal presidential election year, Allen & Overy partner Mark Leemen explains, conventional wisdom would say that – rather than launching a capital markets deal in the run-up to election day, it is usually better to wait until immediately afterwards when the political uncertainty has been resolved.
"If polls continue to point to a decisive Biden victory, that may well still be the right advice. However, if the contest narrows, dealmakers should take into account the risk of an extended period of uncertainty during which the higher than normal level of postal voting delays a result, which even then may be contested through the courts. That may result in a period of market volatility that makes execution difficult," he says.
This being said, Mr Leemen does not anticipate "significant change" in the capital markets space for practitioners should Mr Biden be elected president.
"Apart from anything else, a Biden [administration] is going to have a few things to take care of before it gets around to securities regulation. The economic agenda will be consumed by efforts to restart the economy post-COVID-19," he advises.
"Beyond that, measures such as bankruptcy reform and enhancing consumer protections for users of financial services will be a focus, as will be revisiting some of the unfinished business of the post-GFC regulation of large financial institutions. At the [US Securities and Exchange Commission], it's likely that enforcement will return to the more muscular Obama-era approach."
Climate change
There are "many substantial differences" in environmental policies from Mr Biden and Mr Trump, muses Baker McKenzie global head of climate change Ilona Millar. The most significant such difference, she tells Lawyers Weekly, is that Mr Biden has recommitted the US to the Paris Agreement pertaining to greenhouse gas emissions mitigation.
"For lawyers everywhere, the Paris Agreement has been hugely influential in how climate change is approached by governments, companies, civil society, and the public. Increasingly we are seeing governments commit to achieving net-zero emissions by 2050 – a goal that Biden is also committed to. We have also witnessed a chorus of some of the world's largest companies announcing their support of the Paris Agreement goals and adopting aggressive plans, and taking actions, to reduce their emissions of gases that cause climate change," she outlines.
"If Biden wins, and redoubles the United States' commitment to the Paris Agreement, lawyers can expect to see US support for greater ambition on climate action – underpinned by a drive to generate economic activity through a green recovery. Biden is clearly focussing on the opportunities associated with a clean energy future, announcing a plan to spend [US$2] trillion on renewable energy, infrastructure, and other green jobs, with a focus on ensuring a 'just transition'."
Leadership from a Biden administration, Ms Miller continues, will serve as an example for other countries by way of influencing ambition and policy, including that of Australia. Moreover, should the US set more aggressive fuel economy standards designed for the electrification of vehicles, she notes, this could have flow-on effects for the standards adopted globally.
"Biden has also signalled his intent to require public companies to disclose climate risks and greenhouse gas emissions in their operations and supply chains. We are already seeing additional action from corporate regulators to require more and better disclosures of climate risks and opportunities. If the US lends its weight to these types of disclosures, this could see this type of disclosure mainstreamed," she says.
"Australian climate lawyers should be ready for a material pivot towards [low-carbon] investments in the US, which in turn may influence expectations throughout global supply chains (including the potential for carbon border tax adjustments). Given the global influence of the US, a material change in climate policy will also be closely analysed by the Australian government, and may well influence Australian domestic climate policy."
Data privacy
According to Dentons partner and regional head of white collar and government investigations Ben Allen, the first four years of Mr Trump's presidency showed a "general willingness" to break free of political norms, as well as a politicisation of issues that were traditionally dealt with in bipartisan ways.
The Trump administration's approach to data privacy laws, he says, has been no exception. However, if Mr Biden's attitude in recent months is to be believed, it appears that the Democratic nominee will be "less tech-friendly" than Trump's predecessor, Barack Obama.
This, Mr Allen surmises, could have a substantial impact upon Australian practitioners.
"Biden has indicated an openness to legislative and policy reforms on major tech issues, calling for stronger privacy standards and an increase to investment in rural broadband. He has also indicated that he is prepared to look at whether large online platforms should be broken up," he details.
"Biden's plan to revoke the liability shield for social media companies could have the most far-reaching consequences for Australian lawyers as they grapple with how such a change will affect both content as well as privacy law enforcement in Australia."
Legal sovereignty
In a recent episode of The Lawyers Weekly Show, KPMG International global head of legal services Stuart Fuller proclaimed that legal sovereignty is "really a force in the world at the moment" – a trend that has been accelerated by the age of coronavirus.
In a post-pandemic landscape, Mr Fuller predicted that movement towards greater legal sovereignty is going to gather speed, following on from more favourable views on economic sovereignty that have emerged globally in recent years.
"If you look at what governments are doing – and this started before COVID-19, but has been accelerated [as a result of the pandemic] – they are becoming more focused on themselves than the regional or global environment they lived within, whether it be around immigration policy or tax policy. What we've seen over the last six months (and we think it's going to accelerate) is legal sovereignty [by way of greater] localisation of laws to regulate the local economy, and regulate its interaction with the global economy," he said at the time.
Speaking again to Lawyers Weekly, Mr Fuller says it is critical that legal professionals recognise that, "despite the rise of personality politics globally", movement towards legal sovereignty is dictated by broader holistic considerations, such as social, economic and political.
"There is no denying that certain personalities in positions of power and influence can accelerate these themes, and to some extent sharpen the trajectory, but the underlying momentum is structural," he advises.
Whilst the election of Mr Biden may result in a softening of some of the "sharper edges" of this trend and a subtle shift to a defensive, rather than offensive policy stance, Mr Fuller hypothesises, "the focus will likely remain on economic stability and restarting engines of growth, fiscal and monetary policy and social stability and community cohesion".
"Australian lawyers thus need to be live to the facts that the US remains an influential policy and economic player – trends in policy, practice and perspectives within the US have an 'echo' through market sentiment, priorities and focus areas for Australian industry and our trade, economic and security policy position," he deduces.
Broader legal professional concerns
For NRF legal services executive Donald Betts Jr – a former Kansas state senator and congressman, who now resides in Melbourne – a Biden administration will be one to "restore the rule of law".
One can draw such a conclusion, he argues, from observing Mr Biden's activities on the campaign trail.
"'In other countries, the king is law', Biden said while campaigning at the University of Nevada Las Vegas Law School, quoting Thomas Paine. 'In America, the law is king. The independence of our court system is the glue that holds everything together', he said.  Biden has put together a team of 600 lawyers and a team of volunteers, who will go into every state to try to figure out whether chicanery is likely to take place," Mr Betts submits.
"Top lawyers around the nation argue that if Trump gets another appointment to the US Supreme Court, that all the successes that have been accomplished for civil rights and social justice in the last 40 years could literally evaporate."
"The presidential candidate said his campaign will 'fight any effort to exploit the pandemic for political purposes, support the countless state and local officials working to make voting safe and accessible for citizens, especially the most vulnerable, or call out local rules that don't adequately ensure access to vote'."
There are other sociopolitical considerations that Australian lawyers would also have to be aware of, Mr Betts continues, such as the possibility of a transition of power to Mr Biden's soon-to-be announced running mate and how that might impact upon not just the aforementioned legal practice areas, but the look of female lawyers across the globe.
"Joe Biden is making his third run for president, and will be the United States' oldest president if elected, at the age of 78. In 1972, he became one of the youngest lawmakers ever elected to the US Senate. As a graduate of Syracuse Law School, he – like many of us in the law – has a keen understanding of the rule of law, and the consequences as a result of non-compliance," he says.
"With a strong background in foreign policy, Biden's approach will be in stark contrast, particularly as it relates to multinational trade, nuclear and climate deals. Above all else, what is clearly amazing is that women in the legal profession will witness, and benefit from Mr Biden's vice-presidential selection who he has indicated will be a woman, and she could possibly be the nation's first female president."